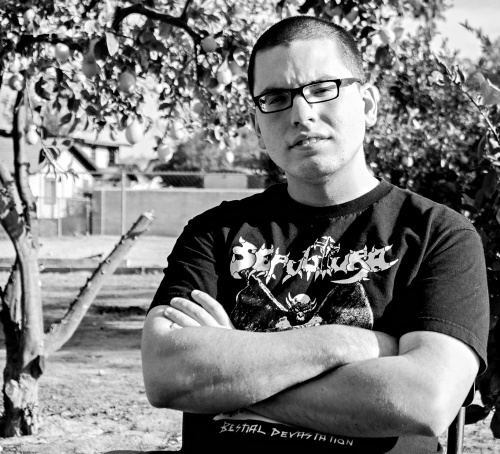 I love looking at live music photos, and over the last year or so, many of the images I've seen from the Southern California hardcore scene have been shot by Wayne Ballard. Knowing that, I wanted to get to know the guy behind the camera, so I figured a Photographer Spotlight piece on Wayne would be the best way to do that.
Where were you born and raised?
I was born in Spring Hill, FL but lived all around the US due to family moving around for work purposes. I've lived in Florida, Arizona, Kentucky, New Hampshire, and now California. I was raised in New Hampshire and California for 85% of my life. I now live in Lake Elsinore, California.
Were your parents into the arts?
My mother was always into photography for as long as I can remember, so that's where I found interest in it originally. My father is a custom leather worker that does work mostly within the motorcycle industry. So, art has been around me in my daily life for as long as I can remember.
What came first, your love for music, or your love for photography?
My love for music came first without a doubt. In our household we always had music playing in some way, so that was always a love of mine before I fell in love with photography. I didn't dive into photography as a personal venture until 2012 or so.
How did you discover punk/hardcore?
I was lucky enough to grow up in a household that always had punk/hardcore being played in it. My dad is an old punk head from Phoenix and never grew out of loving the genre, so I can vividly remember listening to punk/hardcore from a very young age. It didn't really stick with me until I was 13/14.
Who were some of the photographers you looked up to during your formative years?
With both of my parents working within the motorcycle industry, some of my favorite photographers were within that industry. Josh Kurpius is definitely someone I still look up to within the photography field.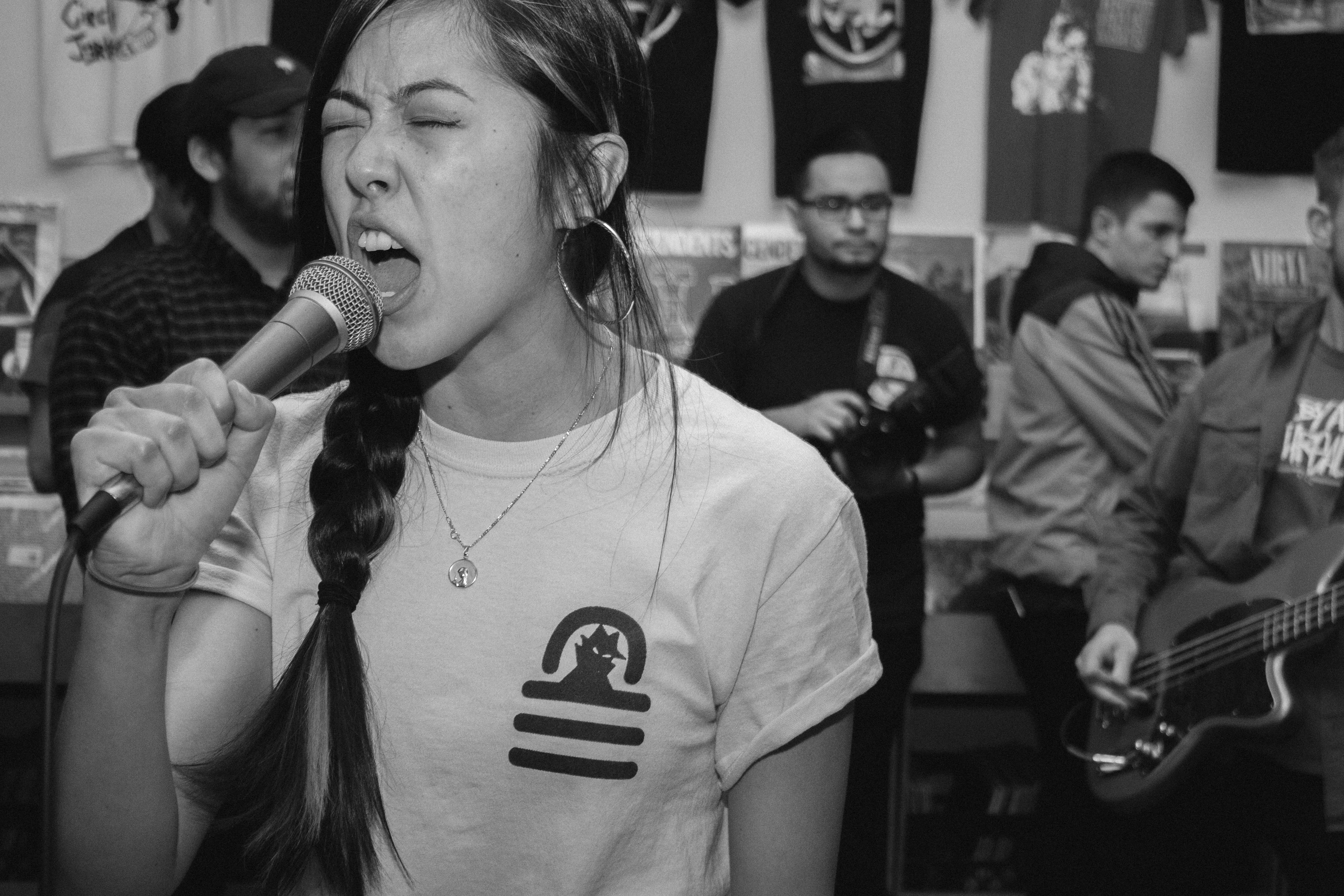 Were there any music-related photographers you followed?
I didn't really pay much attention to music photography until after moving to California in 2008, but after making the move I started paying attention more and more to what people were taking and showcasing. Some of the first photographers I kept up with were Alvin Carrillo, Dan Rawe, Furn Zavala, Reid Haithcock, and Angela Owens.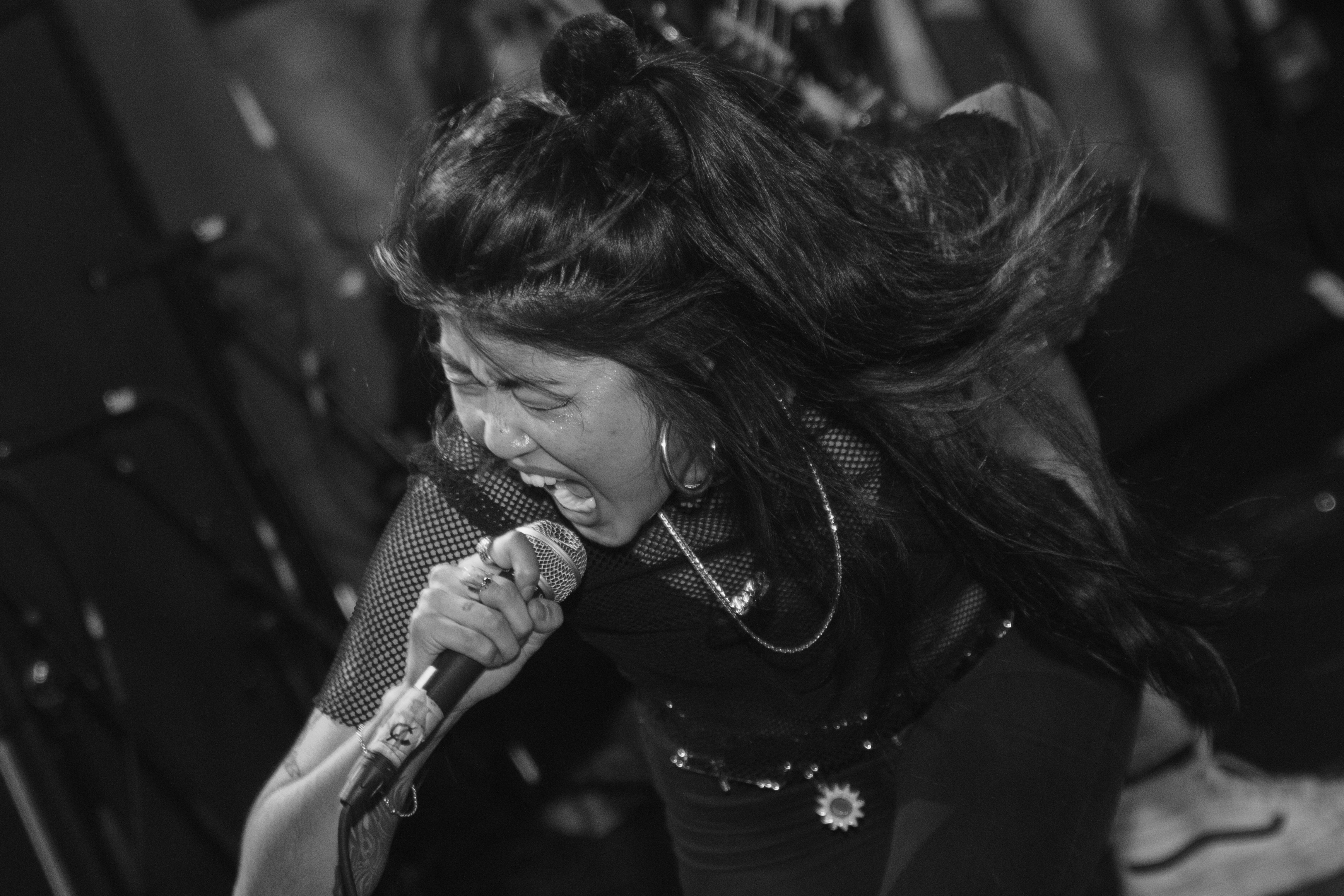 What is your camera and post set up?
I'm currently shooting with a Canon Rebel t1i and jump between using a Canon 28-135mm, Canon 18-55mm, and a Tamron 24-70mm depending on the setting. I'm not necessarily using the best gear in the world, but it gets the job done in a fashion I like and that's all I really care about.
As for post, that's all done in Lightroom. I try to keep my editing pretty straight forward, especially since most of my work is done as B&W at this point.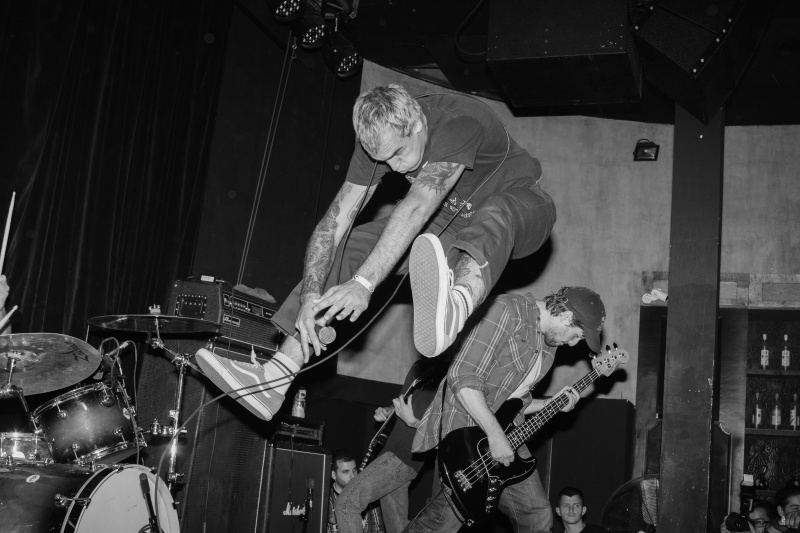 Who are some of your favorite bands to shoot?
California bands: Lock, Dead Heat, Step for Change, Fury, The Coltranes, Frustrated, and Take Offense.
As for non-California bands: Firewalker, Odd Man Out, Lower Species, Full of Hell, and Free.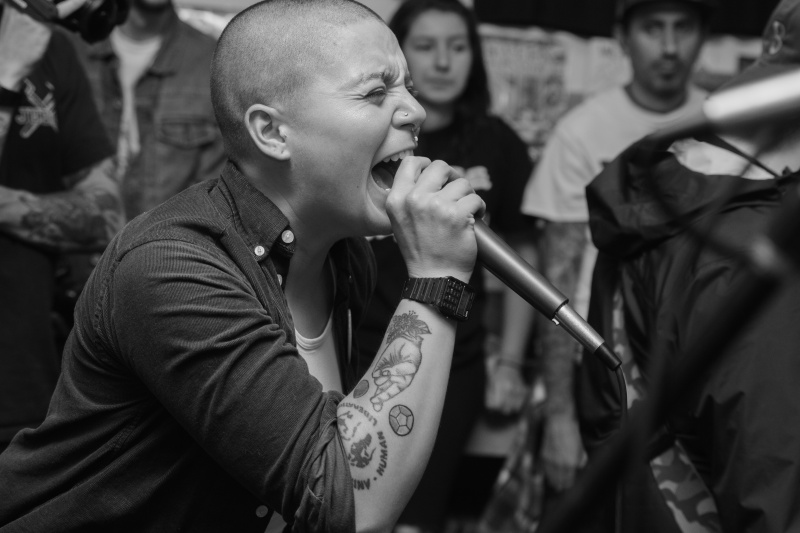 If you could go back in time, who are some bands that you would have loved to shoot?
It's hard for me to choose some specific bands, so I'll speak on a specific local venue that doesn't exist anymore. I wish I could go back in time and shoot shows at the Showcase Theater in Corona, California. The venue closed a month or two prior to me moving to Southern California and everyone seemed to play there. I wish I could go back in time and document the AFI, Obituary, Hatebreed, Saves the Day, Warzone, Terror, and Pulling Teeth sets that went down there.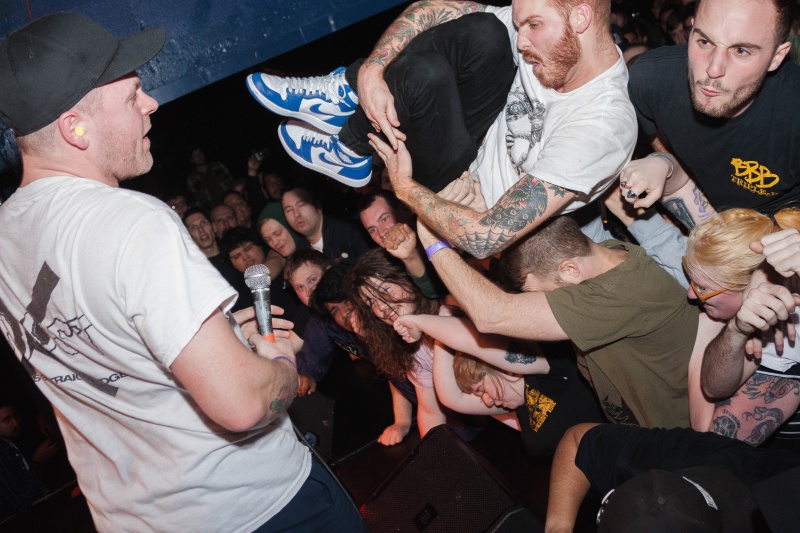 What are the toughest aspects to shooting hardcore/punk shows?
Keeping yourself and your equipment in one piece can be a hassle if you're not paying attention. I used to worry a lot about kids moshing and such, but if you pay attention, it's pretty easy to stay out of the line of fire. Lighting can also be an issue at shows like this, as a lot of shows are usually very dimly lit. 90% of the time I'm shooting with an external flash that's doing bounce flash, but being able to suck up a little bit of light for the sake of focusing is very important.
Living in SoCal there's a ton of photographers at shows and that can kinda turn into an issue in the sense of people stacking up to try to get shots. At the end of the day, the show isn't about my work. So generally when I go into a show setting I try to be as mindful of my shooting and surroundings as possible. I like to try and keep myself small and out of the way, while also not trying to go wild with shooting. Rather not be the person blocking everyone's view or blinding them to death with having my flash in rapid fire mode through an entire set.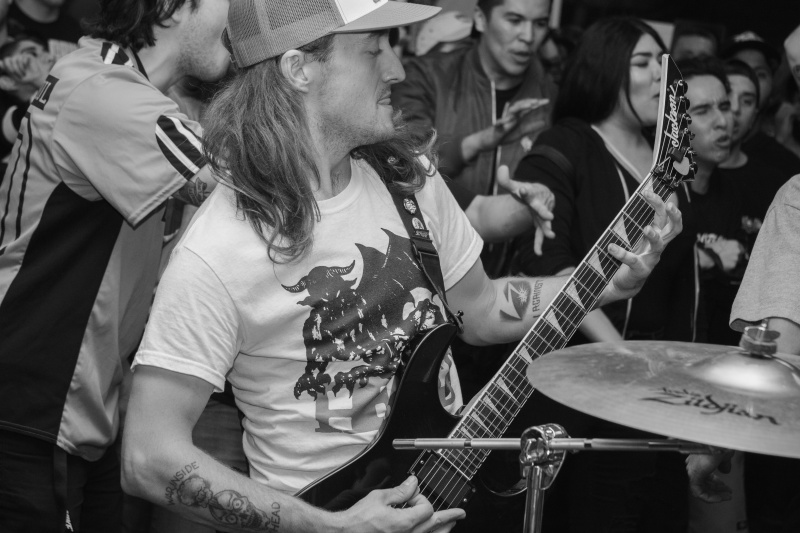 Tell me about some newer bands that we should all be on the lookout for.
Diztort, The Surge, Dead Heat, Entry, Initiate, No Right, Primal Rite, Slow Decay, and Wise are definitely some California bands to keep an eye on. I'm pretty sure Step for Change and Coolside are both working on new albums, so keep an eye out for those as well.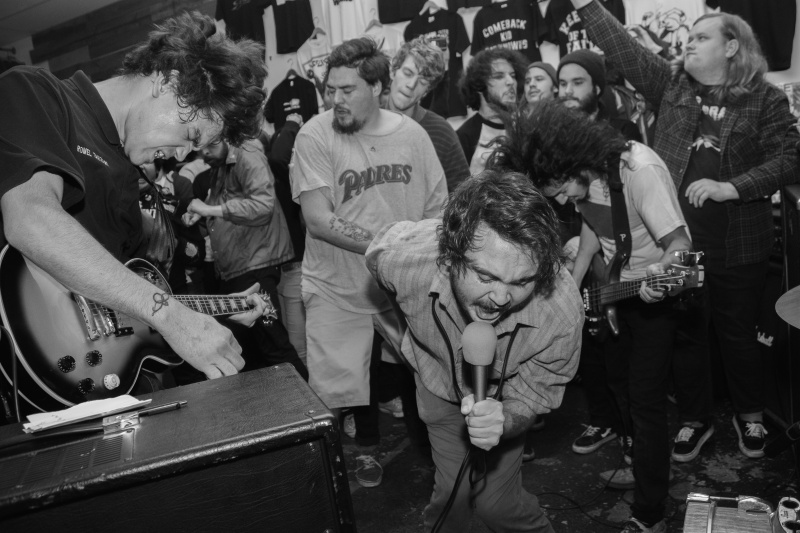 Who are some modern-day photographers that you admire?
We're in a very amazing time when it comes to music photography, there's so many people pumping out incredible work and it's honestly tough to keep up. As for some specifics, some of my current favorites are Kiabad Meza, Angela Owens, Danielle Parsons, Gabe Beccera, Dan Rawe, Joe Calixto, and Todd Pollock. I could go on and on all day about more photographers who are doing incredible work, but I'd rather not ramble on for the sake of you readers.
If you had to pick one of your photos that best encapsulates why you love shooting hardcore/punk bands, which one would it by and why?
This took me so long to decide on, so props to you for including this in the interview.
I am always drawn back to this photo of Step for Change that I took at Programme Skate & Sound in Fullerton, CA. The band has become one of my favorite bands to photograph and one of my favorite bands to see inside that space. There's something about Programme that I love over just about any other space in SoCal. If you ever have the chance to see a show there, make a point to do so.
***
Follow Wayne on Instagram to see more of his work.
Tagged: hardcore, photographer spotlight, wayne ballard