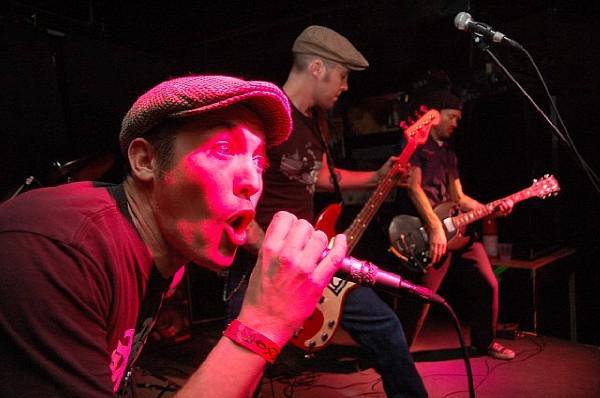 In a career that includes seven full-length albums, a grip of EPs, soundtrack appearances, and several US tours, Scatterbox is ready to celebrate.
The Idaho punk outfit rang in their 20th year together will a performance at the Big Dipper in Spokane, Washington, and it was all captured by a film crew for posterity. In stores next month, Scatterbox Live: The 20th Anniversary was shot documentary-style by Jason Frost, a director who has also worked with the likes of Capitalist Casualties and The Accused AD throughout the years.
Scatterbox Live: The 20th Anniversary also features reunion performances with past members, interviews with past and present members, restored long-lost behind the scenes and live tour footage, and much more.
In this No Echo sneak peek, check out the film's trailer:
Scatterbox vocalist Tom White told No Echo the following about the film:
"Being from Idaho, we've kinda been outcasts in a genre that was built on outcasts. I'm just glad that I've got to spend this whole career of ours with some of the most tenacious dudes I've ever met. Giving up was never an option, and never discussed. Celebrating 20 years is something I'm proud of, but really, I think we're gonna make it to 40. I can't see deleting something as important as this from my life."
Drummer Scott Rozell had this to say: "It's awesome that over the last 20 years we've been embraced by the punk, metal, and hardcore scenes equally. And to have a 20-year anniversary documentary made about us is a fucking trip. Not bad for a bunch of dorks from the middle of nowhere, I suppose."
The band is currently in the writing process of what will be their next full-length record, scheduled for release in 2023, with tour dates to follow.
Scatterbox Live: The 20th Anniversary will be out on November 11 on both Blu-Ray and via Amazon Prime for streaming in North America and Europe. It will be available on additional streaming services in 2023.
The limited edition Blu-Ray pre-order bundle goes live on Blackhouse Records on October 19th, the day after Scatterbox kicks off the first night of The Queers 40th Anniversary Tour in Spokane, Washington.
Scatterbox on social media: Facebook | Twitter | Instagram
***
Help Support What No Echo Does via Patreon:
***
Tagged: scatterbox