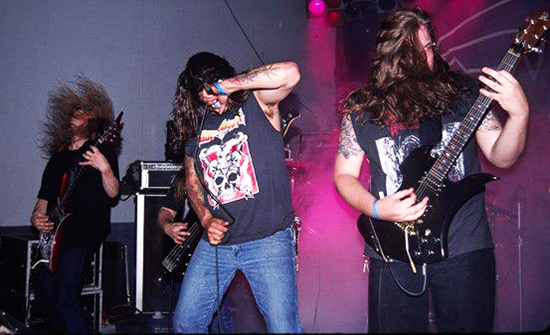 Hailing from the Orange County region of New York, Morpheus Descends were a fixture of the underground death metal scene of the early '90s. Although the quintet only released two EPs, one 7", and one full-length album (and a compilation at that), that didn't diminish their influence. Along with like-minded acts like Suffocation, Baphomet, and Pyrexia, Morpheus Descends helped put New York on the death metal map during the movement's golden era.
The heart and soul of Morpheus Descends has always been guitarist Rob Yench. A founding member of the band, Yench not only helped shaped their sound, he also was their unofficial spokesperson, spreading their music via his involvement in the international death metal tape trading network. Outside of his work in Morpheus Descends, Yench has since spent time as a member of Incantation, Mausoleum, Typhus, Brimstone, and Engorge.
Morpheus Descends broke up in the late '90s, but have since reformed, with Yench still holding down guitar duties. I've always felt that Yench has been a bit of an overlooked figure in the death metal community, so I decided to catch up with him in this new interview to talk about his prolific career.
You were born in New York City, but you moved to Middletown, a city about 90 minutes outside of Manhattan, before your teens. What was that like?
When we moved I was still quite young, like 5 - 6. My parents moved to a country setting in the small village of Westbrookville. It was a great place to grow up, and there were many kids around the same age to hang out with.
When and how did you discover heavy metal?
KISS was the first band to make an impression on me. KISS wasn't a heavy metal band, but they totally captured my attention and shifted my interests from drawing and reading comic books to wanting to play music. A few years later a friend of mine had a brother in the Marines who had just returned from Europe. He had a huge box of records that he allowed us to listen to. It had bands like April Wine and August Redmoon, but mainly NWOBHM bands like Diamond Head, Angel Witch, etc.
I remember hearing Venom for the first time. They were on an LP compilation of bands. When I heard the song "Leave Me in Hell," I knew this was what I liked and wanted more of it. When I became a teenager and attended middle school, I found a lot more kids into the same style of music as I was. Most were much older, and I began to hang out with them and discover lots of bands. Going to stores like Rock 'n' Roll Heaven, and Middletown's own Rock Fantasy, really fueled my appetite for heavy metal. I then started going to shows in Port Jervis that were being put on by affiliates of [Megaforce Records founder] Jon Zazula. From 1982 - 1984, I got to see many fantastic shows. I saw bands like Anvil, Metallica, Overkill, Exciter, and Anthrax. By this time, I was looking to form bands and start creating our own music. Then I started driving to Brooklyn to L'Amour to see all the metal bands that would come to town.
How did you progress into death metal? Did a friend turn you onto it, or were you the trendsetter among your crew of friends?
It was the late '80s, by this time I was an avid tape trader and would get a lot of demos of bands. I immediately gravitated towards the death metal sound. The stuff that was heavier, faster, and more brutal than thrash became my focus. I wanted to play death metal. Of course, many of my friends would make fun of it, but a few started to pick up on it, too. I started hanging out with those people more and more, and less with my friends that liked thrash. It wasn't long after that I quit the band I was in and formed a band with other guys that shared the same desire I had to play death metal. In October of 1990, we formed Morpheus.
SEE ALSO: 2014 interview with album artist Dan Seagrave (Suffocation, Dismember).
Did you play in bands before Morpheus? If so, what were the names, and what styles were they?
Before Morpheus, I played in the bands Crucifixion (1986), Epitaph (1987), The Inverted (1987 - 1988), and Volitle Zylog (1989 - 1990). The first two were hardly as heavy as I wanted to be. The Inverted, not to be confused with the Swedish band of the same name, was influenced by bands like Carnivore, Crumbsuckers, and Ludichrist. Volitle Zylog was total Voivod and Dead Brain Cells worship.
Tell me about the formation of Morpheus.
I kind of touched on it a little before, but I will elaborate a bit more. My band, Volitle Zylog, was playing an outdoor show with a bunch of local bands. There was a band called Infectious Waste, they played a Pestilence cover of "Chemo Therapy." When I heard them I knew I had to talk to them. Once we did, we began talking about forming a death metal band within minutes.
Ken [Faggio] and I came from Volitle Zylog and Craig [Campbell], Sam [Inzerra], and Steve [Hanson] came from Infectious Waste. We all quit both bands and scheduled a time to meet up. Morpheus had our first practice on October 31, 1990. This is a date that we use as the official anniversary of the formation of Morpheus. Within two months we began playing shows and landed our first venue gig in Buffalo with Deceased, Suffocation, Goreaphobia, and many more. Within weeks of that, we then played with Morbid Angel and Prime Evil. Things began happening fast and we were ready to play as much as possible and be a part of the fledgling death metal scene.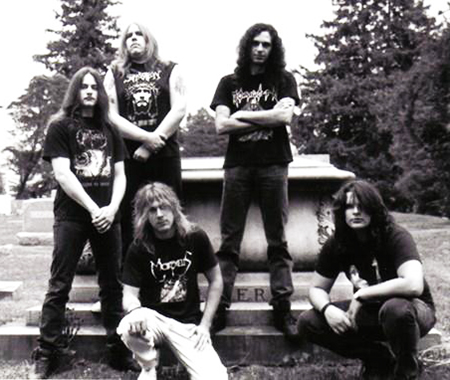 The first time I heard you of you guys was through either [underground death metal tape trader] Roy Fox or Dave Witte, I can't remember. But soon after, I remember seeing flyers for your Adipocere 7" in every piece of mail I received from my other tape trading friends.
I was the "mail guy" in the band, and from my previous tape trading history, I knew I had to get our music out to as many people as possible. The scene was starting to take off and we wanted to get worldwide exposure to our music. We would send out dozens of packages every day and load them with flyers for our demo. We soon started getting back all sorts of great reviews.
Speaking of the Adipocere 7", the label that issued it, Seraphic Decay, had a bit of a bad reputation within certain circles in the death metal underground back then. What was your experience like with the label?
I know others had issues, but honestly we always had a great relationship with Seraphic Decay, and from personal experience, I have nothing bad to say about them. They helped get our band's music out there, and I think they did a great job of packing when it came time to put out the 7".
After the 7", the band changed its name to Morpheus Descends. What's the story behind that?
When we did the JL America deal, they had RED doing the distribution. There was some cheesy techno band with the same name, and RED threatened to not distribute the record unless we changed the name of our band. We had planned on writing a song called "Morpheus Descends," so we decided to go with that.
SEE ALSO: Peru's Heavy Metal Warriors of the '80s, by Freddy Alva
There seemed to be a nice buzz going for the band after the 7". Did you guys have any other labels interested besides JL America? That label signed some good bands (Beherit, Nokturnel), but they never seemed to have their shit together.
We had received letters from some bigger labels, but nothing really materialized. JL was ready to put this out and with good distribution. We felt it was better to get this CD out and keep working hard to find a better label.
Do you remember what the reaction was like from the heavy metal press once your album, Ritual of Infinity, came out at the end of 1992?
It was a lukewarm reaction. It wasn't a big budget album. It was actually a compilation of recordings we had done.
Did JL America give you any kind of tour support? I remember you going out on the road, but I wasn't sure if that was all self-financed or not.
It was all self-financed, except for some copies of product we paid for. We booked all of our own shows.
After the album, the band recorded and self-released an EP called Chronicles of the Shadowed Ones in 1994. What's amazing is that even though you guys paid for the sessions yourself, the EP sounds a lot better than the studio album.
Yes, we self-financed this project and spent the time in a better studio and really working on developing the Morpheus Descends sound. The EP was going to display the potential the band had and hopefully work us towards getting a chance to work with a better and bigger label.
You did some touring around this time with bands like Incantation and Enslaved. From your perspective, what was the death metal scene like in the States during that time?
It was starting to fizzle a bit. Black metal was starting to be discovered by the scene and death metal started to become what thrash was when death metal began. We just kept playing shows and working with the bands we had become friends with.
Morpheus Descends then parted ways with your vocalist, Jeff Reimer. What happened there?
I think as in many other relationships, things just run their course. Jeff wasn't showing up to rehearsals, and a lack of interest was starting to develop. We were obviously disappointed with this as we wanted to keep writing songs and rehearse to develop the band into what we envisioned the band could be. We had great times with Jeff, and he is greatly missed since his passing.
SEE ALSO: 2014 interview with Daniel Gomez (Gothic Slam).
After recruiting Tom Stevens to handle vocals and second guitar duties, the band recorded and released The Horror of the Truth, a three-song EP, in 1997.
Again, this was really a self-financed endeavor. We went to Cleveland, Ohio to record with our friend, Brian Sekula. We wanted to keep releasing music even without label support. AD was the name of the distribution Andy Newton and I had been running for a few years. We had been importing lots of death and black metal from overseas that were hard to find and we were selling wholesale to some record stores in the NY/NJ region.
You and Tom also played in a black metal band called Brimstone around that time. I've read that after changing the band name to Exile, you recorded an album that never came out.
Things just slowed down and Tom moved to Florida and Andy moved back to Indiana. I really like the material and I still have the unreleased album. I have considered finishing the work and getting it put out, but it is not a priority for me with all the projects I currently have going on.
Why did Morpheus Descends break up in 1998?
We broke up for the same reasons so many other bands have broken up over. Eight years of working hard and trying to keep things moving, it is a lot of work. Also to maintain good working relationships with 4 - 5 people is a skill unto itself. We had gone through band members here and there and all of this combined together put strains on the friendships within the band. We needed a break and to do something different.
After Brimstone/Exile, you joined Incantation and wrote the bulk of the material on The Infernal Storm album. The lineup also included Dave Culross (Malevolent Creation, Suffocation) on drums. What was that experience like?
I joined the band in 1997, right before the Diabolical Conquest tour, towards the end of that year. Kyle Severn and Daniel Corchado had both left the band. We had gone through a few drummers over the next two years, as we did a good amount of touring around the U.S. and Canada around that time. Before we started recording The Infernal Storm album, we reached out to Dave Culross to see if he was interested in doing the record. I poured all of my effort into that album. I wrote lyrics, riffs, song titles, etc. When it came time to tour for the record, we asked Richard Christy (Death, Iced Earth) to play drums for the tour. I really enjoyed working with both drummers, and I am proud of that record and my contributions.
Why did you decide to leave Incantation? I loved that lineup of the band.
Things change and so do priorities, it was 2001 and I was losing interest in the band. I did not feel as "connected" as I had been in the past. Also, financially my dedication to the band was really taking its toll. I needed to generate income, to make a living and prepare for some kind of future. Just surviving was no longer a game plan for me. I had an education and a strong background in technology, so I decided to depart in order to work on these more self-centric goals.
You then formed a primitive-sounding death metal act called Mausoleum, which also features Jim Roe, a drummer who also played in Incantation back in the day.
Mausoleum formed in 2001 after I left Incantation. One of the drummers we had used in 1999 lived in same town as I did. We talked and he told me he and some former bandmates he had were looking to form a band again. I was interested, but I insisted that we form a new band without ties to all of our previous projects. We began playing cover tunes and feeling each other's styles out. We decided to play death metal in the vein of the early inspirations that had motivated us in the early '90s, but especially Autopsy and Death.
A few years ago, I began playing bass for the NJ black/death metal band Engorge, and when things with the original drummer of Mausoleum didn't work out, I asked Jim Roe, who plays drums for Engorge, if he would be interested in working with us. Mausoleum has really developed musically since Jim came into the fold. He engineers all of our recordings, and, to me, he's one of the great death metal drummers of all time. He has such a unique style that really has elevated the musicianship of the band. We just did an east coast tour with Dead Congregation this past October, and we are currently busy recording our third album. The band has now been around for 13 years, and it has been the longest-running project I have ever been involved with.
Another band you're currently a member of, Typhus, plays black metal. You use the name "Proctor Gidim Xul" in that band.
Typhus was formed by Andy Newton, a.k.a. Lord Typhus, who is the former bass player of Morpheus Descends from '94 - '97. When he returned to Indiana, he formed Dark Horizon Records as well as Typhus. When I heard the first album, I instantly fell in love with it! When they needed a bass player, I immediately showed my interest in being a part of the band. We recorded the second album in like 2008 and have been on a bit of hiatus since then.
I used the Proctor Gidim Xul name to separate the energy I channel into Typhus and to distance my participation from any other projects that I use my given name on. The mystique and blasphemy that is Typhus is something special unto itself!
Morpheus Descends is back in action. What brought on the reunion? What are the plans for the band in 2015?
The reunion came about when Sam and I met and talked at Maryland Deathfest in 2012. We both love this band immensely and respect what we had done over the years. Vinny Bo from Signature Riff has always been an avid fan of the band and has been a bug in the ear to both of us about playing Martyrdoom, a festival in New York that Vinny has been developing. In 2013 we performed at Martyrdoom and we had a fantastic time playing together again. This lineup is from the original Adipocere lineup that came together in 1990. It has been really great for me to have these guys in my life again.
2015 marks the band's 25th anniversary, so there is a lot of activity going on right now. The anthology is coming out in 2015, and two brand new songs are part of this massive release. "Oozing From the Urn" and "The King's Curse" are the names of the two new tracks we recorded this year at Sam's studio in New York. We are also slated to perform at this year's Maryland Deathfest, and over the summer we will be playing some additional shows inside and outside the U.S. as well. The chemistry is great with the guys in the band, and if all goes well, we may plan to record our first, actual full-length album.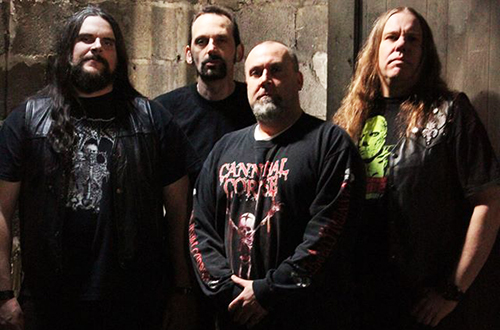 Dark Descent Records is going to be releasing a box set of your previous material in 2015. What can we expect to be included?
Everything we recorded, plus some never-released material. A two-hour DVD of live footage from throughout the years, with interviews. Also, The Crypt Records is doing the anthology on vinyl, too.
SEE ALSO: 11 Underrated Records from the Early-'90s Death Metal Underground, by Jason Netherton (Misery Index)
Morpheus Descends' former singer, Jeff Reimer, passed away in 2005. Had you kept in touch with him in the years after you guys parted ways in the band?
The last time I saw Jeff was around 2003 in New York at a local fairgrounds. We talked for a few minutes. When I heard the news about his passing, I was sad. Even though we had parted as band members for a number of years, you never lose that sense of brotherhood. One thing that I have learned over the years is that people can resolve their past differences and become friends again. Jeff would enjoy all of this renewed interest in the band, and all the things we will be working on this upcoming year.
What else are you up to these days? I know you work in the education field.
I have been living in western Pennsylvania for the past 14 years. I never returned to New York after I left Incantation in 2001. I have the same job that I got when I decided to improve my situation. I have a family and we just purchased a home deep in the woods with 20 acres of land. We call it "The Compound" because it is like 80% self-sufficient, with our own well, private road, shooting range, and even backup power. I like to tease my friends and tell them that during the apocalypse they are welcome to come live at "The Compound" [laughs].
Currently I am active in four bands: Morpheus Descends, Mausoleum, Engorge, and Typhus. I try to work things out so there are no conflicts. I do have another project that I want to work on, but until there are more than 24 hours in a day, it will have to wait!