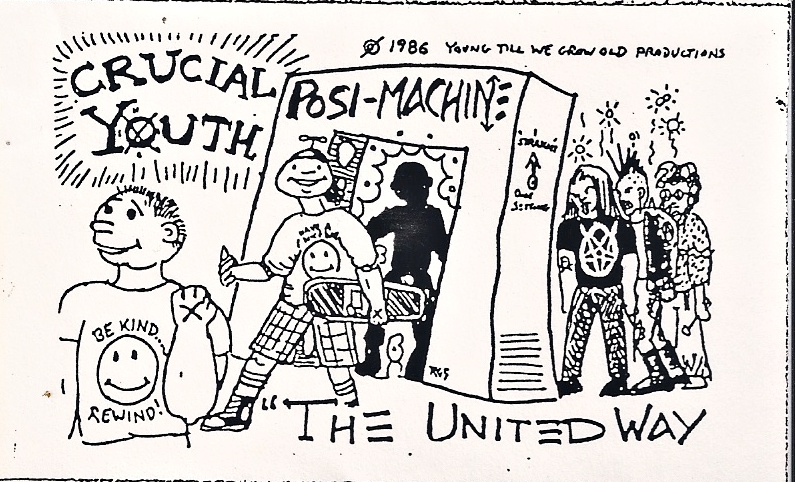 Pretty much ever musical genre that is near and dear to my heart has been lampooned in some way or another throughout the years. Sunset Strip-approved rockers like Dokken and Ratt getting the Steel Panther treatment, and comedic actors Fred Armisen and Bill Hader having fun with the AM Gold set with Blue Jean Committee, are just two more recent examples of people taking the piss out of a music scene, all in fun.
Now, I know that for a lot of people, this kind of thing is thing is frowned upon, but in the interest of discussing all-things hardcore on this site, I wanted to take a quick look at some of the bands that have had fun with the genre throughout the years.
Crucial Youth
Beginning all the way back in the mid-'80s, New Jersey pranksters Crucial Youth had their fun with the positive message of second wave straight edge hardcore bands like Uniform Choice and Youth of Today. I never saw the group perform live, but they reportedly used to include a massive "Youth Brush" that they used on stage to "clean up the scene."
Taking a quick look at their Discogs page, of all the projects listed here, Crucial Youth has had the most official releases. They even have a singles compilation, for crissakes!
Grudge
In the excellent The History of Nemesis Records book, there are two pages dedicated to the Grudge, a SoCal joke band that poked fun at the hallowed Revelation Records bands of the time. In the piece, Nemesis Records founder "Big" Frank Harrison talks about releasing the SoCal joke band's controversial Project-Ex 7" under the moniker Jism Records to add to the mystery of the band. In the same entry, Frank says that Jerry Hohman (A Chorus of Disapproval) handled the drums in Grudge, and that even though the songs on the record parodied some greats of NYHC, he and the band meant nothing by it since they were all fans of theirs. Frank even says that he heard back from his label distributor that Raybeez had a chuckle when he first saw the Project-Ex cover.Hey, if Raybeez said it was cool, then it was cool.
Colt Turkey
As far as I know, Colt Turkey was simply Dutch hardcore troupe Manliftingbanner having a little fun. Now, this entry is especially interesting since Manliftingbanner's lyrical point of view was often so politically-minded. They have even been credited as the first communist-straight edge band.
Colt Turkey's sole release, 1990's Christmas Sucks EP, is actually a pretty solid record. Manliftingbanner would get the joke played on them years later when the mighty Spazz released a track called "Dan Lifting Banner" on their 1996 split release with Japan's Romantic Gorilla.
Jud Jud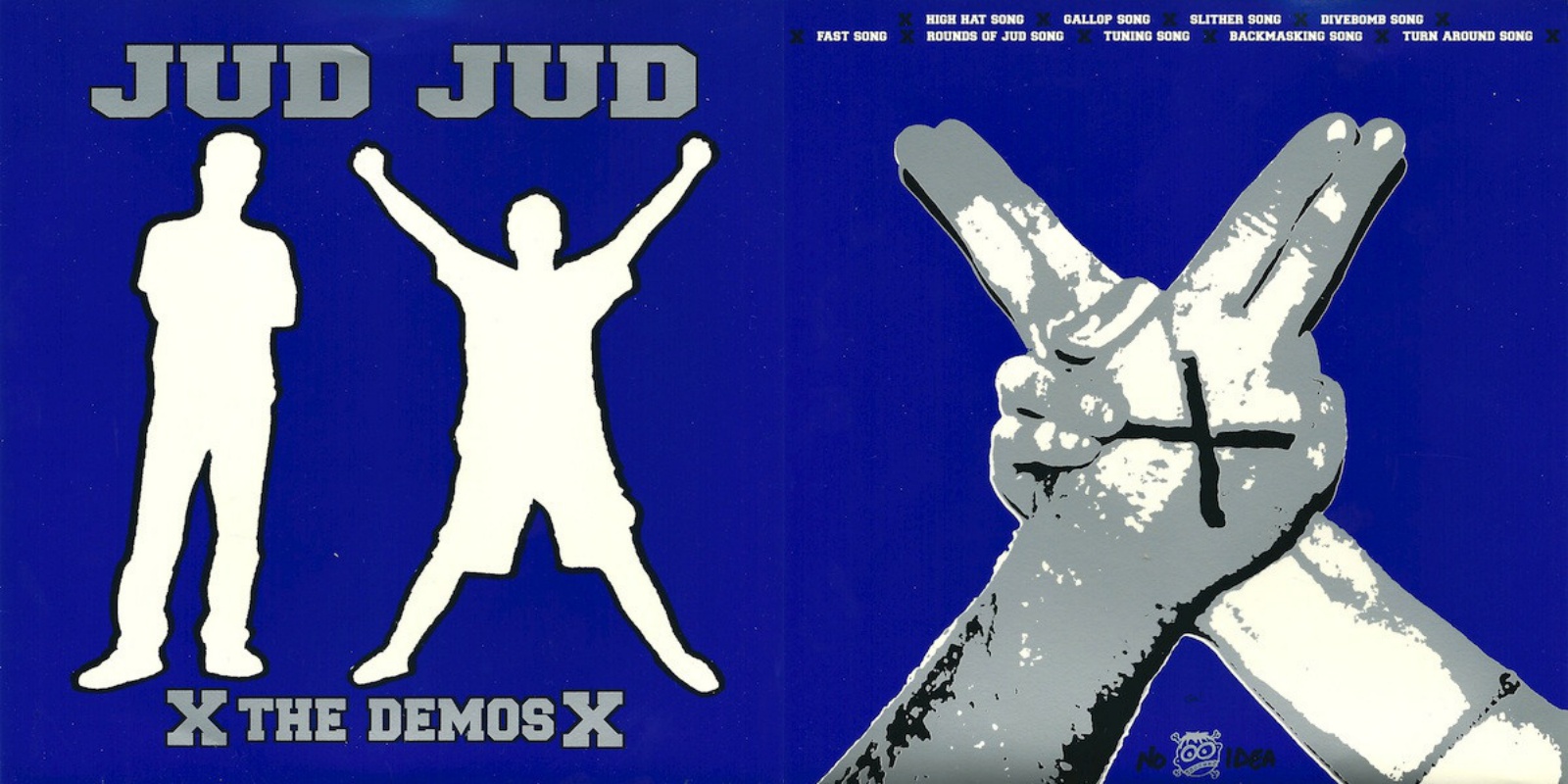 Claiming to be "too straight edge for instruments," Jud Jud was comprised of Steve Heritage (Assück, Bombs of Death, Anthem 88) and B. Rousse (Scholastic Death, In/Humanity). Their shtick was that everything you heard on their recordings were exclusively done by Steve and B. simply making sound effects with their mouths into a mic. I remember when their first record (The Demos) came out in 1997, a lot of people in the hardcore scene were annoyed by it. Talk about No Fun Club!
When I was in Black Army Jacket in the '90s, we played a show at a record store that Steve from Assück either owned or worked at (I don't recall which) and I wanted to ask him about the Jud Jud stuff, but I left it alone. Steve, if you're reading this, I think an in-depth interview about Jud Jud is in order.
Gayrilla Biscuits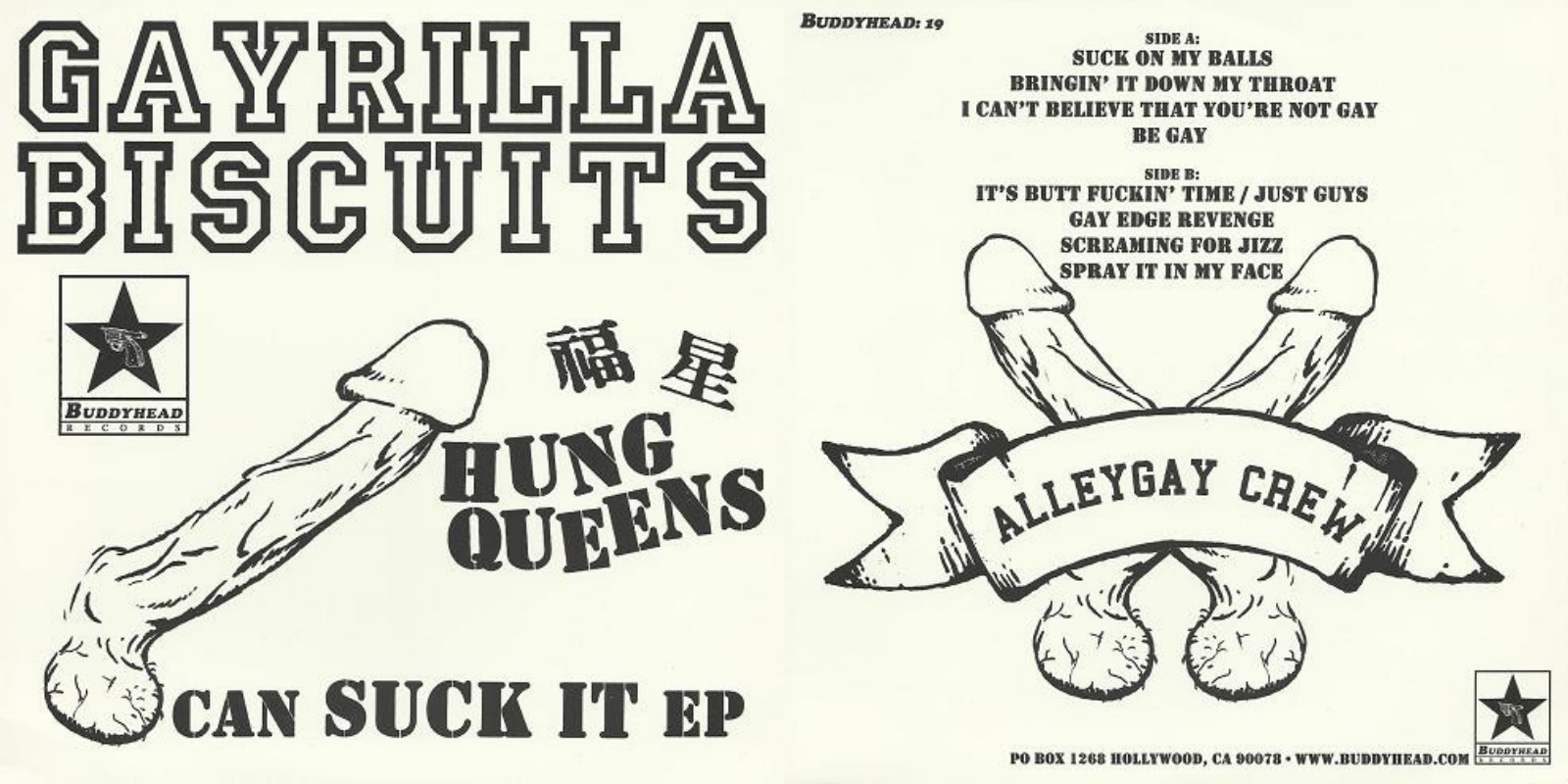 Gayrilla Biscuits caused the most shit-talking of any of the bands in the piece. The people who released the record were Travis Keller and Aaron North of Buddyhead Records, a label and website that never shyed away from controversy.
Travis and Aaron (who later became a member of Nine Inch Nails) were looking to push buttons with their version of GB, and with song titles like "Gay Edge Revenge" and "Screaming for Jizz," they probably did.
Powerpoint™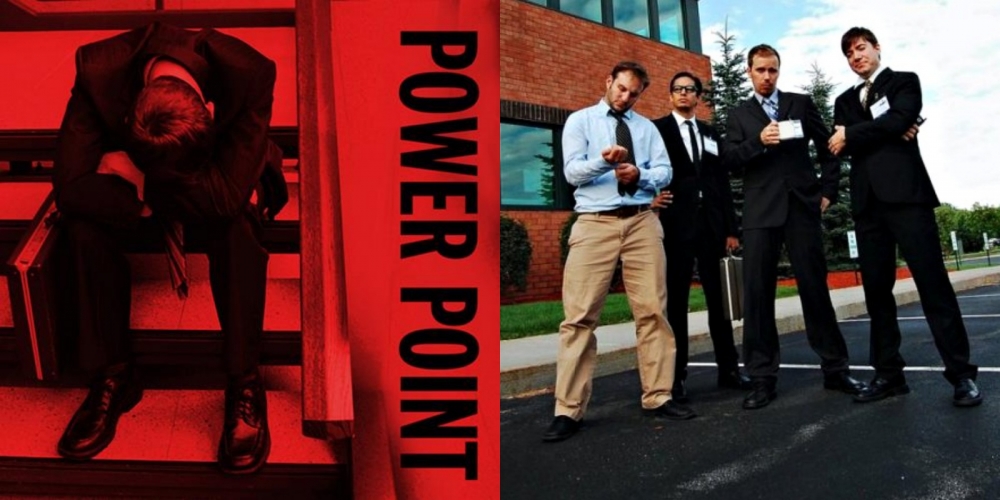 Corporate office culture + straight edge hardcore = Powerpoint™. From their bio: "Using its patented mix of mosh-driven strategies and proven guitar-driven results, Powerpoint™ provides blended solutions to businesses and customers looking to gain a financial edge in these crucial times."
Full disclosure: I played in a band with Powerpoint™ drummer Benj Gleeksman years ago, but we definitely weren't as cool as these corporate edgers. Check out their Mission Statement EP on Thorp Records for some fun mosh.
Tagged: colt turkey, crucial youth, gayrilla biscuits, grudge hardcore band, jud jud, parody hardcore bands, powerpoint hardcore band