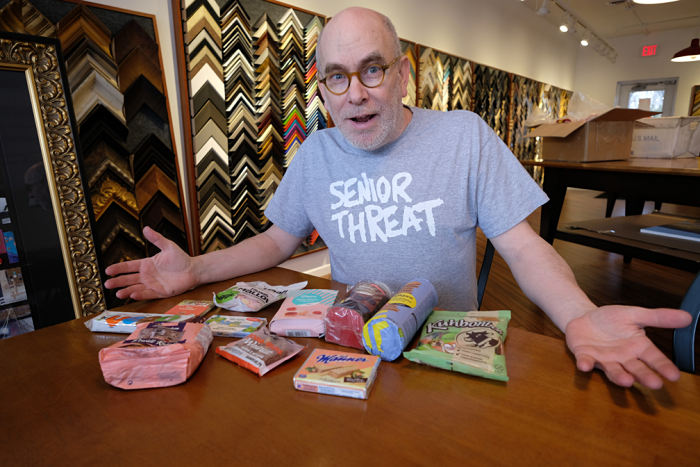 Welcome to the first installment of Cutting Steak in 2020. I wanted to start off the year by first giving you all an explanation of the name of this column. "Cutting Steak" was a term coined by my old friend, K. Scott Ritcher, to describe how some drummers looked when they played. If you mime a drummer playing drums, but also keep your hands close together it looks like you are cutting a steak. This gesture was used for years during shows if I made eye contact with a friend across the room at show and wanted to express that I liked the drummer.
With this first interview of the year, I'm going back to my roots and interviewing the drummer that first inspired me to play fast: Jeff Nelson. You may know him as the drummer for Minor Threat and co-founder of Dischord Records. His playing on the Minor Threat discography, and especially the Egg Hunt and Three releases, still provide me with much inspiration. Today, Jeff lives in Toledo, OH where he manages Pedestrian Press, and is always working on his beautiful Victorian house. Thanks to Ryan Patterson for consulting with me on some of these questions.
You moved from DC to Toledo, Ohio many years ago. What drew you to the Rustbelt area? Are you actively involved in the local art and music community there?
I moved to Toledo about 16 years ago for two reasons:
To buy a big Victorian house the likes of which I could never afford in the DC area

Because Toledo is the home of Jeep, and I was obsessed with the Jeep Wagoneer. Very exciting was the recent announcement of the formation of a proper Jeep museum, scheduled to open in 2022.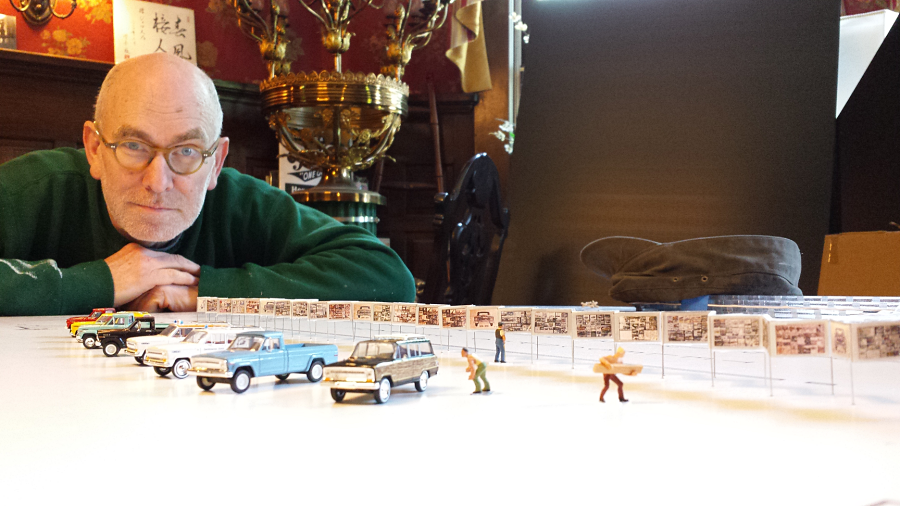 What first sparked your interest as a kid to play drums?
As a kid, I loved Revolutionary War soldiers, and the Fife and Drum Corps, which I saw playing at Colonial Williamsburg in 1970.
Do you have any formal musical training?
Nope, I just learned to play by listening and playing along to my favorite records (such as "Pure Mania" by The Vibrators).
Share a story about when you got your very first drum set.

At age 17 (1979), I saw a listing for a drumset for $85, and since I did not have my drivers's license yet, my friend Nancy drove me in her parents' station wagon to pick it up.
Do you remember what drum kit and other equipment you used in your various bands?
1st drumset: Blue/Pearlescent Lido Supreme (Japanese Ludwig knockoff)
2nd drumset: White Royce 5-piece
3rd drumset: Green Pearl Export Series 5-piece
You are well known for being the drummer for the Teen Idles, Minor Threat, Three, The High-Back Chairs, Senator Flux, and more recently, Fast Piece of Furniture. Are there any other bands or projects you played in that never recorded, or came to full fruition?
Here is a list of all the bands I played in:
Slinkees
The Teen Idles
Minor Threat
Skewbald/Grand Union
Feedbag
Three
Wonderama
The High-Back Chairs
Senator Flux
Fast Piece of Furniture
In my memory of photos and videos of you playing during the Minor Threat era you sometimes wore gloves and your cymbals seemed to be unusually high. Is this something you stuck with in future years? Was it a conscious performance/ergonomic decision back then or a youthful random thing?
I suppose I was influenced a little by the fact that Alex Van Halen wore gloves, but they were mainly an attempt to stop getting painful blisters. I would also routinely apply as many as a dozen band aids covered with tape where I knew I'd get blisters. I can't remember exactly, but I probably put my cymbals up pretty high so I could hit them harder? Also, I probably did not want my cymbals blocking my view of band and audience, and vice versa.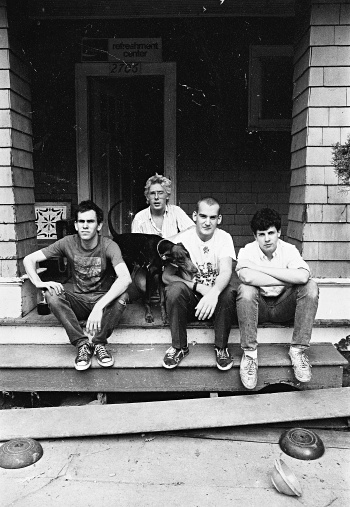 Minor Threat's precision live and recorded was incredibly impressive, both because of the relative newness of hardcore as a genre and your collective young age. I've read that this was inspired by the Bad Brains, who also stand out as possibly the most exacting and pummeling band of the time, but were there other inspirations to be so tight and precise, either musically or otherwise?
Yes, other bands who inspired us (Teen Idles and Minor Threat) to play fast were the Cuban Heels ("Smok Walk"), DOA, Ruts, Circle Jerks. I'm sure I'm forgetting some other very worthy bands. We listened to Van Halen constantly.
Are you still actively playing?
No, I haven't touched my drums in about 12 years.
Who were some of your favorite drummers to watch live back in the day?
Well, first I think it's important to acknowledge my favorite drummer, Ian Paice from Deep Purple (Beatles are my favorite band, Deep Purple my next favorite band). I remember certain drummers were lots of fun to watch: Earl from Bad Brains, Chuck Biscuits from DOA, Robo from Black Flag. I'd like to say I remember watching John Bonham drumming, but his long drum solo was so boring when I saw them in 1977 that I went to the bathroom. What an amazing drummer, though (as was Keith Moon).
When did you first show an interest in graphic design? Did you have formal design and printmaking training?
I always loved lettering and signs, and I started sketching labels and posters by at least 5th Grade. 5 years after graduating from high school, I went to Northern Virginia Community College and got an Associate's Degree in Advertising design. But I think I learned most stuff hands-on.
Your design work has been incredibly influential throughout the worlds of punk, hardcore, and indie rock. From the early clean and iconic Dischord and Minor Threat designs to the later '80s, where you explored adventurous typefaces and screen printed posters for Three that expanded on the bold images and strong tones of punk with nearly art-nouveau designs, the imagery has always been nearly as important as the sounds. What were your design influences both in and outside of the music world?
Illustrations were very influential on me as a child, and one of my favorite collections these days are German children's military picture books, from 1870-1918 (Franco-Prussian War and World War I). Certainly, I read comics as a kid, and Mad magazine, and I loved Tintin books. Later, I discovered Alphonse Mucha and Ludwig Hohlwein, two incredibly important poster artists. Certainly always loved Norman Rockwell.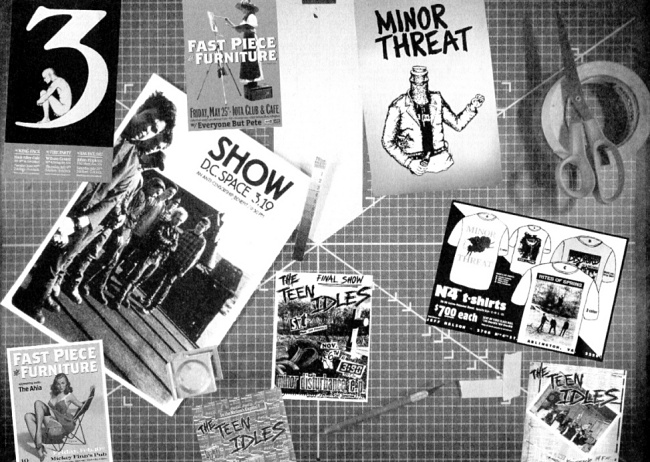 How time-consuming was it to have to use rub-on lettering back then?

Oh, very time-consuming. To do the lyrics for a 7" EP (with perhaps 6-8 songs) could easily take 4-5 days. Getting stuff type-set was so expensive, we could never afford that. Desktop publishing changed everything.
Do you have anywhere people can go to see all of your design work online? Have you ever shown your work in a gallery or exhibition setting?
No, I'm afraid there is no centralized place to see work I've done. Perhaps I'll do that someday. Certainly, my stuff has been shown in galleries several times over the years.
Recommend to the readers some albums that you think have incredible drumming on them.
Deep Purple – great albums, great drumming: In Rock (considered first heavy metal album), Fireball, Machine Head, Who Do We Think We Are?. All early Black Sabbath. Early AC/DC (some would describe drumming as boring, but it is so steady, and I think those are the best-produced rock albums ever). Beatles, of course. Steve Miller Band Fly Like an Eagle, The Joker.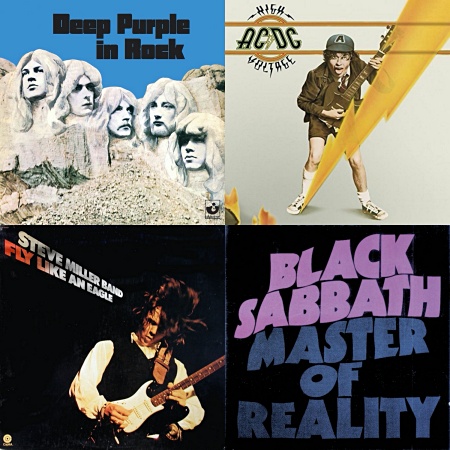 What do you have going on in the near future?
Just working hard on my big Victorian house, and continuing to add to my various collections. I hope to help with the newly established Jeep Museum.
***
You can buy official Dischord Records merchandise at Pedestrian Press. For music, hit up the Dischord Records website.
Tagged: cutting steak, minor threat