Ben Merlis is a bonafide music junkie. Throughout the years, he's played in such bands as Fields of Fire, Bad Reaction, Broken Needle, and currently, he's the singer/guitarist in a punk band called Surprise Vacation. Ben also works in the music business, on the publicity side of things. But what brings him to the site today is Goin' Off: The Story of the Juice Crew & Cold Chillin' Records, a new book he penned on the short yet influential legacy of the rap label.
Boasting a roster that included Big Daddy Kane, Kool G Rap & DJ Polo, and Biz Markie, it's about time that someone gave Cold Chillin' the spotlight it deserves, and I'm happy to chat with Ben today to get the lowdown on his project.
When and how did you first become a fan of Cold Chillin' Records? I grew up in the middle of that in Queens, so it was tough to ignore, especially on radio. Since you're a California native, and younger than me, I think it's really cool that the label, and its artists, had such a big impact on you.
I first became aware of hip-hop in 1985 when I was 7 and I saw the Mario Van Peebles movie, Rappin', in the theater. It's a terrible movie, but it opened me and my older brother up to this entire universe. Two years later, Warner Bros. Records, this major label based in Burbank where my dad worked in the publicity department, made a deal with this new, small independent rap label in Manhattan called Cold Chillin'.
Employees of Warner Bros. Records would get promo copies of anything the label was putting out mailed to them. So here comes a 12" by Roxanne Shanté called "Have a Nice Day." We listened to that thing over and over again, staring at the photos of this girl who couldn't have been much older than us jumping on a Pogo Ball and riding a skateboard. She was just like us! We were already big rap fans, and Cold Chillin' was putting out lots of it, really rivaling only Def Jam in terms of consistent quality.
How big were Cold Chillin' artists like Big Daddy Kane, Kool G. Rap, and Biz Markie in the LA area back in the day? Biz had a huge crossover hit in "Just a Friend," but how about the other acts on the label?
In LA at the time, we had this radio station called KDAY that was on 1580 AM. It may have been the first commercial radio station ever to have a predominantly hip-hop playlist. It was nothing like the FM station KDAY that exists today that only plays West Side Connection on a loop. The KDAY of the '80s played the shit out of "Vapors" by Biz Markie and "Raw" by Big Daddy Kane — two more records on Cold Chillin' and its parent label Prism. So they were big in LA and would come out to the Warner Bros. office pretty regularly, especially Kane. He recorded a greeting for my older brother's answering machine once. We also got to meet him when he was on Arsenio Hall in '89, which was taped out here in Hollywood.
Also by August '88, Yo! MTV Raps premieres, so anyone with cable, regardless of where they live, is exposed to those guys. Biz and Kane fared the best — Kane has two gold albums, Biz has one gold album and "Just a Friend" is a platinum single. Kool G Rap has always been severely underrated. If you look at all the MCs who are always making Top 10 lists, he's often the only one without a gold or platinum plaque to his name.
As for the LA connection, the last Kool G Rap & DJ Polo album was partially recorded in LA and produced by Sir Jinx, who did most of the Ice Cube stuff. Ice Cube is even on it. I think it would have been huge, especially in LA, but Warner Bros. dumped it from their release schedule before it came out. They got so much shit for the song "Cop Killer" by Body Count, that they purged anything controversial from their release schedule. Cold Chillin' released the album independently.
What's the genesis behind the book? How did you pitch BMG Books and convince them you could tackle the project?
I met a guy named Scott B. Bomar at a party. He said he works for BMG and he was spearheading this whole book division, where all the books are about music. He had this series already in the works called RPM — each book is 7" x 7", like a record, and is about a different record label. I already had this idea in mind to make a documentary about the Juice Crew — the hip-hop collective that created most of the early Cold Chillin' catalog. I asked him if anyone was doing a book about a rap label and he told me not yet, but it needs to happen. I said, "Someone should write a book about . . ." and I almost said Tommy Boy, which is another, much more successful label. Instead I said Cold Chillin'. A few months later I met with him again and told him, "I should write a book about Cold Chillin'" and he was sold. It all happened by chance.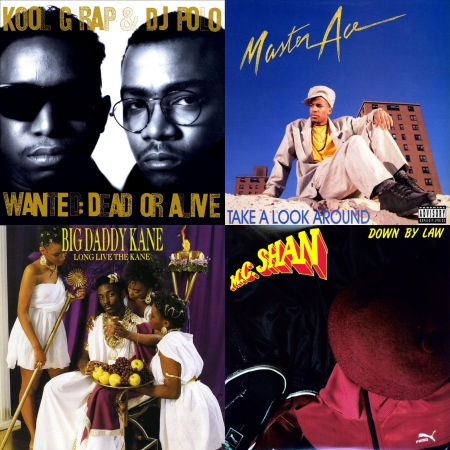 How tough was it tracking all of the players down? Did you have a lot of trouble getting certain parties to agree to be interviewed? I know how much of a pain in the ass that can be.
It was a range of responses. Some people were very to easy to get on the phone. Some agreed, but I had to keep pestering them until I finally got them on the phone. Some agreed and I never got them. Some flat out said no or ignored me. Some said yes and then ignored me. One person wanted to be paid to speak with me, but I didn't have the budget for that. One person I made friends with and hung out with many times, but he refused to be interviewed. I ended up interviewing close to 35 people, so I'm happy with how it turned out.
Peanut Butter Wolf (Stones Throw Records founder, DJ/producer) wrote the foreword for the book. Tell me about that and bringing him in.
I had met him once before, but didn't have any real connection to him. When I started doing the Instagram to promote the book, he was one of the first people to follow me and one of the first to comment. He is just a huge fan of that label and that era of hip-hop. So we'd DM each other a lot, just talking about old rap. He owns a bar in my neighborhood, and one day I drove down there and asked him if he'd want to write the foreword for the book. Without hesitation he said he'd love to do it. He was the first and only person I asked. It's pretty obvious he's a superfan if you listen to the recordings he did in the early '90s with Charizma. They are laced with samples from Cold Chillin' records.
Why do you think so many people in the hardcore community love and identify so closely with hip-hop? Was that always the case in Southern California?
I think the connection between hardcore and hip-hop might actually be stronger in New York, but I don't know for sure. In the '80s a lot of hardcore punks out here were into graffiti, which has an obvious connection with rap. Punk, which I'm using interchangeably with hardcore here, at its essence is a raw, rough, street level art form, as is hip-hop. If you look at the first white people to get into rap, a lot of them came from punk — Blondie and The Clash took stabs at rap, Chris Stein from Blondie recorded the Wild Style soundtrack, the Beastie Boys started as a punk band, Rick Rubin played guitar in a punk band called Hose and Def Jam started as a punk label.
George DuBose, who took most of the photos for the records on Cold Chillin', was doing the same thing for the Ramones concurrently. He hung out at the Mudd Club before he had ever heard a rap record. Monica Lynch was in one of the first Chicago punk bands ever—BB Spin—before moving to New York and working for Tommy Boy, and signing De La Soul and a million other seminal rap groups in the '80s and '90s. Plus, just listen to a song like "Raw" by Big Daddy Kane or "Rebel Without a Pause" by Public Enemy — that's fast, gritty, hard-hitting music, like punk! The two genres also have a lot in common politically, when they're being political. This topic deserves its own book.
If you had to play one Cold Chillin' song/record for someone who has never heard anything from the label before, what would it be and why? I guess what I'm asking is, in your estimation, what represents the sound and spirit of Cold Chillin' Records better than anything else?
I'd play them an album called In Control, Volume 1 by Marley Marl. Marley was the original staff producer for Cold Chillin', and the album is actually a compilation of stuff he produced in 1988. So it gives you a great cross section of the rappers who were on the label, like Biz Markie, MC Shan, Roxanne Shanté, and Masta Ace, who went by Master Ace at the time. You also get a few Juice Crew members who never signed with Cold Chillin', like Craig G and Tragedy, and a duet between Biz Markie and Heavy D.
If I had to narrow it down to one song on that album, it would be "The Symphony," which has Masta Ace, Craig G, Kool G Rap, and Big Daddy Kane taking turns rapping, in that order. It was actually recorded the same day George DuBose took the photo that graces the cover of the book, with them standing in front of an airplane flexing. It was a high point for Cold Chillin'. A lot of the principal players went their separate ways not long after that.
***
Goin' Off: The Story of the Juice Crew & Cold Chillin' Records will be out on Nov. 5 and can be pre-ordered on Amazon today. The book's Instagram page can be found here.