As the keyboardist/guitarist and founding member of Survivor, Jim Peterik is behind some of melodic rock's finest songs. The Illinois native has written or co-written Survivor hits like "Eye of the Tiger," "High on You," "Is This Love," and "Burning Heart," among others. Before that, Peterik sang and handled guitar duties in The Ides of March, a Blood, Sweat & Tears-like band most famous for "Vehicle," a song penned by the future Survivor. In early 2015, The Ides of March will be releasing a special 50th anniversary CD/DVD package called Last Band Standing that will include the group's biggest hits, plus a live set filmed this past July at the House of Blues in Chicago.
Currently a member of Pride of Lions, Peterik has also co-written songs for Lynyrd Skynyrd, REO Speedwagon, Sammy Hagar, and many other artists. 38 Special's three biggest hits, "Rockin' into the Night," "Caught Up in You," and "Hold on Loosely," were also co-written by the AOR legend.
I recently read and reviewed Peterik's excellent autobiography, Through the Eye of the Tiger, and, just the other day, also had the chance to chat with the songsmith on the phone during a break in his studio schedule.
Like I pointed out in my review, if you're looking for a scandalous book filled with groupie stories and cocaine parties, Through the Eye of the Tiger isn't for you.
Yeah, one of the reasons I think I hesitated to write this book is that I didn't have a trainwreck story, really. I'm a voracious reader of rock biographies and autobiographies, and after reading [Mötley Crüe's] The Dirt, you started wondering if your story has enough tooth to it [laughs]. But as I started writing my book, I realized I've had a lot more conflict in my life than I had originally thought. There was an interesting thread to how it all played out, and how I overcame it all.
I knew a lot about your musical output going into the book, but it helped drive the idea home that you've had a nine lives type of career.
I like to look at my career in chapters. The first chapter would be growing up and being so in love with music at a young age. The next big chapter would be my time in The Ides of March, cutting my teeth out on the road and learning how to be a professional musician. The next chapter would be when I was working in Chicago, recording commercial jingles. You know, not being a star, but making a living through music. The chapter after that was my solo career, which was a total flop, but it leads me to forming Survivor. And you know the rest of the story.
Speaking of your commercial jingle work, you tell an interesting story in the book where you mention Richard Marx and his father, Richard "Dick" Marx.
Dick was one of the biggest jingle producers in Chicago in the '60s and '70s. I'll never forget recording a session for Dick and there was this little blonde kid looking on, soaking everything in. You could just tell that this kid was paying close attention. That was Richard Marx.
It sounds like you made decent money doing all of those jingles.
It was a means to an end type of thing. I never thought I would end up singing on a Sunkist commercial, but it paid the bills [laughs]. The original Survival demo tapes were paid for with the money I made in those jingle sessions.
You also met Dave Bickler, the original singer in Survivor, during that time period.
Yes, I met him at a session for an airline. I remember thinking that he sang really high. In between takes, Dave would always be in the corner of the studio reading one of his sci-fi books [laughs]. He was always a quiet guy. When it came time to record my solo album in 1976, I had him come in to record some background vocals on a track called "Let There Be Song." He's such a great singer.
An aspect of your book that I really admired was the honest way you describe your relationship with your wife, Karen.
I've been a lucky guy to be with the same woman for 42 years now, 46 if you count since the day we first met in high school. You gotta count your lucky stars when you find someone that you can stand [laughs]. And she can stand me, which is definitely more of a challenge. But, yeah, there were some hard times for us. I didn't spend a lot of time with her in the '80s because of my career with Survivor. She was never an appendage type of girl. She wasn't a Yoko Ono kind of wife that wanted to go out on the road with me, and I really didn't want her on the road because that's such a different world.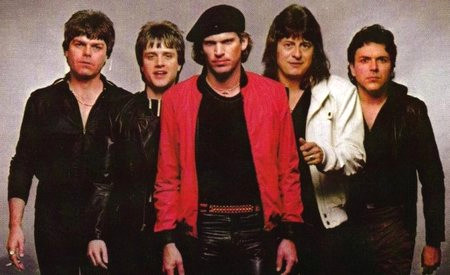 You even reveal that she called you out for not standing up for yourself during your time in Survivor. You talk about losing the grip of the band to your guitarist, Frankie Sullivan.
She was very disappointed in me during that period. She almost divorced me because I couldn't divorce myself from that situation with Frankie. It was hard. She didn't respect me because I didn't stand up for myself within the band. Frankie didn't want me playing guitar anymore, or singing lead vocals, even though that's what I was doing when I started the band. So, yeah, she had issues with that and it took its toll on our relationship. But my life and marriage turned around on July 4, 1996 [Peterik quit Survivor for good on that day] and I've never looked back since. It was a great day, but a scary one at the same time.
Before reading the book, I had no idea that you and Frankie had so many issues with each other.
Frankie didn't think there was room for two guitarists on our stage. He dealt with things like that in a passive-aggressive manner. It was one of those things were the things he didn't say sometimes meant more than the things he did say. A look was worth a thousand words with him.
In your book, you say that you felt that Frankie was jealous of your outside co-writing gigs with people like 38 Special and Sammy Hagar. The way you paint it, he was threatened by it.
Of course he was. You know, Frankie can obviously write a song, but he depended on me and my ideas, basically, for his livelihood. It was such a different situation from The Ides of March where they would have been championing my outside songwriting. They would have been like, "Go Jim!" They would have known that it would have all tricked down back to the band and be wonderful for everyone involved. Frankie was a whole different breed. He aligned the other band members against me on that one.
It's funny, but just a few weeks ago I was part of a service to honor [late Survivor singer] Jimi Jamison's life, and [former Survivor drummer] Marc Droubay was there. The last time I had seen him was 25 years ago when he was playing a cha-cha beat to "The Search is Over" to screw with us [laughs]. Anyway, he hugged me and told me had just read my book and loved it. He's going to be jamming with me in a few days at a fundraiser for Jimi's favorite charities, St. Jude's. Marc's playing style was so important for the Survivor sound. I can't wait to play with him again.
SEE ALSO: '80s Action Film Montage Music: Never Say Die, It's Far from Over!
A music industry figure that weighs heavily in Survivor's story is A&R executive John Kalodner.
I consider John Kalodner my mentor in the business. I first met him back in 1975 when my manager at the time was shopping my solo deal. It was in [Atlantic Records president] Jerry Greenberg's office in New York City. John was this nerdy guy who was Jerry's go-to person at the label. Jerry would go, "Go get me that tape," and John would run to get it [laughs]. But little did I know that John had big ears. When I finally saw John again, he said, "You know, I really loved that song 'Lazy Susan' you played for Jerry Greenburg." I couldn't believe that he had remembered that song! John is a total music geek, and I mean that in the best possible way. He thinks of music as a high art, like I do, and I'm sure you do, too.
John always saw me more than just a guy in Survivor. From early on, he started setting me up to write with other people. One of the first guys he put me with was [former Outlaws and Blackhawk guitarist/vocalist] Henry Paul. We wrote material for the first two Henry Paul Band albums on Atlantic. After that, I worked with Sammy Hagar on the song "Heavy Metal." That one was epic since the song survives to this day. Kalodner was also responsible for 38 Special recording "Rockin' into the Night."
"Rockin' into the Night" ended up becoming a huge hit for them, something your Survivor bandmates weren't too excited about.
That was the first conflict I ever had in Survivor. The song became 38 Special's first Top 10 single, while Survivor was still trying to get our first hit record. Kalodner had given 38 Special's manager, Mark Spector, Survivor's version of that song, and my band blamed me for that, even though I had nothing to do with it.
Listening to both versions, back to back, I prefer 38 Special's. They give a boogie-woogie, Southern feel to it. It was almost like you wrote the song with them in mind, but I know you didn't.
That's precisely why [producer] Ron Nevison cut it from the first Survivor album. He didn't think our version of the song was on brand for us. He was right about that.
I recently interviewed Ron Nevison, and while we went over the stuff he produced for Survivor, I told him how much the song "Man Against the World" meant to me. I think Jimi's vocal on that one is probably his best moment.
We were in Lake Geneva, cutting the vocals, and Frankie went to the bathroom. When he came back, I told him, "Jimi just sang the best line he's ever sung in his career!" Well, he didn't look impressed. He then says, "Fine, let's hear it." So I played him the first verse and he says, "Yeah, you're right." That took a lot for Frankie to say "you're right" to me [laughs].
SEE ALSO: 2014 Ron Nevison Interview
With Jimi's recent passing, the lyrics in "Man Against the World" have an even heavier weight to them.
The one line that came to me while you brought up the song is: "A brand new day will shine / through the avalanche of time." Holy shit! Jimi singing that line? Get out of town. I remember when Frankie and I were writing that song, the word "avalanche" just came to me and I asked him if it worked, and he's like, "Shit, yeah!"
Did Frankie contribute many lyrics on those Survivor albums?
He wasn't really a lyricist, but he was always a great editor. He always had great ideas about taking certain lines out, things like that. Frankie always put his best foot forward in that aspect. Occasionally he would come out with a lyric idea that I would go, "Whoa!" I remember writing "I Can't Hold Back" and I sang him my line, "There's a story in my eyes." He then says, "Turn the pages of desire." I was like, "Shit! Where did that come from?"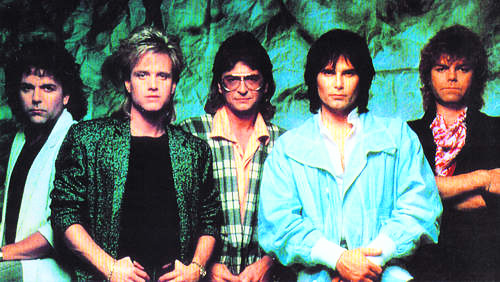 I can only speak about the States, but I think most people here only associate Survivor with "Eye of the Tiger." You have other big hits like "The Search is Over" and "I Can't Hold Back," but I'm not sure the average person here knows who the artist is when the songs are played on the radio today.
You know, we didn't have the cool image of the Rolling Stones or someone like that. I hate this term, but I think Survivor was a bit faceless. Jimi Jamison was the closest thing to a public star in the band. In our videos, Jimi was the main focus, and I loved that, but Frankie hated it. Jimi was charismatic, and he was singing the fucking lead part! The camera is going be on him, right?
Why do you think melodic rock/AOR is more popular in Europe, Japan, and other parts of the world than it is in the States?
I have no clue, but I do think they have great taste in those places. America is always looking for the next big thing, the next flavor. Places like Europe tend to remember the music they've always loved. If you become a star in Europe, you're always a star in Europe. If you had success in the '50s, '60s, '70s, and '80s in other parts of the world, you can go over there and tour and have a successful career all these years later.
I love all kinds of music. I love rockabilly. The Ides of March and "Vehicle" was R&B played by white suburban kids. But I love melodic rock so much. I love the production as well. AOR, melodic rock, whatever you want to call it.
Jumping to more recent times, you co-wrote "That's Why God Made the Radio," the title cut to the Beach Boys' 2012 studio album.
That song has become my biggest bragging point because he was my musical hero. It's crazy that I ended up writing with the guy, let alone the album debuting at #3 on the Billboard chart. Working with Brian has been one of the highlights of my career so far.
***
Through the Eye of the Tiger is out now via BenBella Books, and available on Amazon.