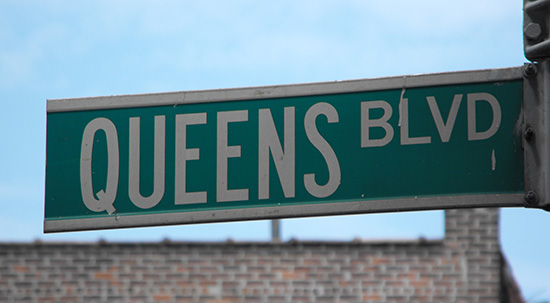 As someone who was born in Queens, N.Y. in 1975, and lived there 'til the age of 31, I was lucky enough to be around the early days of several burgeoning music scenes as a kid. Early hip-hop heroes such as Run-D.M.C. and LL Cool J came from my borough, and their music was almost inescapable whether you were hanging at the local city park or walking through the streets after school.
Another music movement that Queens proved to be a hotbed for was hardcore. Some folks might overlook Queens for Manhattan when it comes to punk and hardcore's history, but that's just complete and utter bullshit.
This list feature includes some of the hardcore bands that not only called Queens home, but also made me proud to also be from the borough.
Sick of it All
Formed in 1986, Sick of it All is arguably the most consistent hardcore band in the history of the genre. Over the course of 10 studio albums the Queens-bred combo has delivered no-nonsense songwriting that never bothers to check in on whatever scene trend is in vogue at the time.
Key release: Blood, Sweat and No Tears (In-Effect Records, 1989)
Murphy's Law
The heart and soul of Astoria hero Jimmy Gestapo, Murphy's Law combines punk and ska flavorings into their hardcore formula. Gestapo's larger-than-life persona in the vocal booth, and the group's wild live performances, have secured Murphy's Law's legendary reputation within the NYHC community.
Key release: Murphy's Law (Profile Records, 1986)
Heart Attack
Featuring future D Generation frontman Jesse Malin, Heart Attack was an early wave hardcore band comprised of teenagers from the Whitestone section of Queens. Though their 1984 breakup meant the band wasn't around for the NYHC scene's golden years in the late '80s, this list wouldn't be complete without including Heart Attack on it.
Key release: Subliminal Seduction (Rat Cage Records, 1984)
Reagan Youth
Hailing from the Rego Park area of Queens, Reagan Youth was one of the more politically-minded acts featured here. Reagan Youth singer Dave Rubinstein committed suicide in 1993, shortly after the murder of his girlfriend at the hands of serial killer Joel Rifkin.
Key release: Youth Anthems for the New Order (R Radical, 1984)
Killing Time
Raw Deal was formed in 1988 by former members of Breakdown, Sick of it All, and Token Entry. Changing their name to Killing Time in 1989, the band was fronted by Queens native Anthony Comunale. Killing Time released one of the all-time hardest NYHC albums with that year's Brightside. When it comes to pure command in the vocal booth, few frontmen in the hardcore community can hold their own next to Jackson Heights' own Comunale. [I know it's a bit of a stretch to include these guys on this list since as far as I know, only Comunale is from Queens, but since they're one of my favorite hardcore bands all time, I had to.]
Key release: Brightside (In-Effect Records, 1989)
Dmize
They never released a proper studio album during their time together in the early '90s, but it isn't tough to hear Dmize's influence on current day hardcore groups like Trapped Under Ice and Backtrack. Members of Dmize went on to join such bands as Madball and 25 ta Life.
Key release: Backlash (Lost and Found Records, 1995)
Kraut
Astoria's Kraut made their first live appearance via an opening slot for The Clash at NYC's Bond International Casino in 1981. Kraut featured future Cro-Mags guitarist Doug Holland, and their song "All Twisted" became a hardcore standard of sorts with cover versions coming from CIV and Outburst, among other acts.
Key release: An Adjustment to Society (Cabbage Records, 1982)
Crown of Thornz
One of several music projects lead by Jackson Heights-raised Danny "Ezec" Singer, Crown of Thornz's 1995 Train Yard Blues EP is a must-own for any fan of emotionally-charged vocals being delivered over chunky rhythmic arrangements. The best way I can describe Crown of Thornz is to imagine a less chaotic version of Burn (Revelation Records) circa their debut EP.
Key release: Train Yard Blues (Equal Vision Records, 1995)
Token Entry
Token Entry would eventually morph into a funky rock act on later releases, but their From Beneath the Streets and—to a lesser degree—Jaybird albums showcased a bare bones hardcore approach to their songwriting. The Astoria band featured Tim Chunks on vocals, a musician who later worked with Green Day as a touring guitarist and tech.
Key release: From Beneath the Streets (Positive Force Records, 1987)
Gorilla Biscuits
Still playing sold-out shows throughout the globe, Gorilla Biscuits inject catchy melodic hooks into songs like "Competition" and "Start Today" that bring to mind Dag Nasty and 7 Seconds. With members growing up in such neighborhoods as Jackson Heights and Astoria, Gorilla Biscuits made all of the hardcore kids in Queens proud.
Key release: Start Today (Revelation Records, 1989)
Outburst
Calling (you guessed it) Astoria home base, Outburst initially made a splash within the hardcore community via their appearance on the seminal 1989 compilation, Where the Wild Things Are... Unfortunately, Outburst never got around to recording a full-length, but their Miles to Go 7" remains a genre classic.
Key release: Miles to Go (Blackout! Records, 1989)
Bad Trip
Although Bad Trip often get overlooked whenever journalists cover the New York hardcore scene, that doesn't mean their recorded output should be ignored. Members of the band grew up in the Douglaston and Jackson Heights sections of Queens, and toured throughout Europe in the '90s. Former Bad Trip guitarist, Marcos Siega, transitioned to a life in Hollywood, directing hit shows like Dexter, The Following, and True Blood. He's currently the executive producer of the Kevin Bacon series The Following.
Key release: Elevator (Wreck-Age Records, 1993)
Leeway
I was not alone in thinking that Astoria's Leeway were going to be one of the biggest "heavy" bands in the world after hearing their 1988 debut album, Born to Expire. Marrying gritty hardcore with the precision of thrash metal, the album was an absolute game-changer. Label and membership setbacks derailed them, but Leeway's importance in the crossover hardcore movement cannot be overstated.
Key release: Born to Expire (Profile Records, 1988)
The Mob
Jackson Heights' The Mob were NYHC OGs, forming all the way back in 1980. Featuring onetime Heart Attack guitarist Jack Flanagan, the band released a track called "Back to Queens" in 2012, waving the flag for their beloved borough. These days, Flanagan is an artist manager these days and oversees the careers of Clutch, GWAR, and Ronnie Spector.
Key release: We Come to Crush (Big City Records, 1986)
GO!
Existing from 1989 - 1991, GO! had a pro-gay and lesbian stance in some of their songs, a topic that was not prevalent in the hardcore scene at that time. Singer Mike Bromberg, a.k.a. Mike Bullshit, has created a GO! portal of sorts on his personal website that features free downloads of some of the group's material.
Key release: Why Suffer? (Forefront Records, 1990)