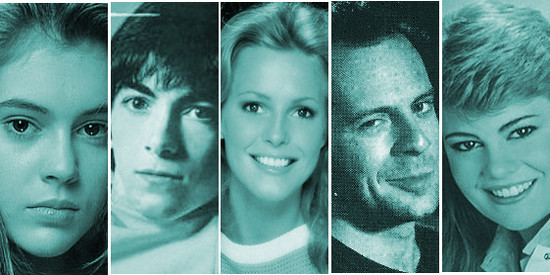 Some people just want it all.
You would think that landing a high-paying job on a sitcom or feature film would be enough to satisfy an actor's ego, but for some, the idea of hearing their singing voice blaring out of a radio is way too enticing to turn down. You've seen it before. An actor starts getting popular and someone, somewhere, (usually in Los Angeles or NYC) thinks out loud: "They're hot right now. Let's sign them to a record deal!"
In some ways, I can't blame some of the actors who've tried their hand at a music career, but some of them—ok, most of them—had no business stepping into a recording studio.
For this feature, I decided to take a look at a few actors who released albums during the '80s. As you'll see and hear, the results were a mixed bag, at best.
David Hasselhoff
You knew he'd be on here, right? A lot has been said about David Hasselhoff's musical career since the '80s, all of it either deriding it, or having a laugh at its expense. With a title like Night Rocker, I really wanted to like Hasselhoff's first full-length, but outside of its LOL-worthy cover photo, the album is just as god-awful as everyone says it is. The rest of the stuff I've dared to listen to from Hasselhoff's later records were even worse than the pile of turd that is Night Rocker.
(Partial) Album Discography:
Night Rocker (1985)
Lovin' Feelings (1986)
Lonely Is the Night (1989)
Looking for Freedom (1989)
Crazy for You (1990)
Alyssa Milano
Alyssa Milano became a sensation in Japan after co-starring with Arnold Schwarzenegger in 1985's Commando. She eventually signed with the Japanese label Pony Canyon and in 1989 released Look in My Heart, the first of four studio albums from the deal. Every single album she released in Japan was void of any worthwhile material, but Milano still scored some hits over there. During an interview on Jimmy Kimmel Live in 2013, the host told the actress, "You're like the Japanese David Hasselhoff in a way." Embarrased by her musical career in the Far East, Milano put her head down on Kimmel's desk when he played one of her old music videos. At least she has a healthy sense of humor over the whole thing.
Album Discography:
Look in My Heart (1989)
Alyssa (1989)
Locked Inside a Dream (1991)
Do You See Me? (1992)
Cheryl Ladd
Charlie's Angels starlet Cheryl Ladd released three albums in the span of four years during the peak of her popularity in the late '70s, early '80s. "Fascinated" comes off her third album, 1981's Take a Chance, and was written by Ladd's husband, Brian Russell, a songwriter/producer who has also worked with artists like Chaka Khan and Bette Midler. The album features production work from Daryl Dragon, the "Captain" half of pop duo Captain & Tennille. A sucker for middle of the road pop from the era Ladd's albums were made in, I actually enjoyed a few cuts from each of her records. Chances are you won't.
Album Discography:
Cheryl Ladd (1978)
Dance Forever (1979)
Take a Chance (1981)
Jack Wagner
General Hospital stud Jack Wagner wasn't messing around when he decided to have a go at a music career. Not only did he sign with Quincy Jones' Qwest Records (making him American label mates with New Order!), he also had the likes of David Foster (Chicago, Whitney Houston) and Glen Ballard (Alanis Morissette, No Doubt) producing the sessions for his 1984 debut album, All I Need. The title track, co-written by Ballard, Clif Magness and Ambrosia singer David Pack, became a smash single, peaking at number two on the Billboard Hot 100 chart in early 1985, blocked out for two weeks by Madonna's "Like a Virgin." Wagner never scored a hit again, but "All I Need" has gone on to become a lite FM standard.
Album Discography:
All I Need (1984)
Lighting Up the Night (1985)
Don't Give Up Your Day Job (1987)
Alone In a Crowd (1992)
Scott Baio
A teen pinup in the early '80s from his work on the sitcoms Happy Days and Joanie Loves Chachi, Scott Baio's two studio albums for the folks at RCA are positively awful. Most of the material finds the Brooklyn, NY native coming off like a third-rate Rick Springfield rip off, but without the songs or talent. When his producers steer him into a balladeer direction, Baio failed even harder. As charming as he comes off on television, the guy just doesn't have any singing talent. Auto-Tune was invented for "singers" like Baio.
Album Discography:
Scott Baio (1981)
The Boys Are Out Tonight (1982)
Don Johnson
During Miami Vice fever in the mid-'80s, Epic Records signed Don Johnson to a record deal, and a lot of rock critics dismissed the entire thing as another vanity project from a big-headed celebrity. But unlike most of the other people in this piece, Johnson actually did have some music cred before he found huge fame as an actor. In 1979, he and Dickey Betts of the Allman Brothers co-wrote a song called "Can't Take It With You" that appeared on the band's Enlightened Rogues album that same year. Heartbeat, Johnson's debut solo album, features session work from Stevie Ray Vaughan, Ron Wood, Bonnie Raitt, and No Echo favorite, Bill Champlin. The album is considered an overlooked gem by fans of '80s AOR. Johnson's second album, Let It Roll, has more of a pop sound, and isn't as popular with AOR cultists.
Album Discography:
Heartbeat (1986)
Let It Roll (1989)
Philip Michael Thomas
Speaking of Miami Vice, Johnson's co-star in the series, Philip Michael Thomas, beat him to record stores by a year. In 1985, Thomas released Living the Book of My Life, an album with songs that aimed for R&B radio dominance, but fell flat at every turn. For starters, Thomas didn't possess the kind of pipes to deliver the style of music he was dealing in, and the weak songwriting wasn't doing the record any favors, either. Even though Living the Book of My Life died a quick death at retail, Atlantic Records still agreed to release a second Thomas album, Somebody, in 1988. It sold even less copies than its predecessor. It's one of those times the general public was uniformly right about something.
Album Discography:
Living the Book of My Life (1985)
Somebody (1988)
Lisa Whelchel
Of all of the actors in this feature, Lisa Whelchel has the worst singing voice, and that's saying something! There is nothing positive I could say about The Facts of Life star's vocal work on her sole (thankfully!) album, 1984's All Because of You. A bland set of songs didn't help the situation. But as ghastly as All Because of You is, the album still received a Grammy nomination for Best Inspirational Album. I guess that is more of a statement on the sad state of Christian pop that year than it was on the actual Whelchel album. Looking over the credits on All Because of You, I was surprised to see jazz bass great John Patitucci's name in there. Maybe he had a mortgage payment due that week and took the gig on short notice?
Album Discography:
All Because of You (1984)
Bruce Willis
A huge fan of soul and blues music, Bruce Willis brought out the big guns for his debut solo album, 1987's The Return of Bruno. Booker T. Jones and members of The Temptations are among the heavyweight musicians featured on the album's sessions, which features songs written by Ry Cooder and Allan Toussaint, among others. Co-starring in the television comedy-drama series Moonlighting at the time of the album, Willis' camp somehow convinced HBO to air a special about The Return of Bruno. It's a good thing Willis was on his way to becoming a superstar for his acting work in Die Hard (1988), because as a singer, he flat out sucks.
Album Discography:
The Return of Bruno (1987)
If It Don't Kill You, It Just Makes You Stronger (1989)
Michael Damian
I'm technically cheating here since Michael Damian was initially a musician, working the clubs in Los Angeles, before he got the part of Danny Romalotti on The Young and the Restless, in 1981. With his acting and appearance schedule keeping him busy, Damian didn't get to release his debut album, Love Is a Mystery, 'til 1984. Neither his debut nor his 1986 eponymous sophomore album bothered the charts, but his cover of David Essex's "Rock On," which appeared on both his Where Do We Go From Here outing, and the soundtrack to the 1989 Corey Haim/Corey Feldman teen flick, Dream a Little Dream, reached the #1 position on the Billboard Hot 100. It would be Damian's first and last Top 10 single.
Album Discography:
Love Is a Mystery (1984)
Michael Damian (1986)
Where Do We Go From Here (1989)
Dreams of Summer (1991)
Reach Out to Me (1993)
Time of the Season (1994)
Shadows in the Night (2003)
The Christmas Album (2005)
Getting So Much Better (2007)