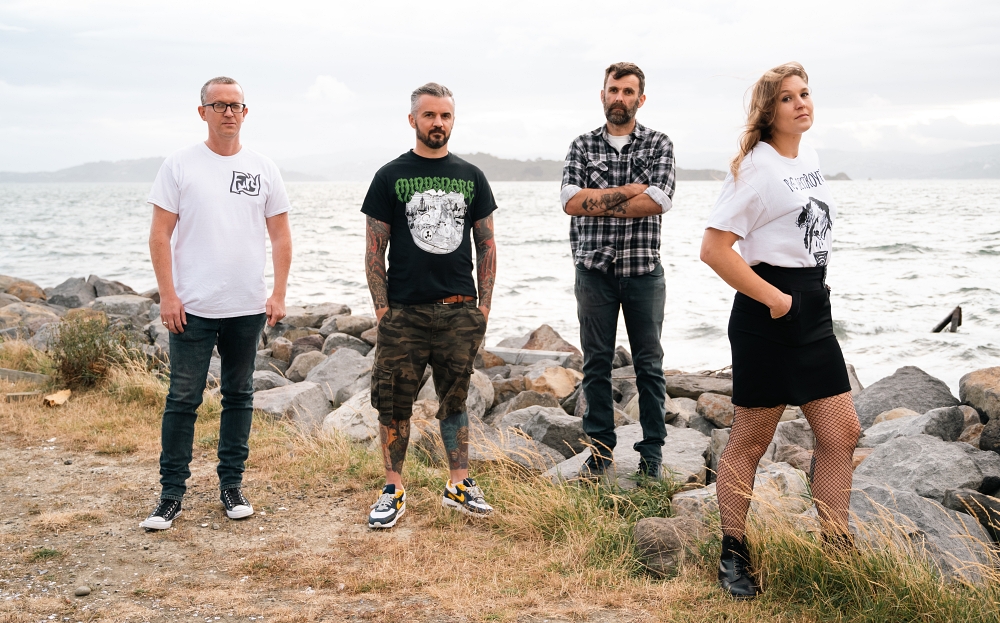 The seeds for New Zealand hardcore punk outfit Gravel Pit were planted after the breakup of a thrash band called Uranium Breath. When that project ended, drummer Jason and guitarist/vocalist Dave reunited with punk on their minds. "Eventually, we got back together and had a pretty kickass Bad Religion covers band underway with some good friends," Jason tells No Echo.
"That fizzled out leaving only the two of us working out some original riffs that were un-used from previous bands. We roped in Bailey (vocals) and Matt (bass/vocals) to round out the lineup in 2017 and took on the name Gravel Pit. Yes, it is indeed a Wu-Tang reference."
With a sound leaning deeper into hardcore, the band released two digital EPs: Gravel Pit in September 2018 and Black Arts in February 2020. "I'd say early on that the primary influences on our sound would have been clearly Propagandhi and Bad Religion. It's definitely evolved from there to incorporate more post punk and modern hardcore influences such as Fury, FAIM, Tørsö, and Initiate, as well as an ever present dose of D-beat creeping into the rhythm section.
"On the vocal side of things, Bailey definitely takes a lot of influence from L7, Hole, Babes in Toyland and Brat Mobile. Her delivery gels really well with Matt's more abrasive yell.
In April of this year, Gravel Pit dropped their first physical release, a split 7-inch with Wolves, from Auckland:
"For this split we had a list of about seven newer songs that hadn't been recorded yet to choose from for the two we needed," says Jason. "Some of the songs on the list were in the faster, thrashier style we've been doing since the early days and there are a handful which are branching off a bit with some of the D-beat influence coming in and getting a bit slower and groovier.
"We decided to go with a couple of those ones with the thinking they could be a good indication of what to expect when we record a full length where we can mix it up with the different styles we've been throwing in recently. They also go off live."
Bailey says this about her lyrics: "Mostly the songs are about partying, and death, and how close those things are together. I guess it's also a little about surviving the boring, slow motion decline of our environment and society."
No Echo was curious about the New Zealand punk scene, and Jason obliged us: "We've had pockets of activity locally in between lockdowns, but it's feeling like a return to 'normal' is just around the corner, with both local and international shows popping up again.
"In terms of bands to check out from New Zealand, there's a lot of awesome stuff down here, I'll try keep it brief: Soul Void, Wolves, Unsanitary Napkin, Rogernomix, Stälker, Bodysiege, Drop off Point, Unruly, and Spook the Horses."
Gravel Pit on social media: Facebook | Instagram | Bandcamp
***
Help Support What No Echo Does via Patreon:
***
Tagged: gravel pit, international hardcore bands