Back in the early to mid-'90s, Hardware Zine captured the hardcore scene via interviews, reviews, and other features. The zine was co-founded (along with David Koenig) by Brett Beach, a New Jersey hardcore head who also briefly ran In My Blood Records, a label that issued the beloved Floorpunch 7", Division One Champs. Shining Life Press is about to drop an anthology of Hardware Zine which will feature issues 1-10, along with over 30 pages of extra material for folks like me to devour.
I chatted with Brett about the history behind Hardware Zine and I also squeezed in a question for the vinyl collectors who read No Echo.
Why did you start Hardware Zine and what were the zines that inspired you in the first place?
I started Hardware Fanzine with David Koenig in 1993 because I wanted to do something. I had been into hardcore for a while at that point and saw a lot of people start bands, book shows, do zines, radio shows… I wanted to do something to be an active part of the scene. I had tried and failed to do a zine with other guys twice, but I knew if I partnered with Dave it would actually happen, and it would be good.
I loved zines right from the start. It was really the only way to learn about hardcore other than word-of-mouth. And the idea that you could easily do it yourself was so important. I read Maximum Rocknroll religiously, but they were at another level. Bullshit Monthly was easily one of the best and most important zines that I loved. Smorgasbord, In Effect, the almighty Boiling Point, Dear Jesus, and, of course, In Memory Of… all were inspirations.
Back during its run, how did you handle distribution? Were you simply driving them into NYC to places like See/Hear and selling them at shows, or did you also do a lot of mailorder?
Thank God Dave handled the distribution. But it was very grassroots. We just went around to any record store we could possibly get to and asked them to sell it on consignment. A lot of people ordered the zine through the reviews in MRR. Eventually, distros would get a hold of us and take zines on consignment; Very was probably our earliest and biggest supporter. We'd go to a ton of shows and sell that way. By the end most of the sales were through various distros and stores in the New Jersey and New York area.
Who were the people that helped you with Hardware along the way?
We had an extraordinary amount of help with Hardware. Dave and I did all of the layout, and the concept, content and direction was ours 100%. I am afraid I will forget some key contributors, but #1 would be Justine DeMetrick for her constant flow of great photos, Rob Leecock for two amazing cover designs, Chris Speit for cover art, Mike D'Elia, Fred Hammer, and Tim Singer for photos, Mat Gard and Marc Weiner for interviews, a whole host of people were doing reviews for us towards the end. Not to mention the dozens of distros around the world who sold the zine.
If you had to point to one single piece/interview from Hardware that you're most proud of, what would it be and why?
The Pushead interview would be obvious. The Ressurection interview for personal reasons. But I will say the Sick of It All interview I am most proud of. It is pretty in depth and interesting. They were very gracious and engaged in the interview. And the fact that Dave kind of mended fences with them was great. And I finally got to ask Armand about punching a garbage can [laughs].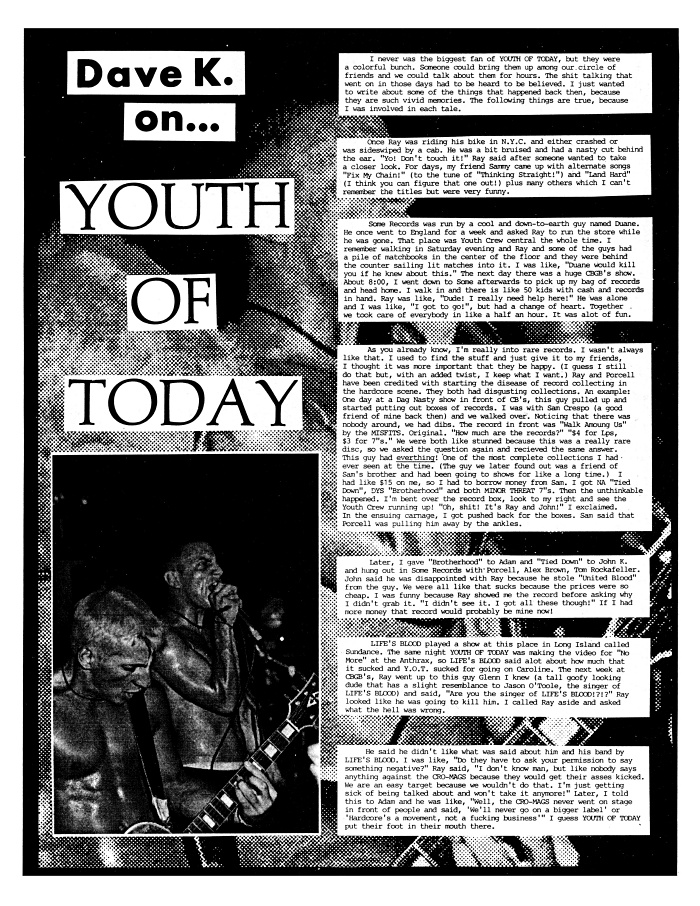 How did the idea for this project come together and how did you initially connect with Shining Life Press?
I always considered Hardware unfinished business since I abandoned the final issue, which would have been #10. Although a book seemed unrealistic until the Touch & Go book (which was huge) came out. I still had no idea how to make it a reality, but was able to persuade Dave to scan all of the originals, just in case I figured it out.
With no modern graphic design skills, storage space, distribution or sales contacts I didn't know what to do next. We made the material available electronically, but I wanted a real, honest-to-God Hardware book. Last year, Shining Life reprinted the Contention zines and I congratulated Matt Smith on Facebook when it came out and mentioned that someday I'd love to do a Hardware book. Within minutes, John Scharbach from Shining Life Press (also of Give and Open Your Eyes) messaged me that he'd do it. It was as simple as that. Several friends of mine had nothing but positive things to say about John and it was a no brainer for me. If he's willing to do the actual work and get these things printed I am in. I just want it to exist. To know there's a Hardware book in the world.
Before I let you go, I have to ask you about In My Blood Records, the label you briefly ran in the mid-'90s. The Floorpunch Division One Champs 7" released on the label is coveted to many hardcore vinyl collectors these days. How many copies are you holding and what are your thoughts on the phenomenon around that record? Why do you think it has resonated with so many people?
I'm very happy that record is still on so many want lists. I only had aspirations to release one record and do it with the mindset of a collector. I followed the old Revelation model of a "regular" pressing with a limited-edition colored vinyl version. Eighty-eight seemed like a cool number for it and people really responded to it. I kept five copies, gave five copies to each member of Floorpunch and gave away or sold the rest for $3. Over the years, I traded 4 of my copies, so I only have #1 now. I kept two copies of each version of the 7". So, there's no vault with 50 copies of each version of the Floorpunch 7".
I think the Floorpunch on gold still resonates with collectors for a combination of reasons. It is a great record by a great band. If it was a forgettable record no one would care that there were 88 of them. And for whatever reason Floorpunch has remained somewhat in the consciousness of hardcore kids to this day. Floorpunch got pretty popular pretty quickly. We made a lot of friends fast, playing a lot of shows between Boston and Virginia Beach. People were waiting for that 7" when it came out, and all the people we met along the way wanted to be a part of it by having a copy on gold. I know what it feels like to be a collector and want that cool pressing. It makes me so happy when someone gets theirs.
***
Stay tuned to Shining Life Press for the forthcoming release of the Hardware Fanzine anthology. If you're a vinyl head, check out the Record Collector piece I did with Brett back in 2017.
If you're shopping for vinyl, CD, and cassette hardcore titles, head to No Echo's partner store, Reverb LP, to see what they have available. Every purchase you make helps the site.
Tagged: floorpunch, hardware zine