I have to admit that Dropping Bombs was not on my radar until I pre-ordered the Bull Cult EP. Personally, and through my band, I had promoted the Bull Cult record pretty heartily, as I put an importance on bands addressing Working Class issues. When my vinyl arrived, the box included a gifted copy of the Great Reversals Stalactite EP on vinyl and a note thanking me for being so vocally supportive of Bull Cult.
I was moved. I went through the entire Dropping Bombs catalog to see what else was in there. Releases included LIFT, Tharsis They, Braided Veins, Children of God (featuring my old bandmates Adrian Castillo and Sina Salessi), and my favorite of the bunch: the Law demo.
Dropping Bombs is a DIY label that has something for everyone, however the label is only about 5 year old!
Eric Scobie, drummer of Great Reversals, began the label when being the de facto point person in charge of pressing his band's split 7" with Sunlight Ascending (Clawson, Michigan) in 2014. Scobie found the process exhilarating, so he founded Dropping Bombs. Archer Record Pressing in nearby Hamtramck has been a major asset to the rapidly growing catalog.
At the time of the label's founding, Eric felt frustration over the local bands he liked being overlooked. As the desire to become an alternative swelled, Detroit locals Spit Spewing Snakes posted some songs online. Eric jumped at the opportunity, and Dropping Bombs was born.
Dropping Bomb's initial release also carried what would become a bit of a signature for the label: tracks on one side, and a graphic silk-screened on the other. The process is exceptionally impressive on transparent vinyl.
Scobie grew up in Detroit and moved to the suburb of Royal Oak in 1986 as the reputation of the city's public school system began to decline, a side effect of "white flight" and de-industrialization. In 1950, the population of Detroit was 1.85 million; and by 1986 it had dropped by 750,000. Royal Oak is famous for Charles Coughlin, a fascist priest with a radio show in the 1930s and Thomas MacIlvane, a postal worker who committed a mass shooting, for which the term "going postal" was coined.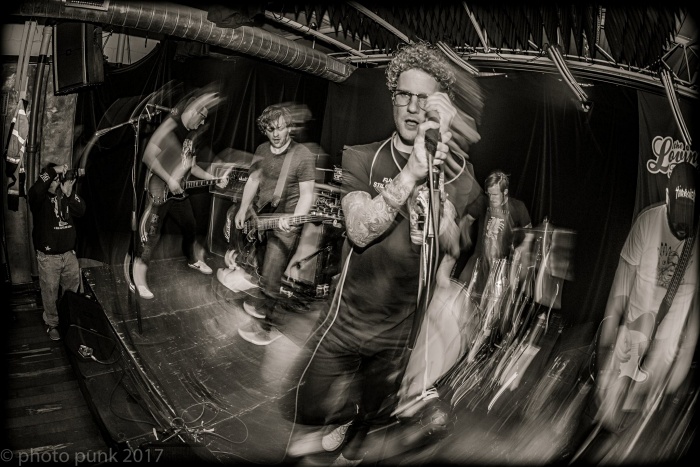 Eric lives in Southfield, MI now, a diverse northern suburb of Detroit. When pressed about the socio-economic disparities of Detroit, he lamented the segregation of the Metro area. Detroit is 83% Black. Southfield is 43% Black. 30% of nearby Dearborn identifies as Arab. Novi, where Eric teaches public school is 16% Asian (2.65 times the national trend). Suburbs like Royal Oak (where he went to junior and high schools) and Brighton are 91% and 96% white respectively.
"I guess the way it translates politically is sort of what you would expect. For a lot of people, there is a large degree of fear, people stereotype the city as being dangerous, dirty, etc. In terms of resources, they are abundant in some places, and lacking in others. For myself personally, this is an area where hardcore generally and the band Racetraitor specifically has been influential to me.
"Southfield where I live is a predominantly African-American community, there is quite a bit of economic diversity here, etc. It's very important to my wife and I that our kids go to school with people who don't all look like them, we want our kids to engage with people from all walks of life, etc."
If you are wondering what the socio-economic makeup of Detroit has to do with underground music, the answer is: "everything". Detroit, and other post-industrial cities like it, are underserved and overlooked. Cities like Detroit (and my own beloved St. Louis) are misperceived as "inferior" and "dangerous" somehow to the "preferred" coastal cities. Much like Detroit's own Berry Gordy of Motown Records, Dropping Bombs is making others notice the culture and art is alive in an otherwise overlooked city.
Michigan ,as a state, is not the hotbed of union organizing and Communist activity that it was known for in the first half of the 20th Century. Outside of the major cities, the population is generally conservative to a fanatical degree, and complete fool Ted Nugent has maintained a figurehead status. "Open Michigan" protests in Lansing have made the news recently demanding an end to stay at home orders regarding COVID-19.
"They're just trying to intimidate people and get media attention, and unfortunately they've been successful. We're talking about a few hundred people, and yet everyone around the world has seen these fucking clowns"
Scobie assures us that the vast majority of Michiganders take the health of themselves, their loved ones, and their neighbors seriously. However, Flint is still a tragedy and those responsible should be in prison. The state's (so-called) Right-to-Work status is a betrayal of the union movement that built Michigan.
"The political situation overall across our state, and really across the entire country is indicative to me of the following: the right in this country is united and pragmatic. The left in this country is fractured and idealistic"
Even in the time of COVID-19, Dropping Bombs has releases coming out worth noting (note: they will probably be available by the time this article prints). Last Gasp (Cleveland) has a 7" coming out, as well as the repressing of Bull Cult's (Illinois) EP. Other releases are coming, but Eric wanted to be secretive.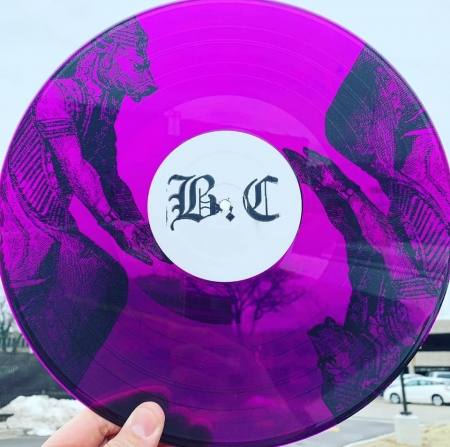 I asked how he found the time to run a label while working more-than-full-time plus commuting as a teacher, playing in a band, while being a husband and father to four. He responded that he cannot help but have "little projects."
My own controversial opinion is as follows: having a band is great, and promoting your band is fine; however, there is a special place in history and paradise for those who work to maintain punk for the better of everyone. Dropping Bombs is a conscientious label putting out some of the best bands the Midwest has to offer. Eric can have the last words:
"The most empowering thing about punk and hardcore is that you have the freedom to make it what you want. You like picking people's brains? Cool, start a zine or a blog. Is there a band you really want to see? Hit them up, they'll probably come to your town. Don't worry about what's 'cool' or 'hype', just do the shit you like, regardless of whether or not anyone else likes it."
Dropping Bombs on social media: Bandcamp | Facebook | Instagram
***
Donate a few bucks to help with No Echo's operating costs:
***
Tagged: record label profile