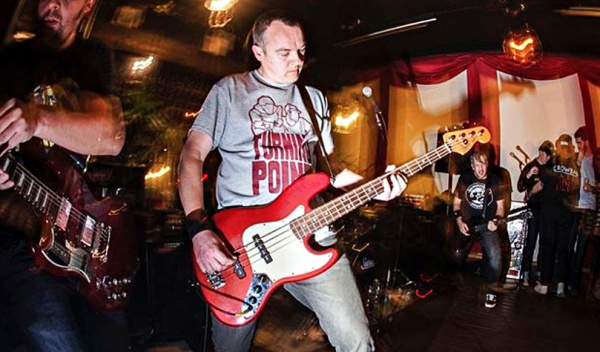 I recently "met" Marc Hoogenboom via his Instagram page, where he's known as "circlestorm69." The 44-year-old hardcore musician and vinyl enthusiast lives with his girlfriend and two daughters (4 and 7) in a small village just 15 minutes south of Rotterdam, The Netherlands. Hoogenboom currently plays bass in the band Once I Cry, who just released their first 7" on Positive and Focused Records (a US release is in the works). The bassist has also played in the following bands: GuidingLine, X-MEN, Crivits, North. He also was in the lineup for Shelter during the band's European Eternal tour.
It's my great pleasure to welcome Hoogenboom to the Record Collector series.
How long have you been collecting records?
I've been collecting since the '80s. I bought records, but only occasionally since I was in school and didn't have a lot of money. Most of my money I spent on skateboard stuff. Michael Jackson Thriller, Madonna True Blue, Beastie Boys Licensed to Ill were some of the first albums I bought. In the early '90s I bought a lot of CDs. I was in the car a lot for school and work and those CD's I could play. When I started playing in bands in the mid-90's, I bought more and more vinyl, especially stuff that was not available on CD (I still travelled a lot for work). CDs always contained bonus tracks compared to vinyl, so if I was really into a band/artist, I also bought those simply because I wanted to have all their songs. In 2012, I really started collecting, which means I tried to find every variant from a record. Different inserts, label colors, vinyl colors, or vinyl with smudges/streaks...I wanted all of them.
I do make a distinction between collecting all records of a band/artist, or just one of each release from a band. Some bands I collect all versions of are Atari, Fastbreak, SNFU, Shelter, Youth of Today, Better Than a Thousand, In My Eyes, many skate rock bands, all bands Dan O'Mahony was or is in, same goes for Walter Schreifels (and that are a lot of records!), and I collect Revelation Records...anyone knows what that means.
Where/how do you usually find your records?
Mostly Discogs, eBay and through message boards nowadays. But sometimes I trade or go to record fairs. Since I have a family, and my time is limited, I prefer the Internet, but I guess most of us do.
What is the most you paid for a single album, where/how did you obtain it, and what was it?
I don't really want to go into too much details about how much I paid for a record. I hope you understand. The most I paid for an album was Judge Bringing It Down on green vinyl a couple of years ago. A guy who wanted to sell his approached me on the Revelation Records board. The price was good and I had the money. The $ vs. € rate was also very good at that time. Nowadays it's not fun anymore for us Europeans to buy in the US. Besides, the dollar that is almost 1:1 shipping also went sky high. And sometimes we have Customs charging us if we buy new releases directly from the label. In most cases they refuse to write down a lower amount on the customs slip. If you bought records for $50 they can cost you $100 with shipping and import fees. That really sucks.
For me, it's the fun of finding cool stuff for cheap or reasonable prices. I'd rather spend $100 on 10 records than on one. Recently I found a $300-400 record for $65. Those are the best. People that are not into vinyl, or collecting at all, would think $65 is crazy for a record, but since they only get more expensive over the years, it's a good investment. I'd rather buy vinyl than bring it to a bank nowadays. And because of record collecting I "met" many nice people all over the world. Some I can really call friends even if we've never met. Some people I did met over the years and that was always cool.
What is your most prized record and why?
Warzone Lower East Side Crew EP on orange. It was on eBay and it had make offer and I managed to get it for 2/3rd of what the seller asked. Since they don't pop up that much, and they are always expensive, this was a really good price, so it was now or probably never. That's why! But it was still a lot more than I had ever spend on a record.
Is there anything that frustrates you about the record collecting scene?
Of course. People buying records to flip the same day/week; the import charges I mentioned before; too many Record Store Day versions that come out and don't have any new songs at all but come in a new color, etc. Yes, I buy some of those too [laughs]. I also hate people that approach you and want to sell you a record they know you are after, but at the same time they approach five other people. But other than those things, it's mainly fun.
Which albums are still on your want list that you've had a tough time tracking down through the years?
I've learned that almost every record you ever want appears somewhere one day. In the beginning, I bought them all since it was the first time I saw them appear. You just have to be patient and they will show up. Only if you think the price is right, you have the money, and you haven't seen them pop up in ages, then you go for it. I do have a bunch of 7"s on my want list, but most of them are four digits and I guess I will never spend that much on a record, but I know many guys who do. This year I found two of my top wants who I had never seen pop up in years within two weeks of each other, and both for reasonable prices. That was cool.
I would love to own a Youth of Today Break Down The Walls Posi Fest sleeve one day. Not many other other albums are on my want list except some versions of Tuning Point It's Always Darkest on black that I'm missing. For 7"s, I'm looking for Warzone Lower East Side Crew green, clear, aborted press, first press, Together comp on orange and yellow, Gorilla Biscuits #ed/102, Warzone B-side label, cream yellow, Turning Point S/T on red [he's since found a copy], Project X 7", and some SNFU Real Men Don't Watch Quincy versions I don't have. That's about it.
***
Follow Marc Hoogenboom on Instagram and hook the brother up with that Project X record while you're at it!
Tagged: crivits, guidingline, once i cry, record collector, shelter band