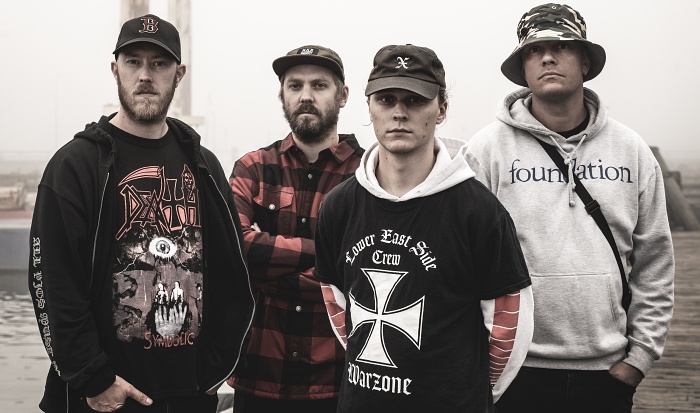 When Pascal Thönnißen of Isolation Records sent me a track to check out from one of his latest signings last month, I paid attention. After all, the Berlin-based label has put out records by such killer bands as Mortality Rate, Blind to Faith, and Lowest Creature in the last couple of years.
This time out, Pascal offered up an early listen to Obstruktion, a metallic hardcore outfit that instantly hooked me in. The Gothenburg group claims influences like Bitter End, Obituary, and Earth Crisis, and their forthcoming Monarchs of Decay album is a highly impressive debut effort.
"Obstruktion has been around for a little over a year," Obstruktion guitarist Mattias Rasmusson wrote me via email few days ago. "We wrote and recorded a demo with our friend Gustaf Uicic and played our first couple of shows before COVID-19 happened. Somewhere around that time, we also wrote and recorded Monarchs of Decay, with Gustav Brunn at Gula Studion in Malmö.
"Pascal at Isolation Records liked it enough to go out on a limb and release it. We love him for it and deeply appreciate his excitement and patience."

Though I already told you about some of their influences, I asked Mattias to give me some more background on what he and his Obstruktion bandmates wanted to pull off, musically speaking, with Monarchs of Decay.
"For me, personally, Obstruktion is some sort of tribute to growing up in the '90s. Back then, I obviously didn't know anything else but now, looking back, that era of alternative music is pretty mind blowing.
"Growing up in Sweden at that time was pretty incredible having bands like Entombed, Dismember, At the Gates, Refused, and Breach, just to mention a few."
The singer continued: "With that said, there's no denying Earth Crisis probably is the most important band to me as a songwriter for Obstruktion. The band and their musical craft still blows my mind and inspires me to this day. Along with Earth Crisis, I'd say Turmoil, 108, Sepultura, Entombed, and Obituary are a few out of very many that come to mind."

Before our exchange ended, Mattias wanted to say the following about the album and its creation: "Lyrically, it's built around the concept of the violence of our culture and our inabilities or unwillingness to comprehend and break this cycle.
"I also want to say we're very thankful we got to do this with Gustav Brunn, who's not only a beautiful friend since many years, but also an incredibly talanted audio engineer. Recording the record was a total treat. Four hours of super focus, falafel break, four more hours. I loved it.
"Also, I'm stoked about [guest guitarist] Ragnar Östberg's contribution to the record. Not only did he get us an incredible guitar tone, he also did the face-melting solo for the title track."
Monarchs of Decay will be out on February 26th via Isolation Records. Pre-order the album from Deathwish Inc (US) and Evil Greed (Europe).
Obstruktion on social media: Facebook | Instagram
***
No Echo has launched a Patreon with 3 tiers offering all kinds of hardcore-related goodies to help support the site:
***
Tagged: obstruktion