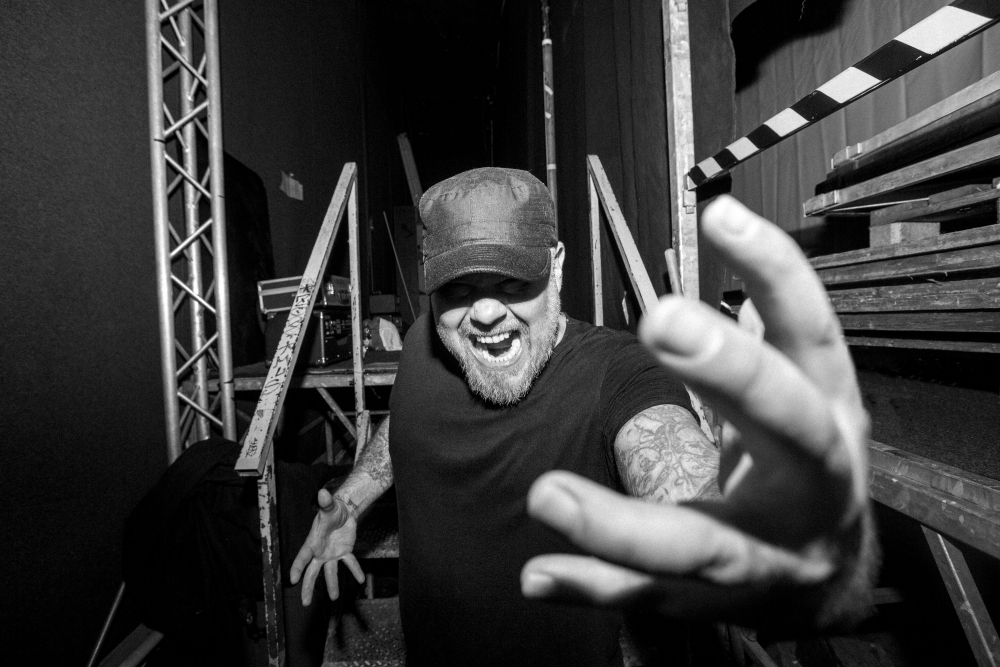 Earlier today, the fine folks at Relapse Records announced the forthcoming release of a split EP featuring Integrity and Krieg. The Doomsday-kissed metallic attack of Integrity joining forces on a project with the depressive black metal of Krieg is an intriguing one, and since I've had the advance of the EP for a few days now I can tell you that the results do not disappoint.
"Years ago [Krieg's] Neill [Jameson] asked me to do a split, and unfortunately my schedule was hectic until recently," Integrity vocalist Dwid Hellion tells me about the EP on the very day of its announcement. I'm curious to find out what about Krieg's musical style and lyrical point of view fit into what he's done with Integrity throughout the years. "I do not know if it necessarily fits with Integ, perhaps it does. Mainly, Neill is a friend and I am pleased to do a split with his band."
The Integrity side of the split features two new tracks, a re-working of a Vermapyre (a Dwid solo project) song, plus a scorching cover of GISM's "Document One." Anyone who is as big a fan of Dwid as I am had undoubtedly read interviews where he's talked about his love for GISM. Since I have his attention, I ask him why he feels such a deep connection with the infamous Japanese band. "GISM was one of the very first extreme bands that I was exposed to. At the early age of 13-years-old, I bought a compilation double LP titled, The International P.E.A.C.E. Benefit Compilation, and their madness absolutely resonated with me. It took me several years to discover they had more recordings than that compilation. I was a fan from the first listen. The artwork that they contributed to the comp also fascinated me. I am a GISM fan for life."
So, has Dwid had the pleasure of breaking bread with the Japanese masters? "I have met most of the members of GISM, sadly I was not able to meet [guitarist] Randy Uchida before he died. All of the members of GISM are creative terrorists, incredibly talented, and unbelievably intelligent creatures. It is always a great honor and privilege to be in their presence. There is no band that compares to GISM."
The Integrity/Krieg Split EP will hit stores on CD/LP/digital on Aug. 30 via Relapse Records and can be pre-ordered here.
Integrity tour dates:
May 25 Baltimore, MD @ Maryland Deathfest 2018
May 26 Toronto, ON @ Velvet Underground
May 27 Montreal, QB @ Foufounes Electriques
May 28 Portland, ME @ Genos
May 29 Cambridge, MA @ Middle East - Downstairs
Jun 01 Seattle, WA @ Northwest Terror Fest
Aug 03 Waarschoot, BE @ Roadkill Festival
Aug 04 Saint-Maurice-de-Gourdans, FR @ Sylak Festival
Aug 05 Blieskastel, DE @ P-Werk
Aug 06 Zurich, CH @ Werk 21
Aug 08 Budapest, HU @ Durer Kert
Aug 09 Vienna, AT @ Wien Arena
Aug 10 Warsaw, PL @ Poglos
Aug 11 Jaromer, CZ @ Brutal Assault
Aug 12 Vagos, PT @ Vagos Metal Fest
Aug 17 Las Vegas, NV @ Psycho Las Vegas