Jack Terricloth was the alter ego of a truly unique individual that I knew as Pete V since the late '80s. Having met him through his old band Sticks & Stones at the CBGB's matinees, we became friends as the '90s started and he formed the exotic punk cabaret entity known as the The World/Inferno Friendship Society.
Pete had this affected speech pattern that, if you didn't know him, would come off as pretentious but over time would charm you and become incredibly endearing. I'm sure no one from Bridgewater, NJ ever had his accent and that was one of the key elements to understanding him, always cutting a dashing figure straight out of a Dashiel Hammett novel, trench coat and fedora permanently in place.
It was like this incredibly urbane intellectual from a bygone era had landed in the body of too smart for his own good suburban punk rocker, standing out like a diamond in the rough, forever in stark contrast against the banality of everyday life.
The musical and lyrical prowess he displayed was firmly in place by the time he recorded Sticks & Stones unsung masterpiece "Theme Song for Nothing," from the 1992 album, The Strife and Times:
That brilliance only expanded when he formed The World/Inferno Friendship Society, a sprawling collective that blended punk, soul, klezmer, polka, jazz and a vaudeville live show that became more than a band but a way of life for the participants and its growing legion of devoted followers.
I can't think of a more charismatic performer, his stage monologues were the stuff of legend, blending history/politics/social commentary into astute observations that would make one laugh while making you think about the, at times, absurd reality of it all.
Many old and new friends will have fond stories of Pete, here are some of my most cherished ones:
Walking into Reconstruction Records one day and seeing him behind the counter in a stations of the cross pose, when asked about it he replied; "Oh, I'm just practicing for martyrdom."
On the way to our mutual friend Charles's wedding we stopped at his parents house in Bridgewater and we decided to take a dip in their pool, somehow we convinced him to get into borrowed swimming trunks and he came out sporting them plus combat boots, not to mention showing off the palest skin, unseen by the sun since forever. The closest he came to the water was a nearby pool chair, swigging whiskey shots and pontificating the whole time.
The World Inferno played my 30th birthday party at a long gone spot on Rivington Street called Fat Baby and besides blowing the roof off the place musically, he also almost literally set the roof on fire due to his penchant for blowing fireballs into the sky, the ceiling was charred, belated thanks to the club for not suing us.
The last time seeing him was a couple of years ago is when he popped up unexpectedly to one my book signings, took me aside and said, "Freddy, I'm really proud of you." Those words meant more than he could ever know.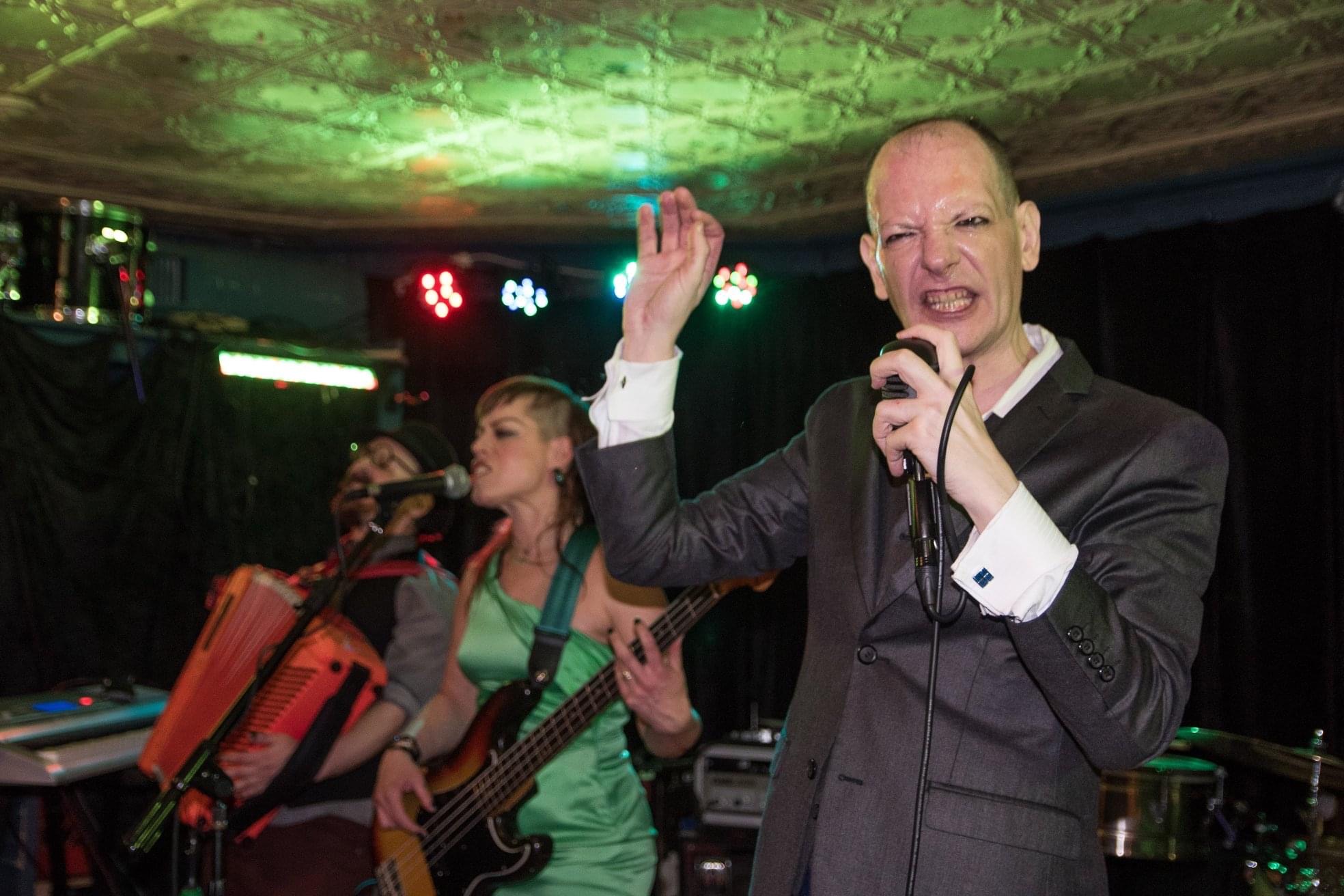 I've come accept this stage in life that a lot of my peers will start passing away but that doesn't make it any easier when a good friend you admire is gone. Pete was our punk troubadour with the soul of a poet and debonair style for miles, here's to your lasting influence and a big hug to all who knew and cherished him.
Here are lyrics to a song he wrote, ironically enough, for a friend that passed away, they are ultimately just as fitting:
"No, no it's far too soon to goDon't miss the parties
Don't miss the shows
Dance with witches, drink with saints
Do you care which ones are fake
If we go we'll never know"
RIP Pete Ventantonio