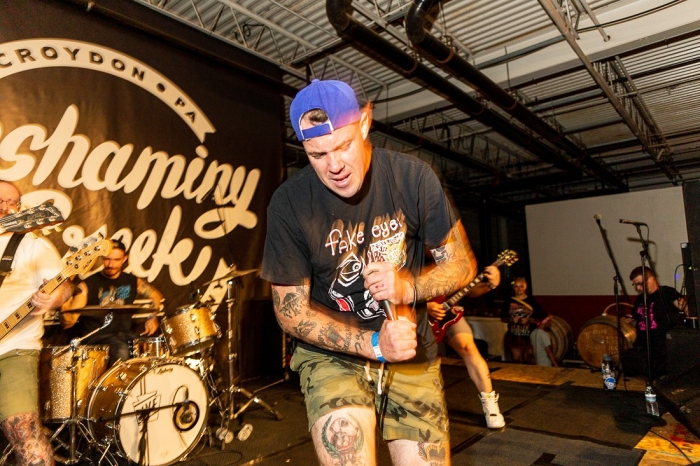 Sunstroke is a melodic punk band from Philadelphia, known mostly for their take on the the Rev Summer sound, though I'd say they fall squarely between Dag Nasty and Murder City Devils.
I've followed this band since their inception in 2017, and now they're back with a new single, Buzzer Beater, off of a B/W lathe cut 7-inch called Everyday Bouquet via Chicago's New Morality Zine.
Though they're no secret for the most of the No Echo reach, they've remained something of a best kept secret in Philadelphia. I sat down with vocalist Sean Farlow to talk about the new single, plans for the band and more.
Since you just released Buzzer Beater, what can you tell me about the inspiration for the track, the lyrics, etc?
We had booked time at Inner Ear Studios prior to starting to write this. We wrote two songs, before we found the right song, and really, we just wanted to write something that was able to stand on its own, and also was very listenable, by our own standards.
It was recorded by Don Zientara at Inner Ear Studios. We were one of the last bands to do a session with Don, which is an awesome footnote to have.
Lyrically, the song(s) deal with a relationship with Fatherhood, based on two point of views. Recognizing why my upbringing was the way it was, and what kind of person I was raised by, and how that prepared me to be in the position myself.
For a lot of younger listeners, Sunstroke could be hard to place. What were some of your biggest influences for this band, and how would you describe to someone who hasn't heard it?
When we first started the band, we were combining our collective love for bands like Hüsker Dü, Dag Nasty, The Cult, and Naked Raygun. We've done our best to incorporate these influences without replicating them.
I've seen us compared to very different kinds of bands, which I think is kind of cool. I think you can hear parts of our sound very clearly on Hüsker Dü Flip Your Wig and Samiam Clumsy.
You've been a band since 2017. How have things changed post pandemic?
It's been interesting, we had some unexpected member shifts, and took a few months away from writing/practicing. I had a kid, we wrote a couple singles in that time and recorded them, and we didn't play a show again until early '22.
It was a full two years in between real shows for us. Ian and I wrote in that time. I have a lengthy backlog of lyrics, and Ian was sending me riffs throughout the whole shutdown period.
In my line of vision, Sunstroke is underrated. What's your relationship with the Philly music scene like?
It's not where you're from, it's where you're at! Philly is home, and we have our people here, but we tend to do much better outside of Philadelphia.
Individually, we each have a better relationship with Philly hardcore than we do as a band. Maybe it's that we have a floral aesthetic in a city that averages over a homicide a day, I don't know [laughs]. A lot of people book shows in this city, and work really hard. Booking shows isn't always fun, so respect to those who do it consistently.
What are your plans for the coming year?
We have a few more shows we're gonna play, some are in the works already. We have a split with Bent Blue recorded, and we're demoing and recording an LP before years end.
You've had a steady stream of releases with New Morality Zine. How have they been to work with? Are there other labels you think might be a good fit down the line?
Nick (NMZ) has been very easy to work with, and enjoyable. I feel like he trusts the vision we have with the band, and has always been a big supporter of us. A friend of mine who's released records and worked for labels once told me that a great label is one that supports you at every step, and even if that means growing beyond their walls. Nick has always encouraged that.
There's other labels that I think could be a good fit for an LP for sure, it just needs to make sense for us. NMZ is and always will be a big part of the Sunstroke story.
***
Sunstroke on social media: Facebook | Twitter | Instagram
***
Help Support What No Echo Does via Patreon:
***
Tagged: sunstroke