I'm still feeling charged from last night's hardcore show at the wonderful Programme Skate & Sound in Fullerton, CA. The evening featured sets from Change, Berthold City, Headcount, and Abstain.
The following is my recap of the show along with photos shot by Dave Mandel of Indecision Records.
Abstain
Up first was San Diego's Abstain in their debut show. If you haven't checked out their recently released demo yet, the young band brings to mind '90s metallic hardcore, including the pinched harmonic parts I'll always be a sucker for.
Abstain had to have a friend come in and fill-in on drums on very short notice, so they weren't as tight as I'm sure they wanted to be. But considering the situation, they made up for it with an infectious energy coursing throughout their set.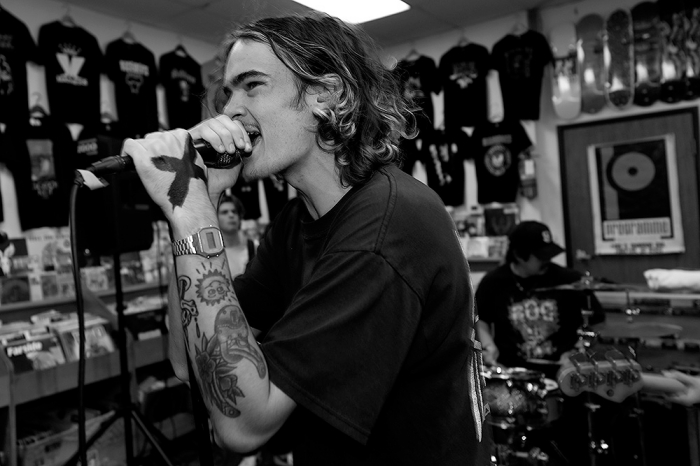 I look forward to catching Abstain live again when they have their own drummer in the lineup.
Headcount
I've covered Headcount on No Echo a few times before, so I was excited when they were added to the gig. The San Diego quintet is gearing up for the release of a new EP entitled Imprint, which we had the pleasure of premiering a track from called "Parse" on the site:
Stylistically, Headcount delivers the kind of straight edge-minded hardcore in the spirit of Carry On and In My Eyes. Basically, the band keeps shit lean and mean, with healthy servings of fast parts and dance-floor-baiting breakdowns.
If Headcount can manage to put in some road work, I wouldn't be surprised if they get popular among the Division One Champs on gold crowd. Sick band.
Berthold City
Los Angeles sXe crew Berthold City was up next and from the very start of their set, everyone in the skate shop knew they meant business.
Frontman Andrew Kline kept darting into the crowd and got some vocal assistance during key parts of their songs. After releasing 2 EPs and a handful of other tracks, Berthold City will be releasing their debut full-length album in 2022.
Berthold City premiered 2 songs from the forthcoming record last night in the form of "Only Truth Wins" and "Out of Darkness," and both went over really well with the audience. I'm going to have to bug Andrew for an advance copy of the album. Those are called perks, my friends.
Change
Regular readers of No Echo might already know how I feel about Change's debut offering, Closer Still. Landing on my Best Hardcore Albums of 2020 list, the 13-track effort hasn't left my regular listening rotation since vocalist Aram Arslanian emailed me the tracks before it was even released:
Last night served as the official record release party for Closer Still, despite it being over a year after it first dropped, but with the way the COVID lockdown screwed up all shows, the Washington/Vancouver 5-piece was certainly allowed the crazy delay.
I'm thrilled to report that Change lived up to the power and positivity that they manifisted on their album. The musicians were firing on all cylinders, and the mosh was ignited, but with thousands of dollars in skateboarding merchandise in the store, you always have to hold back a bit at Programme out of respect to the owners.
Between each song, Aram spoke to the crowd about the inspiration behind the songs in their setlist, eloquently explaining some of the personal struggles he has worked to overcome in recent years. Vocally speaking, he tore through each line of his lyrics in Change's allotted time with absolute passion and grit.
If you have a chance to see Change live, do your best to make it there.
(And yes, they played the song with the ska breakdown in it.)
***
Help Support What No Echo Does via Patreon:
***
Tagged: abstain, berthold city, change, headcount