Bent Out of Shape are a four piece Oi! band from Fryslan, Netherlands.
I first heard them on their solid EP, Who Laughs Last (Demons Run Amok, 2020). They have two split EPs since; one with The Boldness, one with Skroetblag. But now as 2022 crashes to its end, these men finally get to showcase their sound and passion on Old Rats on a New Ship.
This album provides listeners with 10 tracks of brash Skinhead rock'n'roll. The tracks are brand spanking new while (short of "Stag Night") and the CD's two bonus tracks are lifted from the split with The Boldness.
Bent Out of Shape's sound embraces a classic approach with just the right amount of contemporary production and polish. Production wise, Old Rats on a New Ship exhibits production along the lines of The Janitors, The Cliches, and The Templars' two of the three GMM albums, Omne Datum Optimum and Horns of Hattin, recorded at Bakos and not Acre Studios.
The sound, especially with the guitar and style of playing which adds some spark but it never feels overdone. It stays raw and humble pedestrian. But there is a little added crisp. The drums are super strong anchored and could propel any crew into battle. They provide a low rumble to each track.
Bent Out of Shape's lineup is Bart on drums, Henk on guitar/vocals, Rik on bass, and Norbert on guitars. The gang can boast a maturity in their lyrics. We get common Oi! and punk themes, but from the older generation.
Tunes rant and opine about friends gone; the old crew's different choices and paths which were made in this long life; being immersed in a rebellious youth subculture while being in your 40s with the job a mortgage and a family. And still participating in that culture by playing in a band and making records and not just listening to the old bands on your commute to work. There is a mature reflection and an introspection. Take for example the song,
"Ghosts From the Past" or the gleaming sentiment of "Never Went Away," a tale of Nostalgia about going to the football stadium, first with his father. Now the stadium is a constant in life and a source of joy.
A more aggressive track is the harsh sound and reality of "What You Wanna," a creed to the responsible working man. Hard guitars blast while Henk sings:
"(You gotta) Do what you gotta do (to get to) Do what you wanna do
Get the job done, then you have fun, and balance out the two." Definitely a sentiment not everyone gets when they are young unless you needed to work earlier than others in life.
There is a solemn tone to the entire album, a resilient old feeling, a weathered feeling, reminiscent of the Whiskey Rebels. But by no means is a pity party or a soft album. It's still rough, just well written. The album has a hard edge to it, teasing some hardcore. Again, the rhythm of Rik's bass and Bart's drums are a dominating, driving presence. Hewnk's snarl commands attention but doesn't detract from his riffs. The two-guitar attack with Norbert allows for some nuanced playing ("Ghosts From the Past", "Good Old Memories" with its terse frustration). There aren't any crazy solos (saved for the Major Conflict cover!) but appreciated added textures that give the songs extra grit.
There are songs about perseverance and not letting go of this scene and about their crew and friends. But smack dab in the middle of the album is a bodacious, charging quickie called "Ozzy was a Skinhead". And while usually I get annoyed by silly, pandering, nonsense songs - you're gonna hit me right in the heart with the song about Black Sabbath. It's damn fun. The noted evidence for this hypothesis is compelling:
"On the Streets of Birmingham, in 1969 – Ran an iron man, committing petty crimes
Always on the piss – attitude and wit. Then some Geezer came along. It all went to shit….(but)
Ozzy was a skinhead, razorcut and finger tatt's / grew his hair and ate a bat – (but)…
Ozzy was a … skinhead!"

This is certainly written to be a crowd favorite. It's difficult to tell, which song won't be live. Henk's delivery makes every line sound lie an invitation. He has a good cadence and delivery. The band can sure write a chorus, though. Many gang chants for sing-alongs.
There is also that aforementioned Major Conflict cover ("Stand By Your Guns," 1983) which begins with many "Woah-Woahs" over jangly guitars and a boppin' catchiness which amalgamated sounds like SLF's "Nobody's Hero" (listen to Henk's delivery).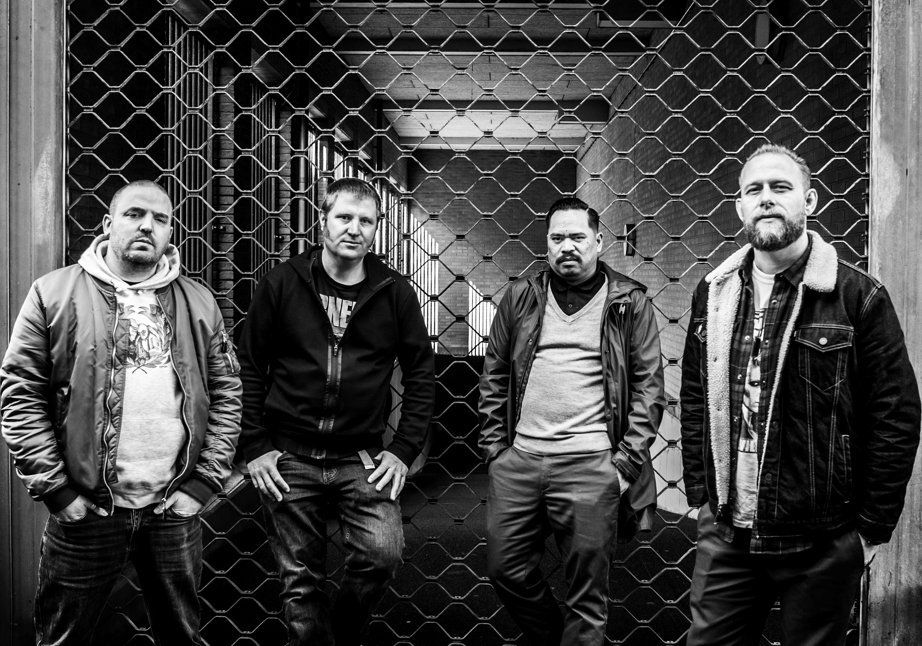 On the other tracks, with the nostalgic feel, I hear an echo of a band like early On the Job, specifically the song "1682," because of their songs such as "My Part of Town" and "Places to Go." This reverberates in the song "Contagious," which is heartfelt. It's about watching a friend go through a disease. Henk parses semantics on the title, "contagious" with the chorus:
"They say it's not contagious/ but I know that's not true 
because all of us are ill senseless happened to you."
In the end, Bent Out of Shape stand tall on their debut LP. They present a smart guitar sound, but lo-fi, no big sound. Tracks have a roots/power pop/pub rock influence while still hitting hard.
RIYL a blend of: Pressure Point, (early) On the Job, Crown Court, Patriot, Niblick Henbane, Lions Law, Marching Orders, Janitors, Stiff Little Fingers
Get It
Tagged: bent out of shape