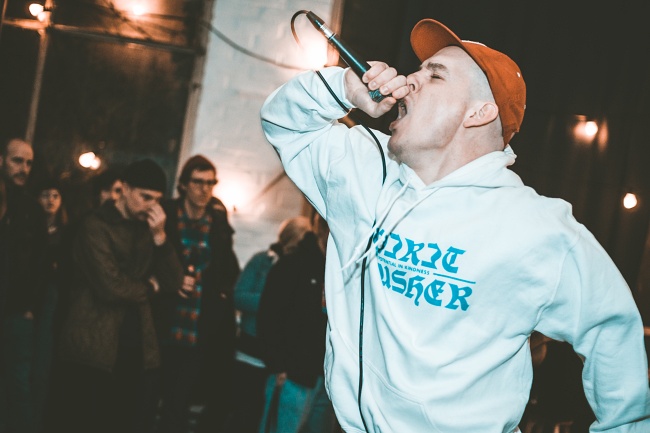 In this new feature, musician Vincent Maes (Blind to Faith) chats with Bjorn and Murph of the Belgian hardcore band Chain Reaction. Formed in 2017, the No Echo favorites are gearing up for the release of their latest record, a 12 inch called Figurehead.
Recorded and mixed by Lander Cluyse at Hearse Studios, and mastered by Will Killingsworth at Dead Air, Figurehead is having its exclusive premiere in the piece, so dig in and find out more about this excellent group and record. —Carlos Ramirez
***
OK, let's assume by now at least half of the people reading this will have heard of Chain Reaction. Could you describe the new songs to those already familiar with your sound?
Murph (drums): When we work on a new record, it's always with the intention of doing something we haven't done before. We always intend to push ourselves as musicians, while keeping in mind what we are capable of, so no weirdo experiments [laughs].
What we look for in a song is a way to keep the listener's attention. We try to keep things short and sweet. Within each song we try to maintain a certain vibe and dynamic, by switching to different beats or tempos. That said, the new songs offer a good mixture of aggression and groove. Just a good "nod our head" kinda groove, with a few more touches of melody than before.
I'd say Figurehead was very much influenced by bands like Cold Front, Crown of Thornz, and later Leeway. That type of stuff, plus a solid Outburst mid-tempo beat can do a lot already [laughs]. We're very excited with how it all came out. You could say that this time we leaned into that '90s NYHC vibe more than before, so yeah that's a good progression, I guess.
Bjorn (vocals): Because we were writing for a 12 inch, we tried to keep things very dynamic, like Murph said. We trimmed the fat off the songs, leaving only what we deemed essential.
Where do you feel you have changed and/or progressed as a band?
Bjorn (vocals): I think this record offers a good variety of style; it opens with "Disconnect," probably one of the fastest, no-nonsense songs we've ever written and there's a track like "Figurehead," for instance, where we drew inspiration from "Compromise," a very groove-based Leeway song. Something we hadn't done before but it felt right straight away.
I know the lyrics are what makes or breaks a band for you as a listener. Do you feel like sharing some of the sources of inspiration you tapped into when you wrote the lyrics for these songs and by extension, I'm curious who your favorite lyricist is at the moment?
Bjorn (vocals): Very true. When I'm discovering or slowly getting into a band and then realize their lyrics are uninspiring or just plain dumb, that's a dealbreaker for me. Not to say that I'm Steinbeck but I feel like a bit of effort goes a long way. What I've always done is incorporating certain phrases or lyrical patterns that I've picked up from other lyricists, or sometimes books, or movies. It's my way to pay tribute to what inspires me and to keep writing fun as well.
"Disconnect" nods at Breakdown in a pretty obvious way actually, while in "Certain Death" I tip my hat to Belgium's best ever, Blindfold.
As you know, I love a wide variety of bands and lyricists too, but right now I'm deeply impressed by the lyrics on the new Mil-Spec album, as well as John Brannon's lyrics for Laughing Hyenas. Both may seem far removed from what we do with Chain Reaction, but they're favorites nonetheless.
Tell us something about the artwork for Figurehead. Who created it, what are we seeing?
Bjorn (vocals): The artwork was created by Sam Octigan, an incredible artist from Australia. I've been following him for a couple of years already and loved what he did for Mizery and King Nine for instance. He often works with very specific colors and often uses a pretty unique and layered collage style. I wanted to see what he'd come up with in black/white, which really is my go-to for artwork.
I got him the music and lyrics and he took it from there. I really tried not to push him in a certain direction, 'cause I hate telling super talented creative types what to do. It was cool to see elements from the lyrics reflected in the artwork, plus I immediately felt like it all matched our vibe perfectly. To me, the cover art reflects the state of turmoil the world is in, with a lot of different details to discover when you look closely. Love that.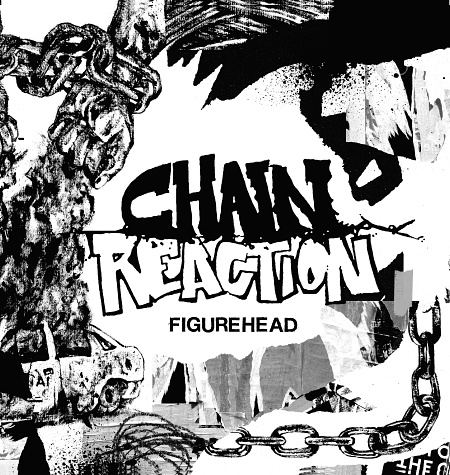 If I'm not mistaken all members of Chain Reaction are 40 years of age (or older), with 25 years of involvement in the hardcore scene under your belt. Can you tell the people who read this what keeps you going? Maybe think of what you would miss the most if you, for some reason, could not be involved any longer?
Murph (drums): We've all been playing in bands for more than 20 years now, so one could say we've done our share, but that's not how we roll. Hardcore/punk music still manages to surprise and satisfy me personally. Plus, I love the hangouts, good talks, seeing friends, buying new records and supporting new bands. It's what I've known since I was 16/17 years old and I could not imagine a life without it.
I still get excited for playing a show or releasing a new record, that feeling never goes away and I wouldn't want to miss that now. So yeah, once a hardcore kid, always a hardcore kid, I guess. It never crossed my mind to leave this all behind, I care too much about the music and the people in this scene.
Bjorn (vocals): I feel the same way. Hardcore's given me so much, in terms of inspiration, creativity and community, I'd feel weird if I walked away now. It sucks that the live experience is missing right now because that's a crucial part of it, but at the same time I've been (re)discovering so many bands and records, new and old, these last few months and I can honestly say it's helped to keep me (somewhat) sane.
You and Geert at Control Records just dropped the first issue of RAGE fanzine a few months ago. I know you are working on issue #2 already. Would you care to tell us what you have in store for the zine lover among us?
Bjorn (vocals): For sure! We're still kind of on a high from the first issue, because we really enjoyed collaborating on that one. The response was awesome too, so we pretty much kept going. The new issue will have interviews with Mindforce (one of my current favorites), Spark, the enigma that is René Natzel (True Blue, World Collapse) and a reprint of an old Iron Age interview I did with Wade back in 2008.
That last one isn't only a quality, funny as hell interview, it's definitely also a tribute to someone I considered a friend and an inspiration. Next to that we'll have a bunch of dope write-ups and contributions, reviews and Geert's going to unleash some more sick pictures as well. We hope to have it out around the end of the year.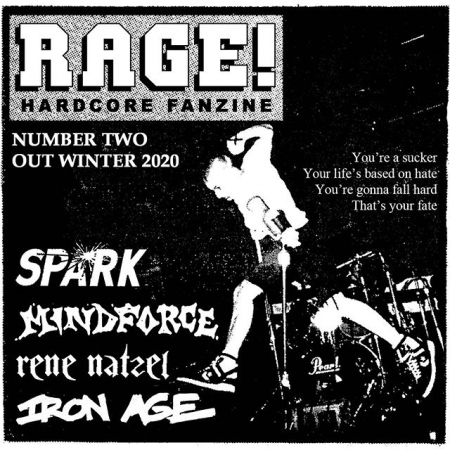 ***
Figurehead will be out on November 11th via Atomic Action! Records (US pre-order), and Control Records (Europe pre-order).
***
Donate a few bucks to help with No Echo's operating costs:
***
Tagged: chain reaction