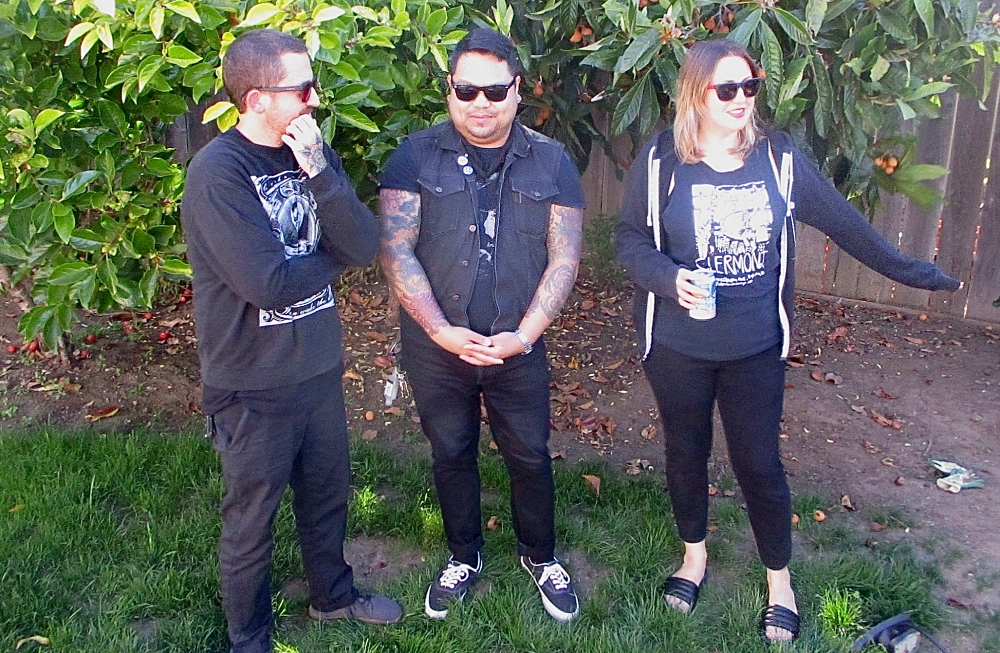 If you're a sucker for mile-wide melodic hooks, No Echo has a band for you!
Comprised of musicians from Bracket, toyGuitar, and Long Knives, California trio Guilty Party are clearly students of the power pop canon. Their latest track, "Circling the Truth," would have sounded perfect sandwiched between Weezer, Fountains of Wayne, and that dog. on a mixtape, circa 1996.
"Rosie and I officially met when our bands [toyGuitar and Bracket, respectively] played a show together in February 2020, just before the pandemic," guitarist/vocalist Angelo Celli told No Echo about Guilty Party's formation. "About a year later, we started talking about working on a project together, and by July 2021 we had brought Rob [of Long Knives] into the mix.
"We knew soon after that we had good chemistry and a shared excitement about starting this band. We played our first show in November, and recorded our debut EP in March 2022!"
"Circling the Truth" is lifted from Guilty Party's forthcoming EP, Imposter Syndrome. Angelo talks influences: "I think it has evolved already, with room to continue evolving, but I would describe it as melodic pop-influenced punk rock. We don't shy away from less-than-breakneck tempos, and Rosie contributes a lot to our sound with her vocal harmonies.
"I wouldn't say we are too removed from bands like The Muffs, Redd Kross, and early Green Day. But some people say we sound like '90s alternative rock, so who knows!"
Talk then moved to Guilty Party's home turf in Northern California. "There are a lot of great bands in the Bay Area, and thankfully a lot of venues survived a very difficult couple of years. We started a band at a weird time, but now it feels like (with some caution) we can book shows without fear of cancellation. We have a lot of friends in the area, from years of being in bands in this same general scene.
"Paper Street Cuts (our label) is an extremely supportive scene all it's own, with bands from around here (Hammerbombs, Lightweight) and bands based closer to their home in San Diego (Se Vende, Hey Chels, Ricky, Slow Draw). Some other great local bands are Primitive Heads, One Armed Joey, Decent Criminal, M Section, and My Last Line (who Rosie plays drums in too!)"
Imposter Syndrome will be out digitally and pink vinyl on September 7th via Paper Street Cuts.
***
Help Support What No Echo Does via Patreon:
***
Tagged: guilty party