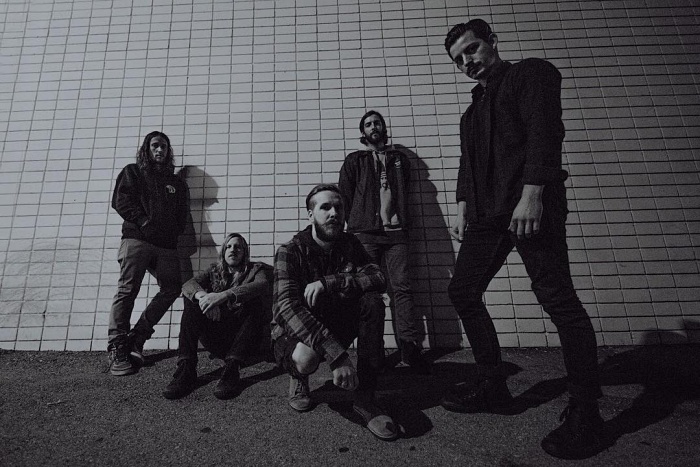 Cove Reber's been around the block. He spent much of the early millennium fronting Saosin, touring with everyone from No Warning to Dashboard Confessional. He's never sought the easy pigeonholing of genre labels, opting instead to write and record music that came naturally to him. And while Saosin has been on an extended hiatus, Reber has been quietly active. Most notably, he's finally gotten his latest project, Dead American, off and running.
As is the norm with Reber, he and his bandmates don't fit any individual genre. Their debut EP, The Shape of Punk is Dumb, recently came out on a variety of formats with CoinTossRecords handling some awesome limited-edition vinyl and packaging. I sat down with Cove to talk Dead American, touring, and hardcore shows.
How did the band come together? How long after Saosin stopped being active did you feel the urge to get back to writing and recording music?
Dead American was pieced together by a longtime friend of mine, Jordan Adams. Jordan had met Chad Jordan (Dead American's guitar player/songwriter) and he linked us two together, and that's how Dead American was born. [Producer] Howard Benson told me something that has always resonated with me: "Never stop writing." As simple as that was, it made being a writer and an artist more for my own self gratification. It's my way of getting out what's stuck in my head. Therapy if you will. I never stopped writing, but sharing my art has never been as important to me as it is to get it out of my head. I never stopped creating and recording. I just stopped sharing. I hope people enjoy what we're sharing now, at least I got to keep it to myself for a couple years.
The band's name, especially in our current cultural situation, seems very powerful. What are we to take from that?
You're to take it however you'd like. To me, it's dead. The current cultural situation that is. It seems like the majority of us are in the same shitty situation, just trying to break even. Is that what's become of our culture? In my opinion, we as a people used to dream. But how can we dream when were overworked and barely have enough to get by?
Similarly, the EP's title is powerful and even somewhat antagonistic (nod to Refused aside). Is the title meant to be a direct rebuke to the punk underground at large? Is it more tongue-in-cheek, and light-hearted?
I am a fan of Refused and their record The Shape of Punk to Come. Both band and record are amazing and have played a huge role influencing the genre of music I've been fortunate enough to be a part of. If there was no Refused, my record collection would be pretty small. That being said, I went dark for 8 years. I didn't go to shows and for the most part I didn't like the direction the genre was heading. It just kind of felt like the art of music seemed to become more about palatable content instead of personal expression. It's like I said at the end of our song "Grown So Cold," "I'm not gonna lie or feed you bullshit."
How conscious are you of separating your style in Saosin from your style or writing process in Dead American?

I haven't really thought about the separation of style or writing processes between the two. Each instrumental is like a blank canvas for me to paint my picture over. My only hope is that people relate to the side of me that is Dead American.
How did the relationship with CoinTossRecords come together? This release seems a bit larger in scope than what they've done in the past. Who came up with the vinyl concepts and packaging for the EP?
It went down like this... We wanted to do vinyl. We reached out to a friend and he said yes, just don't tell my wife. And since were independent and we can do whatever the hell we want, we're doing vinyl. I love and appreciate CoinToss for allowing us the opportunity to do a limited run in the way in which we wanted.
The Beartooth tour is obviously a big first step for the band to get out on the road. Does Dead American plan to keep moving forward as a full-time band? Are there any tours booked after Beartooth?
That's the goal. Full-time musician. Luckily we work with the best in the business and they're on the same page as us and share our goals and aspirations as a band. I'll let them work that side of things and stay focused on the music.
Best way to pass the time while on tour? Any routines you get into?
[Laughs] It's been so long since I've toured. Maybe after this tour I can give you an example.
What's your all-time favorite movie?
(Tie): Bill & Ted's Excellent Adventure and Bill & Ted's Bogus Journey
No Echo is mostly a hardcore music site. With that in mind, who's your favorite hardcore band? Craziest live set by a hardcore band you've seen?
No Warning and Comeback Kid were always super dope and atop the hardcore list for me. Saosin did a 2-3 week run with No Warning back in like '04. I remember we played a show in Georgia or Alabama, in some small suburb at a local church. We were all ready. The church was not. I don't think they knew who No Warning was. Kids were dancing and moshing way to hard. The church chaperone security crew was clueless. It was kind of hilarious to watch. Halfway through No Warning's set, a fight broke out. We all left the venue, to watch it conclude in the parking lot, then we just kind of went back inside and finished the show. Super random but kudos to them for letting us play our set and finish the show.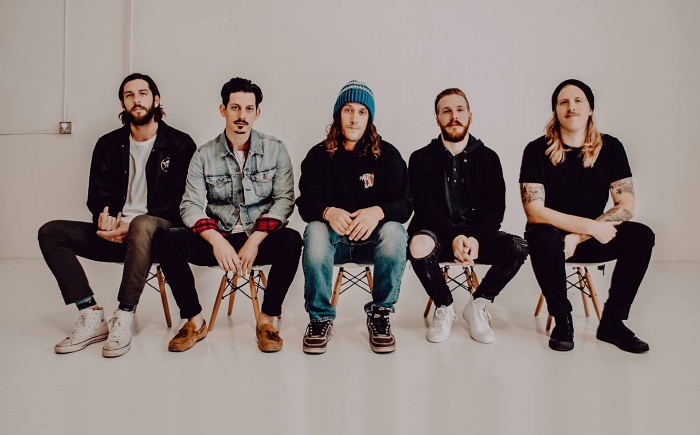 Follow Dead American on Facebook, Twitter, and Instagram. The Shape of Punk is Dumb is available on vinyl at this link.
***
If you're shopping for vinyl, CD, and cassette hardcore titles, head to No Echo's partner store, Reverb LP, to see what they have available. Every purchase you make helps No Echo with site costs.
Tagged: dead american, saosin