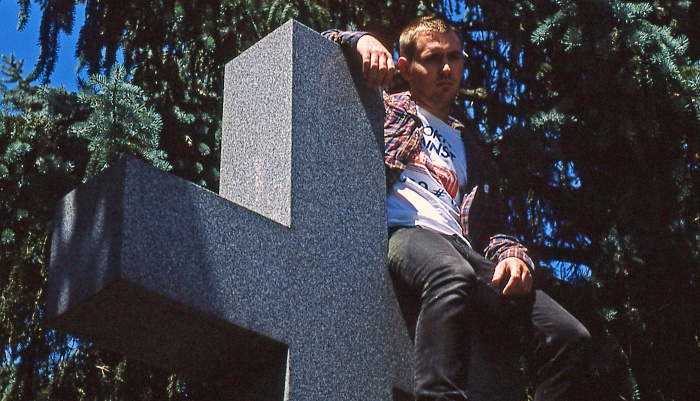 Ian Shelton has spent most of the last three years building with his hardcore band Regional Justice Center. Now in the wake of government shutdown, he's keeping busy with other projects; his podcast with Self Defense Family and Drug Chruch frontman Patrick Kindlon, recording and contributing vocals to one of the latest Self Defense Family singles, as well as Militarie Gun, Ian's new heavy alt project who just released a demo last week.
I spoke with Ian about the new project.
All of Militarie Gun music was written, recorded and released during the time of quarantine in California. I know that you started writing after a Regional Justice Center tour was canceled due to lock down, but when did you know you wanted to make heavier alt music again? Was it always planned to start another project between RJC commitments?
I've had the urge to make less aggressive music for some time, I would say the collaborative EP with Pretty Matty is somewhat a precursor to this because I wrote those songs for me to sing on but ended up handing them to Mat because I was scared to sing in a more melodic manner. For some reason the day I made the first demo I was just compelled to finally do it and not let any sort of fear of vocal performance fuck me up.
Ideally I should not be doing things between RJC commitments but being locked up between my house and practice space with no ability to chase paper has lead me here.
While being less aggressive than modern fastcore, this still leans aggressive despite the pop sensibilities and the catchiness of the songs you've released so far. While the Ian & Matty stuff felt more in the direction of Guided by Voices-style indie rock, this feels closer to something like Fugazi or other Dischord bands. Was that by design or did the demo just turn out this way?
Nothing about MG so far has been by design. Each time I went into the practice space without even a riff then I would leave with a completed demos, vocals and all. The first day the project was conceived I did two songs (both of which will be on the full EP), Day two I wrote "Low Point." The sound branches out but I tried more and more to root it the more days I went to make songs.
Definitely when I made "Low Point" was when I thought "ok maybe this is a little more dischord than AmRep," so I started to lean into it a little bit, but I would say that's really only the vibe of those two songs and not the total sum of the sound for the full EP. I just wanted the first 2 songs dropped to be completely cohesive together.
Would you like to get around to playing shows as Militarie Gun or does it seem as though this will be a recording project? When is the rest of this full EP going to be available?
I definitely would like to play shows and tour and do whatever I can with it, especially since someone is investing into putting out a 12'' of the songs. Post quarantine it will just be about what RJC obligations will be coming up and if people ask us to do shit. I don't book shows in Southern California and don't want to so we really gotta get asked. I'm hoping the full record will drop within the three months, I had all the songs written before I recorded the demo but for some reason just felt like I would end up only releasing a couple so I held off.
I'm currently trying to get in to record this weekend or next so it'll just be all about turn around times with plants after that.
Is this another drummer/singer project for you?
Oh hell no. I intentionally wrote it loose so that I could get about any semi-competent drummer to do it. I thought about doing guitar and singing but I think I gotta fully step out front for it to land correctly. Which sucks cause that means I gotta be interesting, which is something I'm not totally sure I can do.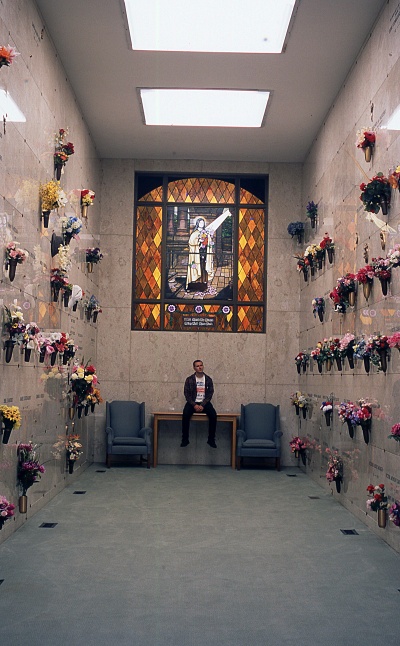 Any other projects coming up during this time stuck at home for you?
I just wrote the first song for a hardcore band with Patrick Kindlon singing and Mac Miller on drums. I straight up think I'm doin too much though so I should probably pull the plug. I don't know, what do you think? Should I or should I not?
When I doubled back the next to ask if Militarie Gun was going to be just another quarantine project, he responded:
"I'm incapable of doing anything in my life in moderation, and MG will be one of those things end up investing all the spare moments I have into and that doesn't just end when normal life will resume."
Keep an eye out for new Militarie Gun in the coming months, along with new Regional Justice Center release on May 15th.
***
Donate a few bucks to help with No Echo's operating costs:
Tagged: militarie gun, regional justice center