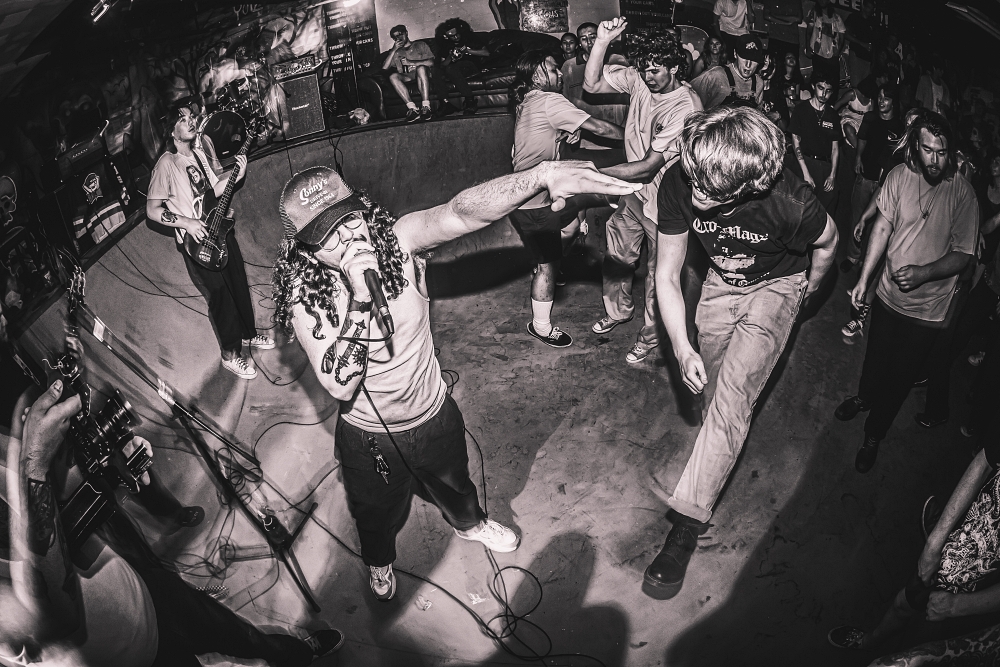 Brampton, Canada's Mile End have released "FCHC," a new track and accompanying video, fresh for their appearance at this weekend's Hold Your Ground Fest.
"FCHC" is short, moshy and designed for maximum crowd reaction. It's an ignorant ode to Mile End's hometown scene—a burgeoning contingent of kids who are down to travel and show support for their friend's bands.
"We're always repping Brampton and we get ripped on at times for it," says vocalist Jake Thompson. "A lot of bands call out their city or area code. Nobody from Brampton wants to claim it. A lot of bands from Ontario hardcore are from Brampton or have members from here, but they keep it lowkey. We just wanna say 'fuck it, we're proud to be from here.'"
Thompson points to bands like Gavel, Temper Tantrum, Cohezion, Sicayda, Deargod, and DoFlame as examples of popular Ontario bands who fully or partially call Brampton home.
The new song was recorded by Davis Maxwell at School House. It's a bit more metallic and heavier than Mile End's previous output. We have to wait until the last part of the song for any of the band's trademark reverb-soaked post-hardcore. Even then, "FCHC" has a kinetic edge designed for audience participation.
"We've only played it at a few shows, but already it's gotten a great reaction from our Brampton homies, as well as the locals in the towns we played," Thompson says.
Mile End is opening the second day of Hold Your Ground Fest in Mississauga, Ontario on September 10th. Thompson is excited to open for the likes of Mindforce and Sunami, who will be playing their first ever shows in Ontario that evening. Make sure to get there early and catch Mile End play the new track.
Mile End on social media: Facebook | Instagram | Twitter
***
Help Support What No Echo Does via Patreon:
***
Tagged: mile end