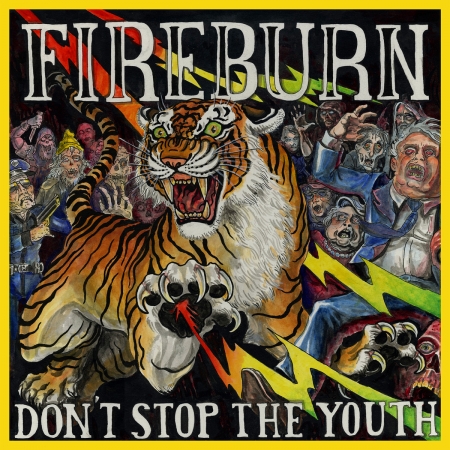 Near the top of the year, I had an in-depth chat with former Bad Brains vocalist Ras Israel Joseph I about his life and career in music. We got along smashingly and became friends soon after. One morning, he called me to tell me that he was jamming with some familiar faces in a new band that he promised me I would not be disappointed by. Well, a couple of months later, FireBurn emerged, and guess what, I wasn't disappointed.
Joining Ras in FireBurn are musicians Todd Youth (Murphy's Law, Warzone), Nick Townsend (Deadbeat, Suspect), and Todd Jones (Nails, Carry On), a multi-generational lineup that deliver a dynamic barrage of hardcore punk that is as forceful as it is hooky. Don't Stop the Youth hit the underground hardcore scene like a tornado when it dropped out of nowhere in August. The EP quickly established FireBurn as a band worthy to its members' separate pedigrees.
Now that FireBurn are out playing shows consistently throughout Southern California, their live game is only getting stronger, so expect to see more of them in the coming year. But most importantly, let's keep our fingers crossed that they release a proper full-length in 2018.
Don't Stop the Youth is available digitally via Bandcamp, and the vinyl version is on sale via Closed Casket Activities.
Tagged: fireburn