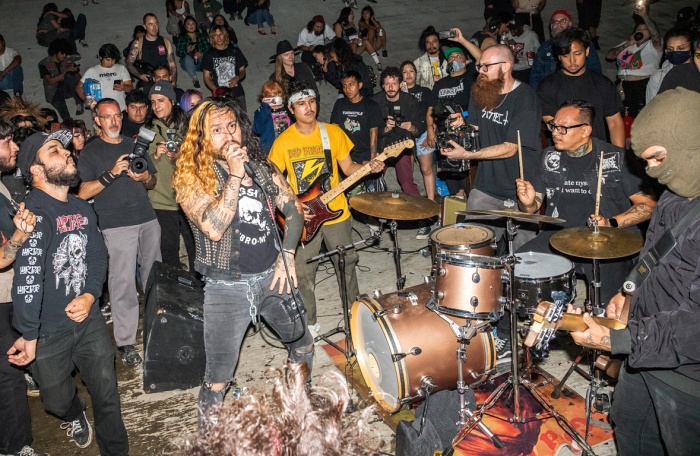 Barrage is a hardcore punk band based out of Los Angeles, CA. Influenced by multiple genres such as hardcore, power violence, thrash, and even elements of pogo, they keep things fast and furious.
I got an opportunity to chop it up with the entire band about their origin story, their roles as musicians, themes of their debut album, Quarantined, mental health, and much more!
Thanks for taking your time with me, I appreciate the hell out of you. Before we go further, what does Barrage represent to you?
Edgar (drums): This band is a constant bombardment, so, to me, that's what the music represents. It doesn't let up and just keeps pummeling you.
Andy (bass): 

Barrage is a violent and confrontational unit of 4 musicians expressing ourselves through hardcorepunk.
Izra (guitars): Barrage represents an aggressive and hard-hitting attitude that complements our musical output.
That is a perfect band name for the kind of music you guys play, no doubt. I read that you have all been playing together since 2017 until adding Alexander in 2020. How did you guys all come together?
Edgar (drums): The band has known each other for years individually. Andy and Edgar know each other for over a decade. Edgar and Andy have played in a band in the past as well as well as Andy and Iz in their own independent band before. Iz was the one to initially ask to start a band and Andy entertained the idea. But Andy knew we would need a front man in this band to take it to the next level.
After writing a few songs and trying vocals, the momentum kind of stopped and we weren't playing or writing any new material anymore. Andy met Alex during a show we had together, but we weren't in the same band yet, it was Alex's prior band. I believe Edgar had mentioned him as a new member specifically for vocals. That led to having band practice with him, and just like that we clicked. He was definitely the missing piece of the puzzle
How did you all determine that Alex was your missing piece? Was there a particular moment you remember where you all were just like, "woah we need this guy?" His vocal range has such a strong presence on these tracks—so, good pick!
Edgar (drums): Alex used to sing in Bastardass, so we were all familiar with his vocals since we were fans of his old band. So, adding him wasn't something we needed to get familiar with.
Ah, I see. That's dope, you were fans first and now are a band of brothers. Speaking of vocals, Andy, not only are your screeching backup vocals a perfect juxtaposition to Alex's heavy hitting vocals, but your bass lines are so crispy and jarring that give Barrage's tracks ("Friends and Enemies," "800MG," and "False Flags," to name a few) the feel of barbed wire piercing our ears.
What are methods do you employ when thinking of your dope bass lines for each song?
Andy (bass): I go back to all the other dope bass players that did it before me. That and I think to myself "what can I do to make this song better without exaggerating the bass sound?" Like not doing too much, but enough to stand out. Classical music also has a lot of influence in my methods.
Crispy and jarring is definitely what I'm aiming for [laughs]. Thank you for that.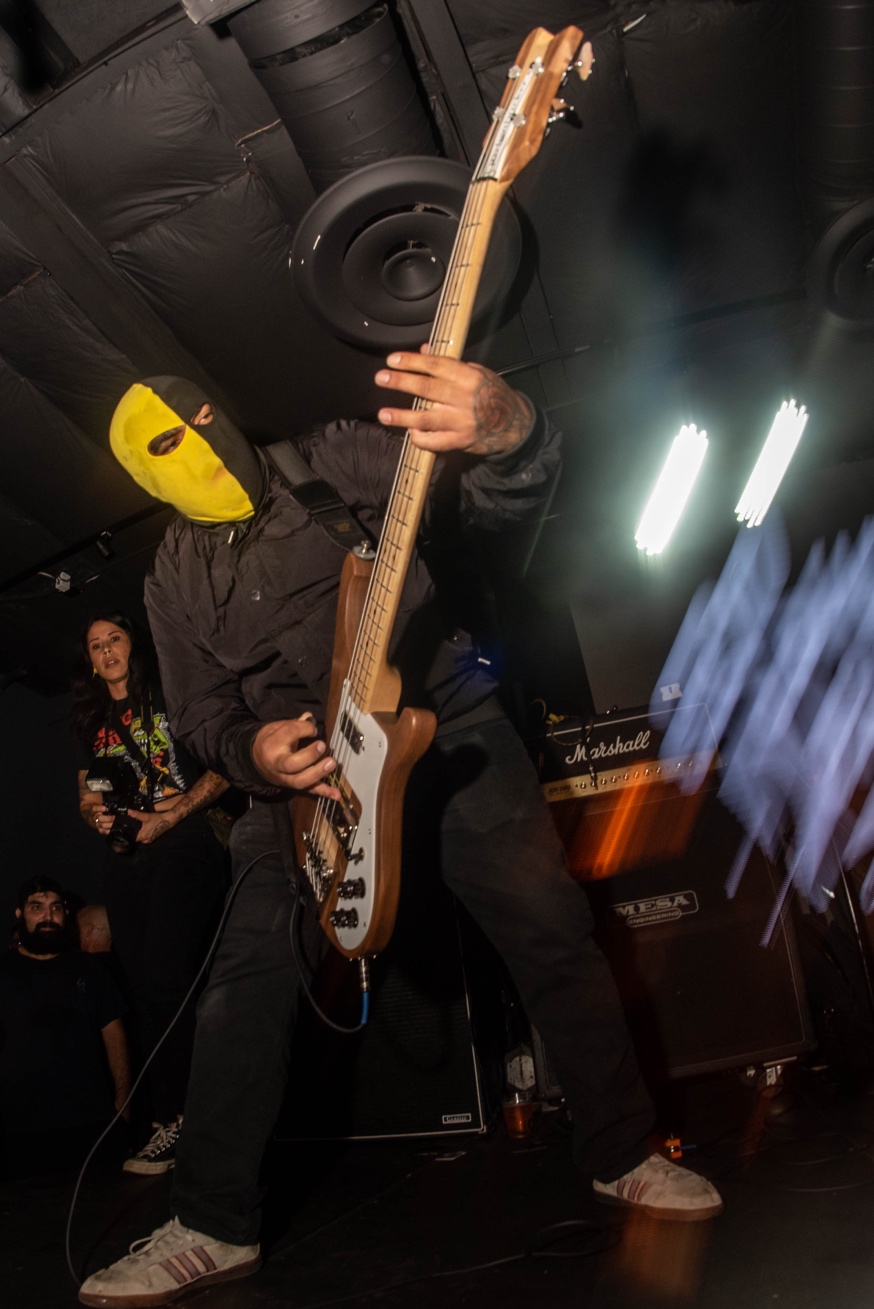 You have achieved what you're setting out for, my friend. Good shit. Speaking of string instrumentation, Izra, your guitar playing is something very unique. Your strums resemble that of thunder from the clouds hitting the earths floor with each strum. How did you develop your style sonically on guitar?
Izra (guitars): One of my main things when playing guitar is to listen very carefully. The tone of my guitar has to match my energy. I always try to incorporate bar chords that define the strums a lot better for some of our slower jams. It's not traditional, but it complements Andy's wild bass tracks.
So, I guess you could say I developed, and still am developing my sound just by writing music with these guys, every track has some different type of progression that may seem typical but is far from that when you try to learn it.
We're always students of the game that's for sure so I understand that for sure. Reverting to the vocals for a moment, Alex, what was the calling moment you knew that vocals were what you wanted to do in music?
Alex (vocals): I never had an epiphany of a moment where I decided to be a vocalist. My first band when I was 15 or so just needed a second singer to go with our copycat version of Spazz, so I took up the spot.
Sometimes you just get indoctrinated in your passion without any rhyme or reason other than just being. I didn't forget about you my boy, Edgar. Drums are some of the most important factors to any music. Your drumming is filled with so much rage and angst that brings the band full circle on each track.
Do you feel that drums have a powerful effect on the soul and the connection to music in general?
Edgar (drums): I definitely do feel drums have a powerful effect on the connection to music because you can really feel them. Drums have been an underlying driving force to any good band. I grew up angry, so I've always played angry. The hard the better. The louder the better. I want people to feel that anger and ferocity when we play.
Well, you all play and sign with that anger and ferocity that many of us feel so kudos to you all for bringing the heat. 2020 was a fucked-up year for a lot of people and is a year that will go down in history.
What was the catalyst in 2020 that caused the musical fusion to create the politically and socially charged album, Quarantine?

Izra (guitars): As cliché as this might sound, the quarantine itself. Some of us were having issues with our mental health. It's hard to be locked up and not just that, nothing around you is open for business. It put us on the borderline of creativity and madness just enough to put this album together.
Not cliché at all man! The quarantine really fucked a lot of people up mentally, financially, and socially. The album highlights mental health, and the effects is takes on us ("800MG" and "Spirits"). How have you all in general copped with your own mental struggles and what would you say to the kids out there dealing with them?
Edgar (drums): I think all of us in the band have been dealing with and have dealt with our own internal mental struggles that have been exacerbated by the pandemic and quarantine but there's is a feeling of solidarity that we're all in this together and are in the middle of one of the craziest once-in-a-generation shared human experiences. So, it's comforting to know that all of us are going through it together.


To anybody who feels they are alone or are struggling with some mental struggles know that you are not alone. We're all going through our own struggles, and it is important to talk about our issues as that's the only way to get perspective and feel some solidarity in that.
People tend to just be too shy or feel embarrassed to speak out about the personal problems their facing when opening up is a great way to exhale everything bottled up. In terms of the crazy year 2020 was, I'm a sucker for politically and socially charged albums. When artists create these charged art pieces, they're bound to face criticism.
What (if any) is criticism you've received from people about the content of your lyrics and what would you say to them in response?
Edgar (drums): We have actually received nothing but positive feedback in regard to our lyrical content. I feel this can be attributed to the unique state of the world at the time that we released our Quarantined album. We were unlucky/lucky enough to come out with an album that I feel spoke to the universal feeling of despair that everyone was/is feeling because of the pandemic. This is a socially charged topic that is rare in that it's for the majority.
I love to hear that! I agree in that it's so relatable and is a great time piece for this generation. I bet the jam sessions were pack full of emotion as each track takes me down different emotional roads while I listen. What were/are some of the most difficult tracks to write, record, and/or perform?
Edgar (drums): Izra, Andy, and I wrote the songs fairly easy as we have known each other for years that we're able to recognize the playing style and what direction the song wants to go. Tue hardest part was deciding what direction the lyrics were going to but then we were presented with the quarantine, then the lockdown, and the rest was easy.
That bond helps in the creative process. It's great that everything panned out the way it did—almost like this was meant to happen for you guys. I like to ask this question because everyone has such different answers. What is some of the craziest memories you have of your guys shows?
Edgar (drums): I'd say, easily, the Egret Park show that was put on by us, Dead City, Section H8, N8Noface, Alpha and Omega, and Clorox Dream in collaboration with Born x Raised was probably hands down the craziest experience.
Playing to hundreds of people while the police and news helicopters flew overhead, and the cops were shooting less than lethals into crowd that was moshing around this huge bin fire is probably something none of will ever forget. We replay the moments and talk about it all the time.
Ah man, that show was legendary. Such a crazy turn out especially with it being one of the first major shows coming out of quarantine. With 2021 almost coming to an end what can the fans expect from Barrage for the remainder of the year?
Edgar (drums): We have a lot planned for the rest of the year. We are currently in the process of recording a new EP that should be out by the end of the year. We have a good amount of shows in the LA area as well as San Diego. Afterwards we are going to focus on our next full-length album by next spring. New merch designs and items are being worked on right now to get everyone in the best Barrage gear.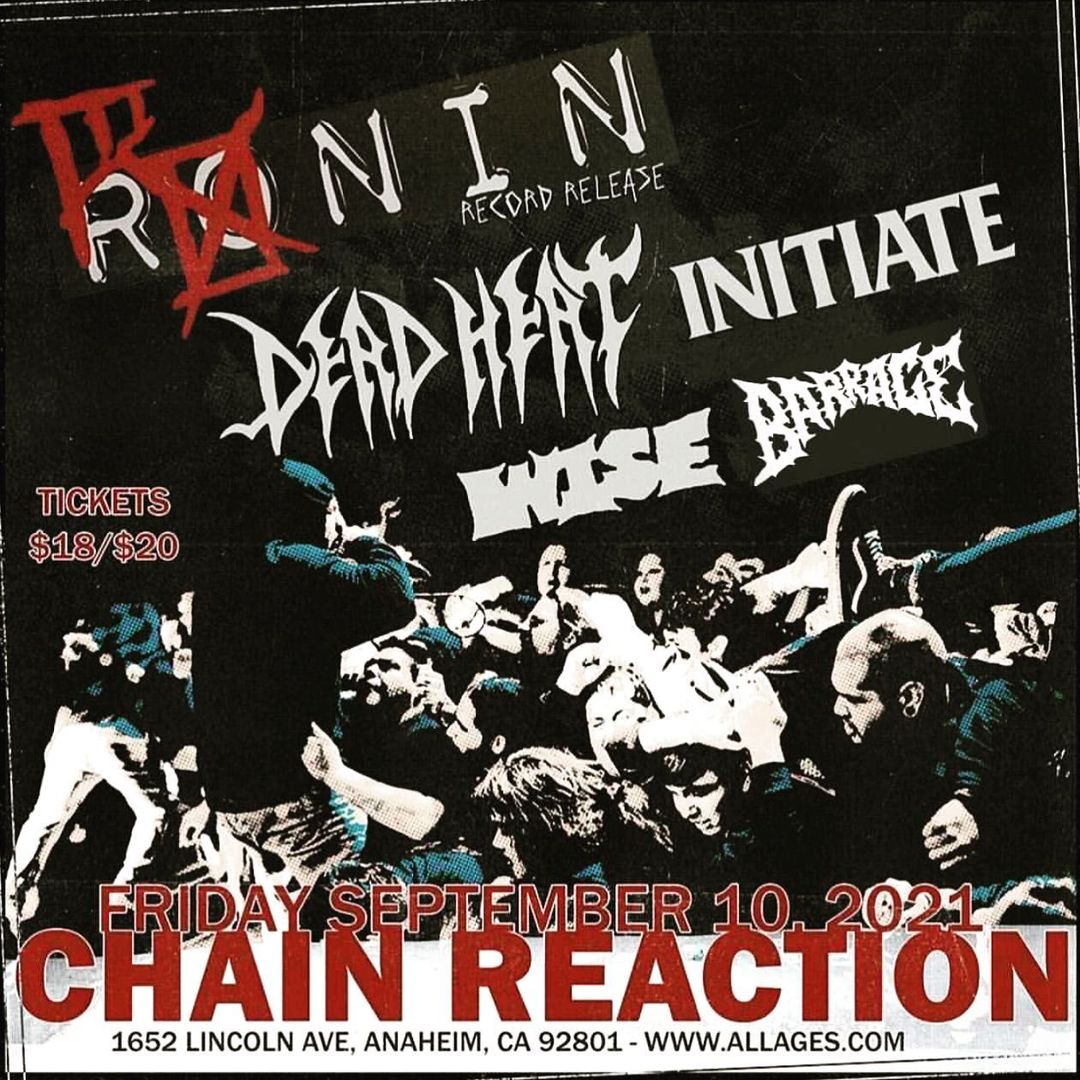 I know we're all looking forward to what Barrage has to offer and cannot wait to see it unfold. Are there any final words you'd like to add as we conclude this interview my friend?
Edgar (drums): Definitely want to shout out everyone that's helped us and everyone that's supported us along the way
I want to add that we also got a new lead guitar player that has filled out the sound and is pushing the music even further with his skills and talent, welcome Arturo.


Huge shout out to:
 Dead City Punx
, The Runts
, Merch, 
Nate Xibalba, 
Tom Arley
, SOS Bookings, 
1753 Punk Noise, 
Natureworld
, The LA punk scene
, The New York punk scene,
Danny Dobyns, 
OG, 
Sonnenanbeter, 
Amy, Geo (our merch producer), Section H8, N8NOFACE, Born x Raised, Garvanza Skate Park, and Amaury (RIP).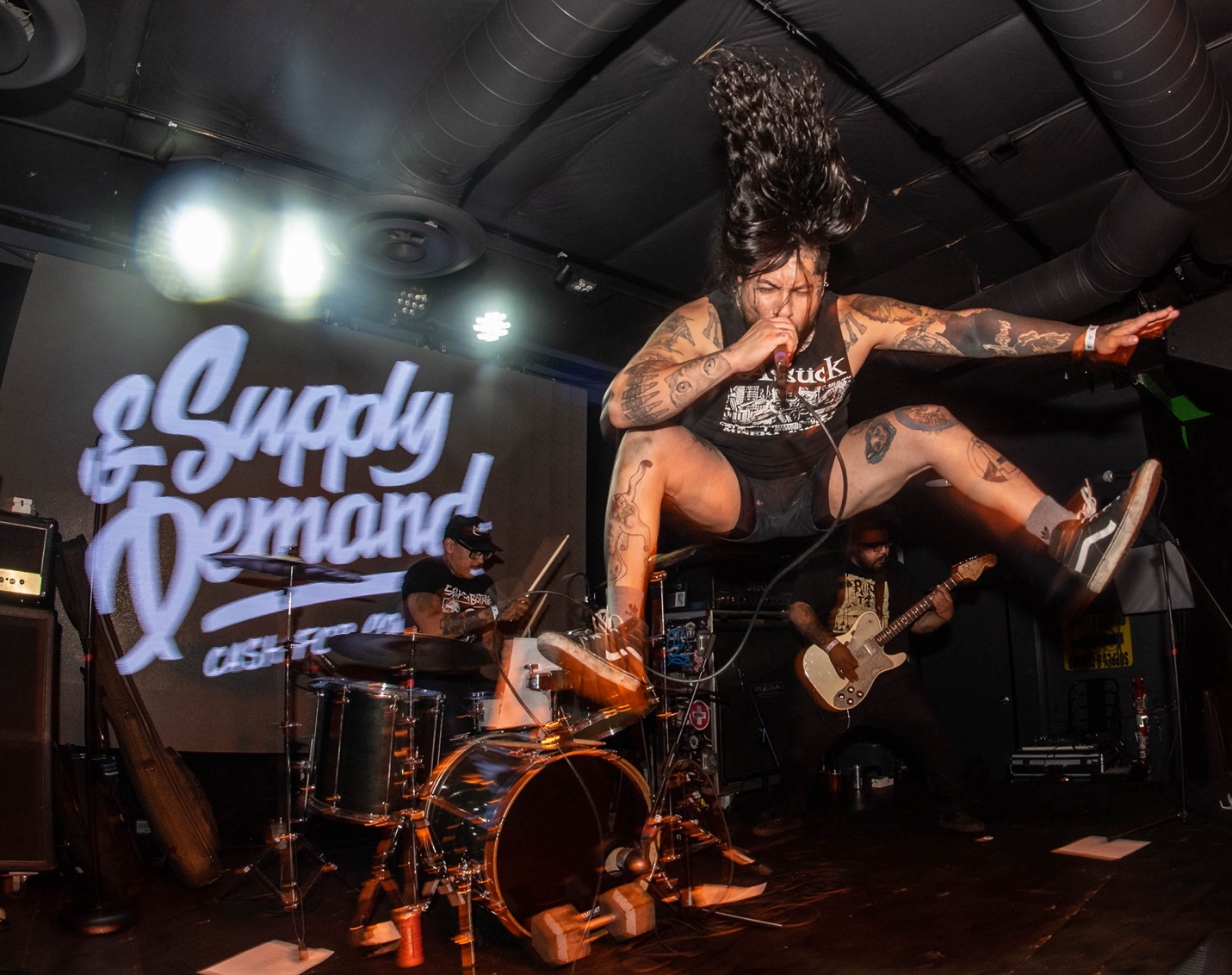 ***
Barrage on social media: Instagram|Bandcamp

***
Help Support What No Echo Does via Patreon:
***
Tagged: barrage