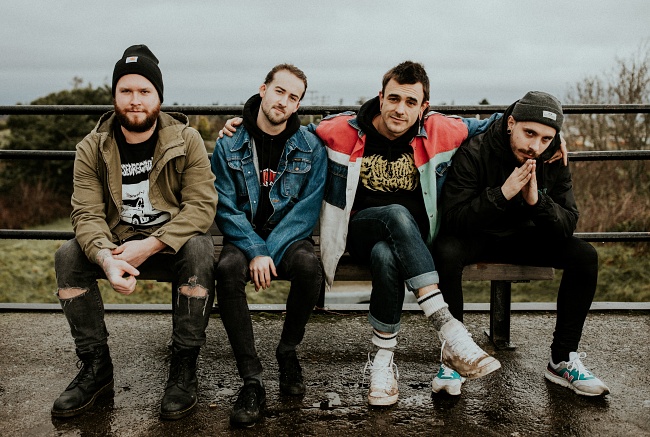 Listening to Vultures is like getting smashed across the face with a slab of titanium. Rooted in Victoria, British Columbia, the quartet throws elements of techy death metal and hardcore into a blender and then formulates aggressive songs that rarely let up in the energy department.
With two EPs under their belt, Vultures have played gigs alongside such groups as Cancer Bats and Despised Icon. While a new record is imminent from the band in 2021, they didn't want to sit around waiting to drop some new music.
Recorded, mixed, and mastered by Tim Creviston (Misery Signals, Spiritbox), "Privilege" is a new track the Vultures crew is premiering on No Echo today via the video below:
"It's a song that we have had hiding in our catalog for the better part of 4 years, waiting for it's chance to see daylight," Vultures drummer Graham Scanlon said of "Privilege" in an email to No Echo.
"After seriously examining the song, playing with tunings, rewriting the lyrics from the ground up, and more, we finally felt like we had captured the full potential of the song. We are very proud to now offer up 'Privilege' as the latest development in the Vultures catalog.
"The song itself is aimed at describing the struggle that comes from a breakdown in empathy born of different circumstances in life. Despite our best efforts, it can be difficult to make someone understand things that they have never experienced, and acknowledge the traumas, attitudes, or outlooks that come from such experiences."
Graham continues: "This lack of understanding, or will to understand, breeds shame, bitterness, and conflict. This is a very personal song at its heart, though one that we feel many can relate to."
Hit this link for "Privilege" today.
Vultures social media: Facebook | Instagram | Bandcamp
***
Donate a few bucks to help with No Echo's operating costs:
***
Tagged: vultures