Today's Song of the Day here at No Echo comes to us by way of San Jose. The Moore Family Band have released their latest single, "Raining Inside My Head.'
It's hella punchy, hella poppy, and features Jeff Rosenstock on the keys.
It is their second single ahead of their debut LP, Missy—named after the family dog—which is due out digitally on Asian Man Records, December 4.
The trio began this year spread across California. Dylan and Randy (both also play in label mate and punk-crooner outfit, Get Married) were in Anahiem with Alyssa in San Diego.
In the aftermath of this year's quarantine, the siblings found themselves reunited in San Jose, where they quickly began writing and recording together.
In addition to being released as a digital single, the track also received the rotoscoped lyric video treatment thanks to Eric La Febre:
The Brothers Moore push the urgent pace while Alyssa's vocal and Rosenstock's synth fill the piece out. Both melodically play off of each other beautifully without harshing the other's vibe.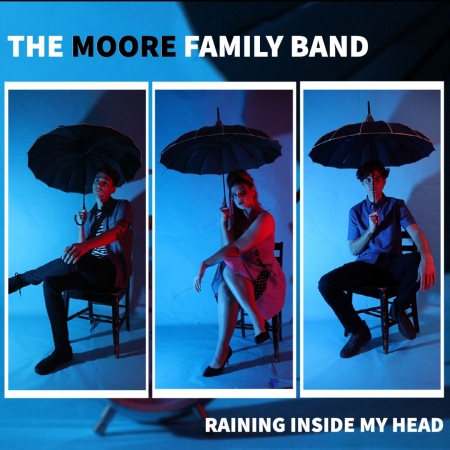 "Raining Inside My Head" is Gilman Street circle pit meets Happy Days sock hop that builds into a syrupy explosion of pressure-cooked power pop. The ironic part is that despite its sub-two minute time, this track so infectious that you could easily find yourself looping it for an hour or two.
Tagged: the moore family band