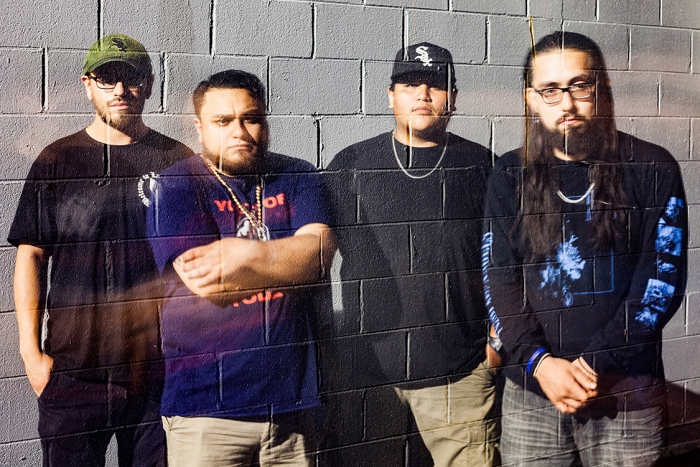 With a couple of EPs and steady gigging under their belts, Chicago metallic hardcore crew Through N Through have been doing their thing since 2014. A few weeks back, the band released their debut album in the form of Our Side. One of the tracks on the record caught No Echo's attention.
In "I.C.E. Breaker," the group takes on the timely topic of the Immigration Customs Enforcement agency, but not from some far-removed point of view. Growing up in the Little Village neighborhood, they've been personally affected by the policies the agents have been enforcing since President Trump has been in charge. I thought this was a perfect subject to focus on in this piece on Through N Through. Thanks to guitarist Armando for the candid chat.
First off, tell me about Little Village. I've never heard of it before, but I know it's a huge part of who you are and would love to get your perspective on it.
Little Village is a neighborhood located on the southwest side of Chicago also known as "La Villita." Everyone in the band was raised in this neighborhood and it's where we call home. Little Village is a predominately Latino, Mexican American neighborhood, filled with lots of culture and hard workers. Outside of Los Angeles County, Little Village is the neighborhood with the highest population of Mexican Americans in the country.
With that being said, a majority of the people who live in the neighborhood are immigrants and have come to Little Village in search of the American dream and a new window of opportunity. To some people outside of Little Village, the neighborhood is looked at as a "low income" area and may also be deemed as dangerous; but to us growing up here, we always looked at it as making the most of what you have and that characteristic is what has been ingrained into us when it comes to our music. Little Village despite being deemed as low income or poverty stricken, is still home to the second highest revenue earning street in all of Chicago after the magnificent mile in downtown.
In the neighborhood and in music we didn't always have things handed to us and had to earn it with hard work. Growing up in Little Village has proven to be a very integral part of the band because of these things it has taught us and I feel it has transcended into the music and our DIY mentality as a band.
Speaking of Chicago, how has the city embraced the band?
Chicago has embraced the band pretty well. In the beginning days it was a bit strange because some people weren't too sure how to respond us. We would play some shows where we were too fast for the slower heavy bands on the bill, or we were too heavy for the faster, punk type bands. Over time though people began to appreciate that we were mixing different sub genres of hardcore into one and from there on we started to build a local following.
I feel we've built a very strong local following. Our core fans I would say are from the southside of Chicago. The southside of Chicago specifically, has plenty of DIY shows in houses, storefronts or where ever a band and a crowd could have a show. We always appreciate the DIY shows because those feel more intimate when connecting with fans and always bring like minded people who are also making the most of what they have. Even without a venue on the southside, people could still put together an amazing event and that is something I love to see, personally.
With the help of our local following, we have also been able to expand outside of the south side DIY shows and thankfully so they still come out to see us. Seeing the friends and fans we've made from those shows come out to the ones further out is something I will never take for granted and will forever be grateful for; it is a humbling experience every time.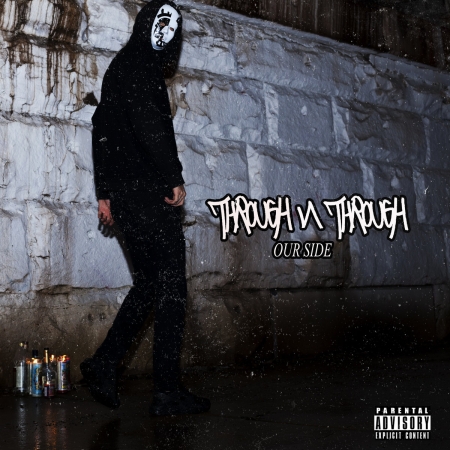 What are your thoughts on the hardcore scene there at the moment?
Overall, I would say the hardcore scene in Chicago is thriving. There a lot of bands out there right now all doing their own thing and that's cool to see that we are all progressing in our own ways. It being such a big city though, there are certain niches within the scene I would say, and sometimes it feels like the scene could be separated but with so many people and bands, I figured it is bound to happen. With Through N Through though, we love to play with anyone, anywhere and hope to bridge the gap when it comes to things like that. At the end of the day, we all share a passion for hardcore in the city so sticking together is something we should always be striving for.
There's a track on the album called "I.C.E Breaker" that is very timely.
"I.C.E Breaker" is a song about the US government group known as ICE, or Immigration Customs Enforcement. The song is calling for the abolishment of this group. With the political climate going on in today's society and the headlines being made by ICE it only felt right that we needed to use our platform and be vocal about the terror brought upon by this group.
Specifically in Chicago, there have been many raids conducted by ICE where they are stepping into Latino neighborhoods, including our own, Little Village and wrongfully barging into homes and detaining countless immigrants and innocent families who are only trying to make ends meet. Each member in this band has been or knows someone who has been directly affected by these current events. The fear brought upon by this group when the raids were first occurring was deeply disheartening to watch.
The main streets in Little Village which are normally bustling and riddled with joy were suddenly turned into ghost towns out of fear of becoming a victim to the torment of ICE. Given the circumstances and us having a platform, we knew we needed something to say about this.
In "I.C.E Breaker" there are many lines calling for the abolishment of ICE and really there is just a feeling of anger and frustration as to why do things like this have to occur: "Why is it my people are the scapegoat."
Also, in homage to our people, most of whom are primarily Spanish speakers, we decided to include lines in Spanish as well. "Nosotros unidos, les da miedo" which translates to "us united, it makes them scared" is something we feel very strongly about, when we are united and work together, it can prove to be very impactful and helps us progress but it is apparent that ICE wants to keep people of color down.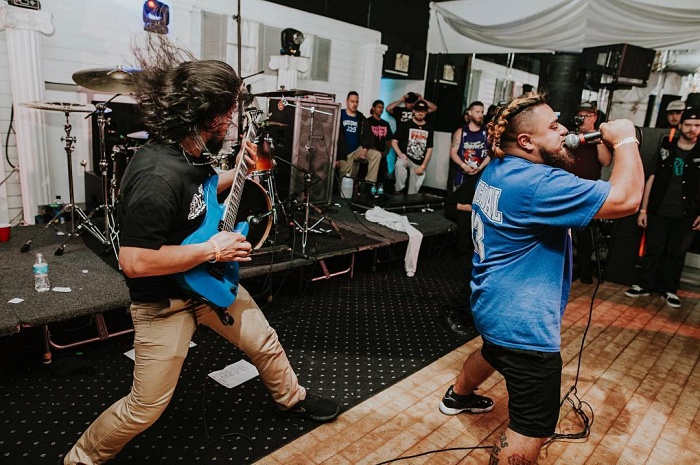 As a fellow Latino, I can say that there are a lot more of us at underground hardcore and metal shows than there was when I first started going to shows in the late '80s and early '90s. How about you? Do you see more Latinos into this stuff today than when you first got into it?
Overall, I would say yes, I do see more Latinos in the scene than when I first started going to shows as a 12-year-old. At first, in the Southside of Chicago, the majority of people at the shows I would go to were Latinos but it wasn't until I started going to shows out side of that area that I realized there aren't too many in the scene as I had thought. When I started doing my first out of state shows in smaller towns, it was rare to see many Latino people at shows but I feel now, there is more than before from what I've seen on our last tour.
Given with the help of the internet and possibly the political climate it is nice to see the music having a greater reach and being more inclusive to people of color. In Little Village, we hope to encourage more Latinos to come out and get involved as well. So far, I feel we have been doing well in that aspect. When Through N Through was starting out, we were one of, if not the only band from Little Village playing out of town shows, etc, but now there a handful Latino bands from Little Village going out and doing their thing so all together, I would definitely say the Latino population in hardcore is growing.
You just wrapped a tour up, so what's the next year look like for the band? What are your specific goals?
We just wrapped up our longest tour yet, and it went very well. From here, now that the album has been out, we are going to continue focusing on hitting the road and playing cities we have never played before. We have tours that are being worked on for next year and hopefully they go as planned. Also, there are goals to play some more festivals as well, but all that will work itself out in time. Ultimately, I would like to take next year to reach as many people as possible with our music. We have had some fantastic responses so far and made a lot of friends over the years, as long as we can keep that growing, I'll be more than happy.
***
Our Side is out now and available on Bandcamp.
Through N Through on social media pages: Facebook | Twitter | Instagram
Tagged: through n through