It's fitting that a band named High Cost hails from Brooklyn, NY. Yet, the unholy racket made by this feral five piece is worlds away from a Park Slope walk-up or Fort Greene brunch spot. The nom de plume is clearly more informed by the revolving door of NYC's urban sprawl, their grind inflected take on hardcore is one that pulls from disparate locales.
At once recalling the spirit (if not the sonics) of street level NYHC and the light speed blur of West Coast power violence, High Cost plant themselves firmly atop the "shit I missed" bin of 2018. Still visible in the rear view of my release radar, High Cost's eponymous EP dropped in November of 2018 followed immediately by a cassette release handled by Louisiana's impossibly prolific Tridroid Records (check 'em out, support 'em, fuck Nazis).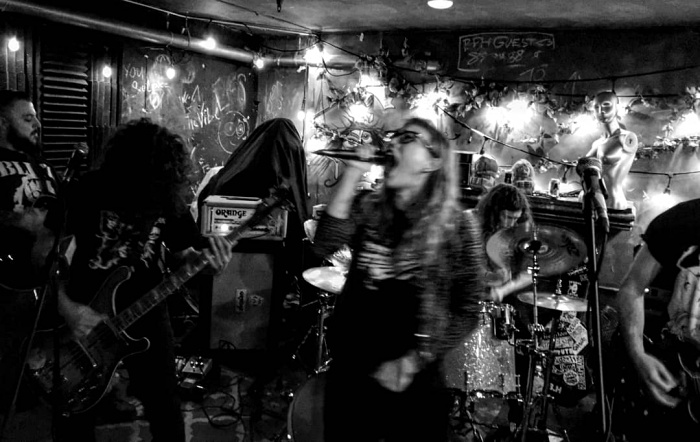 To rip a page out of their own book of song titles, there's no "glut" of bands currently repping this style. With the Zeitgeist leaning ever heavier, High Cost meld countless extreme sub genres organically and tastefully. The band is obviously schooled in a variety of extremity, each limb of their sound perfectly zombied together with blackened barbed wire stitching. The connective tissue running through the DNA of these maniacally monikered madmen is a staunchly independent DIY and punk ethic. There are moments of devastating power violence, none better than the frenzied pace and vocal trades of "Blight." Among the myriad moments clamoring to be my putrid favorite is the opening salvo of closer "Indemnity" in its decidedly non-Metal take on the Scandinavian swarm of bees sound. Their ability to seamlessly weave varied paces and influences speaks highly of where they may go next.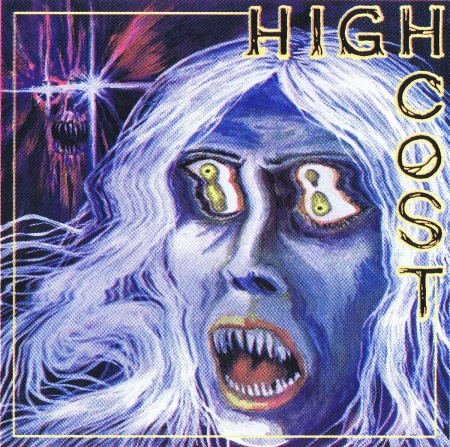 These stunning highlights not withstanding, the band's mission statement is laid out in the EP's prime moments. In the way only opening tracks can be, the wailing squalls of guitar racked over glorious groove that begin "Illusion" are an instantly exhilarating proposition. There's an excitement in the initial build in that it can go in any direction. I'm here to tell you let High Cost take the wheel. You'll get there, albeit at 100mph, dented, damaged, and worn. After climbing a groove-laden staccato the song absolutely explodes, vaulting from a divebomb into a damaged explosion of furious hardcore. There are dalliances with deadly blast beats and ever-so-small touches of lock-step metallic hXC.
High Cost even manage to pull in another influence that, when in the wrong hands, can dominate the sound. There are rotten flurries of black metal, including sinister tremolo picking that pushes "Illusion" outside of strict genre dogma. They have a sound that, descriptors aside, just fucking devastates. Restrained but on display are scythe-sharpened chops that landed them a Noisem support slot.
Thankfully, the sound, ethos and aesthetics of High Cost make their tent poles seem squarely rooted in the hardcore punk community. That they have snagged a chance to level audiences with Baltimore's finest is a testament to their flexibility as extreme artists. They'd seem no less out of place with Genocide Pact as they would Regional Justice Center. It's all hardcore to me, man.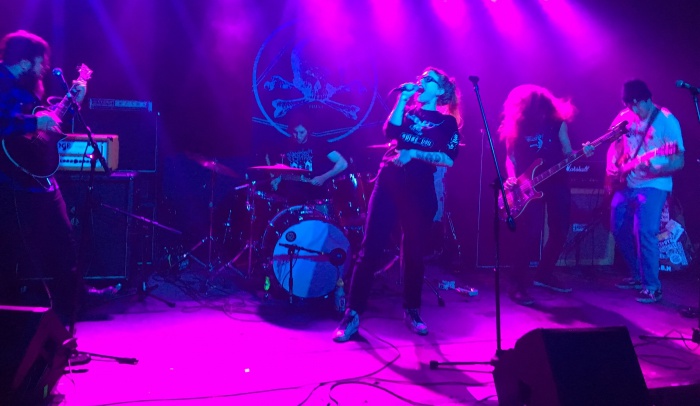 With Will Killingsworth at the helm to mix and master, the sound is as clear and muscular as expected. Want mastering? Go to a master.
They're slotted to have a big 2019. Pay the cost while you can.
***
If you're shopping for vinyl, CD, and cassette hardcore titles, head to No Echo's partner store, Reverb LP, to see what they have available. Every purchase you make helps No Echo with site costs.
Tagged: high cost