Decibel magazine has just announced the launch of their own label, Decibel Records. For their first release, the company will be issuing Deadguy's Buyer's Remorse: Live From the Decibel Magazine Metal & Beer Fest.
Limited to 1,000 copies over four variants, the LP is comprised of Deadguy's first live set in 25 years featuring their classic lineup. It was recorded at the sold-out Metal & Beer Fest: Philly on September 25, 2021, and includes songs from the band's seminal Fixation on a Co-Worker, their Work Ethic and Whitemeat EPs, and a cover of Black Flag's "Police Story."
"Decibel Records is our latest love letter to the completist metal fan," says Decibel's Editor, Albert Mudrian. "Documenting and immortalizing the special live sets from Decibel's live events with equally unique limited releases is just the first step for Decibel Records.
"We won't reveal our future plans just yet, but readers can expect more exclusive partnerships like this with the artists who have graced our pages and dominated our stages for decades."
Decibel has been around for 18 years and is easily the most consistent American magazine covering heavy metal and its adjacent worlds. It's great to see them venturing into the label side of the business. I wish them luck and look forward to seeing what else they have up their sleeves!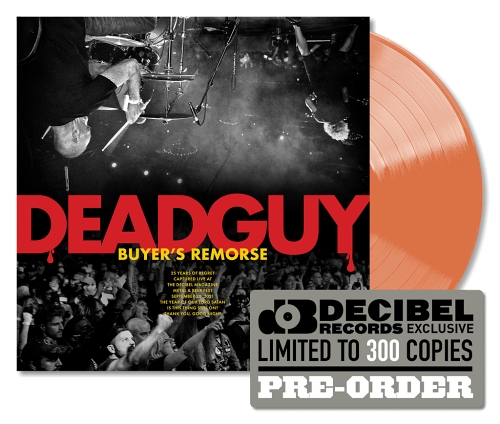 The pre-orders are up now at this link, so don't sleep!
Buyer's Remorse: Live From the Decibel Magazine Metal & Beer Fest track listing:
1. "John Dear"
2. "Doom Patrol"
3. "Pins and Needles"
4. "Die With Your Mask On"
5. "Makeshift Atomsmasher"
6. "Baby Arm"
7. "Puny Human"
8. "Nine Stitches"
9. "Druid"
10. "Riot Stairs"
11. "Apparatus"
12. "Running With Scissors"
13. "Police Story" (Black Flag cover)
14. "The Extremist"
***
Help Support What No Echo Does via Patreon:
***
Tagged: deadguy