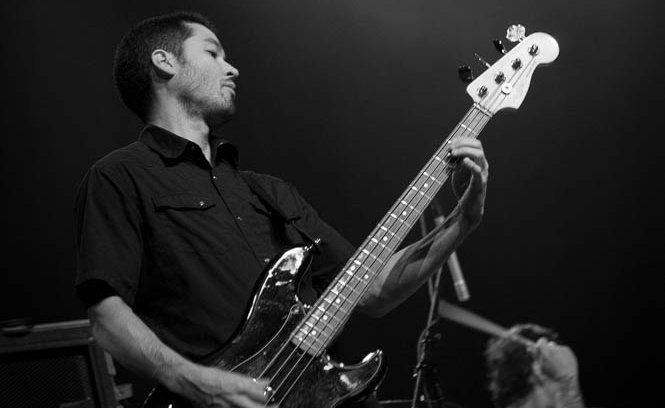 Reid Black has been an active musician in the underground punk community for decades now. Beginning with New Age Records-backed hardcore unit Eleven Thirty-Four in the '90s, the California native has played guitar and bass in such bands as The Third Degree, Innaway, and Mike V and the Rats, both in the studio and on the road. In addition to his work as a member of San Francisco-based Western music-infused post-punkers Steakhouse, Reid also holds down bass duties in Into Another.
In anticipation of Into Another's quick run of dates in the northeast with Beyond and Death Ray Vision later this week, I chatted with Reid about his life as a musician.
You're originally a West Coast dude, and many No Echo readers will know one of your previous bands, Eleven Thirty-Four.
I played guitar in that band for its entire run from 1994 to 1998. Eleven Thirty-Four rose out of the ashes of a band called Function who were rising stars in the SoCal hardcore scene circa 1992-1993 but abruptly broke up. We kind of just picked up where Function left off and even adopted their last song as our own. But the lineup shift and slightly different sound necessitated a name change. We couldn't have been Function Mk 2. Although in terms of brand recognition, maybe we should have been. Ironically, I found my way into Eleven Thirty-Four by jamming with Function's former drummer and bassist who at that point were no longer interested in hardcore.
After "real" practice, we'd mess around and play whatever. I remember playing snippets of Sepultura's "Territory" a few times just for fun. So then, when Eleven Thirty-Four was being pieced together by Matt (Enright) and Brian (Balchack), the recommendation from Function Drummer Jason was: "You should ask Reid. He knows Sepultura."
Tell me a bit about that band and some of the highlights during your run together.
For me, everything was a highlight since that was the first band I was in that did anything: First shows, first tours, first records, etc. Our first show ever, opening for Into Another, made for (especially looking back now) an extremely memorable night. As did other shows with bands of the era that we often played alongside: Blackspot, Ignite, Strife, Mean Season, Unbroken, Ensign, Far, Mouthpiece, to name a few. The tours, domestic and overseas, were a particular highlight as they took the band much farther, literally and figuratively, than I ever thought we'd go.
One memorable tour stretch was on the Ignite/Eleven Thirty-Four European tour where we played 5 shows with a freshly reunited Agnostic Front. Gigging and hanging with the comedian known as Vinnie Stigma was unreal for 19-year-old me.
The coolest thing, though, is a lot of people I met during my time in Eleven Thirty-Four, close to home and abroad, I still talk to today. In 2019. Looking back, it was a very transformative time in my life.
You eventually went on to play in The Third Degree, another California band with some other notable folks from the hardcore scene out here. How was that experience?
I started playing bass with The Third Degree shortly after Eleven Thirty-Four ended in 1998. I was the second bassist and stayed on until we ended sometime in 2001. I'd characterize the band's sound as some sort of Black Flag/Motörhead/AC/DC hybrid that was aggressive but also had more of a rock 'n' roll swing. And bass-wise, I took my cues from dudes who played with a lead style like Chris Squire, John Wetton, and John Entwistle. It was my first time playing bass for a band but I found I had a different voice on that instrument versus when I played guitar.
And our shows reflected where our heads were at, at the time: One foot in the hardcore scene and the other out. We didn't really fit in when we played straight up hardcore shows nor did we fit in when we played more punk-type shows. The Smut Peddlers were The Third Degree's friend band, though. That worked for whatever reason and we played with them quite often during our initial run. We've also played a few shows recently. I still really dig those songs.
You've also played in both Mike V and the Rats and Innaway, two bands with very different sounds from each other. Come to think of it, your discography and career has been quite diverse.
First off, I appreciate that you used the term "career." That's very generous. But to comment on diversity, yes it's been a constant theme with regard to my musical pursuits. Different styles, different instruments, different bands. That's all helped me pick up new skills and exposed me to new influences. You learn from playing with other people and keeping your ears open.
And yes, Mike V and the Rats and Innaway were very different. Diametrically opposed even. Funnily enough, there was a time when I was playing in both bands simultaneously and neither camp liked hearing about the other.
With the Rats, it was no work and all play. It was the most fun I've had with a band; I just showed up with my bass and things happened. It was Mike who leveraged his skate industry contacts and got us on good shows all across the US, Canada, and Europe. I wasn't going to say no to a good time.
And for Innaway, that band really stretched the limits of my musical abilities as I was juggling multiple instruments (keys, synth, guitar) onstage and in the studio. Everyone in the band was on the same page in terms of influences and style. Plus, we were getting one-off shows and full tours with bands I loved. The tour we did opening for the Brian Jonestown Massacre, right after Dig! came out, was wild. And start to finish, I'm pretty sure our first album is still the best record I've been involved with. So, I couldn't say no to following my muse either.
But things finally came to a head when Innaway's commitments took up too much time and I had to leave the Rats. Which was fine as they moved on to bigger and better things as Revolution Mother. However, in one final ironic twist there's a segment in the skate video, Tony Hawk's Secret Skatepark Tour 3, where Mike and a few others skate to an Innaway song. Together forever!
And I still try to maintain some diversity with my current musical pursuits. In addition to Into Another, I'm the guitarist for a band, here in San Francisco, called Steakhouse, which plays some kind of Western-y post-punk. "Quentin Tarantino movie music" as someone once called it.
How long have you been playing in Into Another and how did you initially come to join the band?

I've been with the band since the initial reunion in 2012. I was approached by the organizers of the Rev25 shows and by my former Eleven Thirty-Four bandmate, Brian. Underdog and Bold were already booked to play the fest and so the thought was maybe Richie and Drew would be interested in playing a couple Into Another songs with Brian on guitar and me on bass.
At this point, Peter still hadn't resurfaced so Brian and I went to a studio and taped ourselves (audio and video) playing a few Into Another songs with Craig from Ignite on drums. I thought it was a longshot but would also be fun to put ourselves out there and see how things shake out. The footage was sent and we waited. At first, I was sure it was a no-go since we didn't get a response but eventually Richie and Drew replied and gave us the green light. Peter caught wind of it all, got in touch, and thus the 5-piece version of the band was born.
All in all, I'm happy seeing the OG members back in the saddle after so much time away. And I'm still a fan of the band. If it wasn't me up there trying to carry Tony Bono's torch, I'd still be at the shows, in the audience.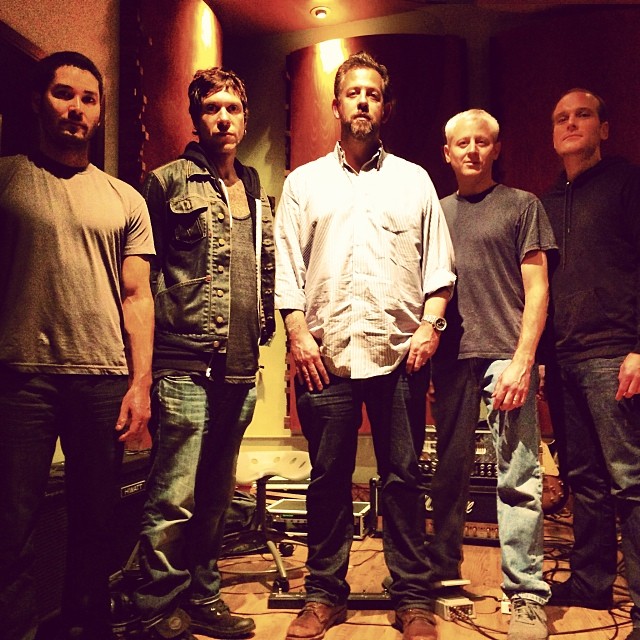 The combination of Into Another, Beyond, and Death Ray Vision is a very diverse one. It's definitely not three bands one would think of together, but I dig the different vibes each band will bring. How did the idea come together and what's the history there between the bands and the members?
Well, I'm of the opinion that you'd be hard pressed to find any bands, at least active ones, that would be a perfect fit for an Into Another show; IA's music is just a unique confluence of styles and vibes. But I think the idea for this run of shows goes back to the last tour in 2017 with Supertouch and (Chris Daly's dub band) High Disciple. All three bands got along and the musical diversity let each band stand on their own.
So, for this tour, we again wanted to bring along some friend bands who can add a little something to the mix. Drew and Tom go way back with Bold, so Beyond was an easy one. And Peter, being IA's de facto ambassador, befriended Mike from Death Ray Vision when Into Another and Mike's main band, Killswitch Engage, both played Groezrock in Belgium back in 2013. Killswitch took Into Another out for a few shows after that and those two have kept in touch ever since. When we were planning this tour, Peter mentioned that Death Ray Vision wanted to play the Boston area show. And so that just turned into us asking them to play all the shows.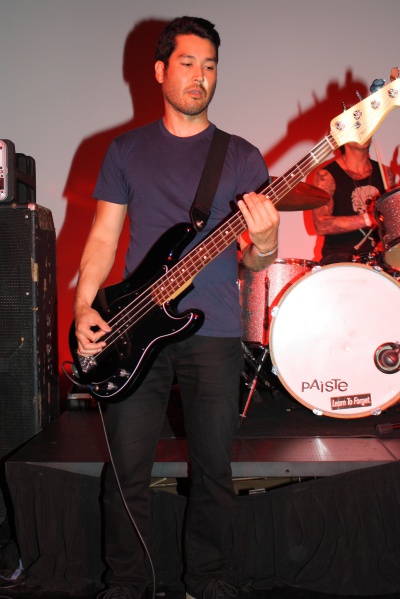 What's next for Into Another after these shows? Are there plans to do a full-length in the near future?
Yes, we have plans for future recording. Whether it's another EP or an LP remains to be seen. Having everyone spread out across the country (New York City, Ithaca, San Francisco, San Diego) makes songwriting much more difficult but Brian and I did go out to Ithaca to hang with Peter and make noise. The session ended up being very productive in terms of capturing riffs and ideas. So, we'll do a couple more of those and see what the next steps are.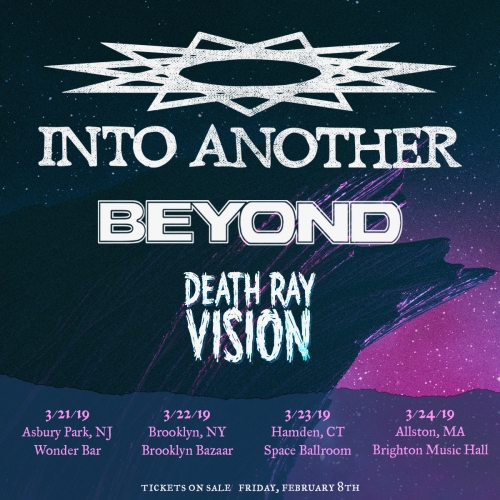 Check out Into Another at one of the upcoming dates above. You can find the band on Facebook, Twitter, and Instagram.
***
If you're shopping for vinyl, CD, and cassette hardcore titles, head to No Echo's partner store, Reverb LP, to see what they have available. Every purchase you make helps No Echo with site costs.
Tagged: 1134, eleven thirty-four, innaway, into another, mike v and the rats, the third degree