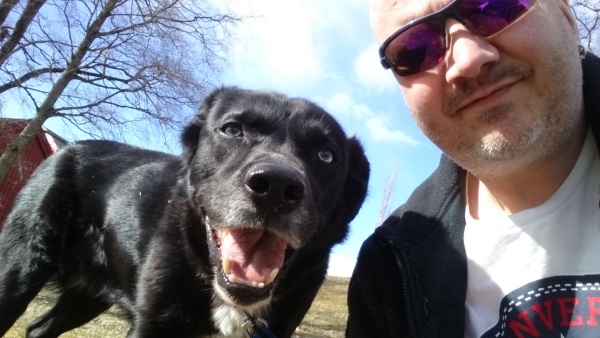 Veith Franke is an East German-born, Norway-based music fan who is known in hardcore record circles as "vinylcollector75" on Instagram. Anyone who has checked out his profile there knows the dude has great taste, so it without any hesitation that I asked him to be part of the site's Record Collector series.
How long have you been collecting records?
I've been collecting records (with a couple of breaks) since 1989, after the Berlin Wall was open.
​Where/how do you usually find your records?
Back in the day, before the Internet, I had tons of mailorder lists at my home and got new records with every order I made. Now it's more about Internet searching and checking out new stuff. In general, Discogs is the place I buy most from, followed by labels like Revelation, Deathwish, Bridge Nine, Victory, and so on. Of course, I sometimes buy off of eBay, too. I've lived in Norway since 2013, and the local record store scene is not that big anymore here. Good stores in Norway are rare to find and far away. From time to time I buy and trade from private collectors as well.
What is the most you paid for a single album, where/how did you obtain it, and what was it?
That's difficult to answer. My last big buy was a Minor Threat Filler second pressing in mint condition for around $450. I got the option to buy it from a friend in Norway and I took it right away.
What is your most prized record and why?
Again, that's a difficult question to answer. I'm more proud of complete parts in my collection than one "masterpiece," so I try to get as much as possible variants from my favorite artists and records. Often, there are special releases like, record release versions, or special festival/concert versions, tour specials, tribute rip-off cover versions, and so on. Mostly those versions are highly limited. So, it's kinda difficult to get them. In such cases you get help from people, sometimes band members, label staff, or just other collector nerds [laughs].
These moments are so precious and great. Getting something signed, finding a rare piece in your mail without even ordering it, and helping other collectors to complete their collections is an amazing feeling. So, yes, I have some "expensive" pieces in my collection, but in the end, it's the community in itself that is worth the most, in my opinion.
Is there anything that frustrates you about the whole record collecting scene?
I'm most frustrated by greediness and by people who buy records just to flip them for big dollars. Those people aren't a p[art of our community. All they do is ruin the prices, and they aren't even interested in those records at all. They just take advantage of us collectors and unfortunately find some geeks who pay them. I'm frustrated by those "I pay everything" guys too, because they are supporting the inflation problem. I really don't have a problem with paying a good price for a 20+year-old record which was taken care of, but I do have a problem in paying 10 times the regular price for a record which came on the market a week ago.
Which albums are still on your want list that you've had a tough time tracking down through the years?
My most wanted records are a 108 Threefold Misery test press from SFU Records, and the Sound & Fury version of their A New Beat from a Dead Heart record to complete my collection from that band. I' also looking for the Edge Day version of By Design from Test of Time. And, of course, I have many other wants, but honestly, those want lists are always changing very quickly, at least for me.
***
Follow Mr. Franke on Instagram.
Tagged: hardcore, record collector