This is a crucial reissue and for those that aren't familiar, I hope this strikes a chord with some of you (no pun intended), as this split changed a lot for me during my younger years.
I want to give a personal shoutout to Ben Barnett and Armageddon Label for heading this classic release from 1988 as it clearly needed to be done.
G-Anx hailed from Jönköping Sweden and was a band that had such intensity, it immediately became a favorite! I was first introduced to these guys around 1992 and their hardcore intensity hit me like a ton of bricks. I was well into the UKHC scene and crust ensembles such as Extreme Noise Terror, Ripcord, etc. but wasn't quite prepared for what G-Anx had to offer.
This band carries a hardcore banner with such ferocity that they will forever be relevant in the eyes of the true hardcore fan. G-Anx have a distinct sound that can easily be picked out from the barrage of hardcore thrash that we berate ourselves with daily.
I always found it interesting that G-anx fell into the grind category, but if we look at the history of grind and how it's evolved into its current state, it was a different class of extreme music back then.
The opening track, "True Story," is a signature intro for the band. Grinding bass followed by the razor-sharp guitar. The band is notorious for intros…even epic intros (i.e., check out the song "In Harmony" from the Out of Reach EP). The sudden tempo changes and blasting accents give this such a surge of adrenaline, it will take you back to how raw, straightforward, and primal the music writing was back then. G-Anx is why thrashing hardcore and even punk survive.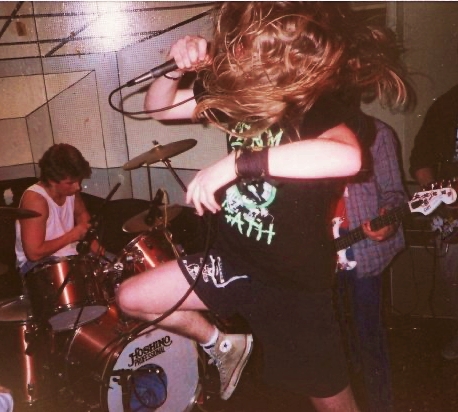 Have you ever dove into a circle pit within the first three seconds of a bands set? Filthy Christians will do this instantly. Filthy Christians also hail from Sweden and are the definition of short, fast, and loud. Insane rage and driving tempos varying from mid-tempos to crushing blast beats.
This is hardcore and this is (classic) grind wrapped up in a package so full of ferocity, it'll decimate every adrenal gland in your body.
If Heresy, Lärm, and Napalm Death are your cup of tea, get on this release immediately. The Filthy Christians tracks are full of guttural vocals and raw guitar tone that makes this instantly classic. These specific tracks come from their second demo tape and it's quite clear as the analog production puts you in the room and takes you to a time when music of this nature was a labor of love...and crushing rage.
Get It
Tagged: filthy christians, g-anx