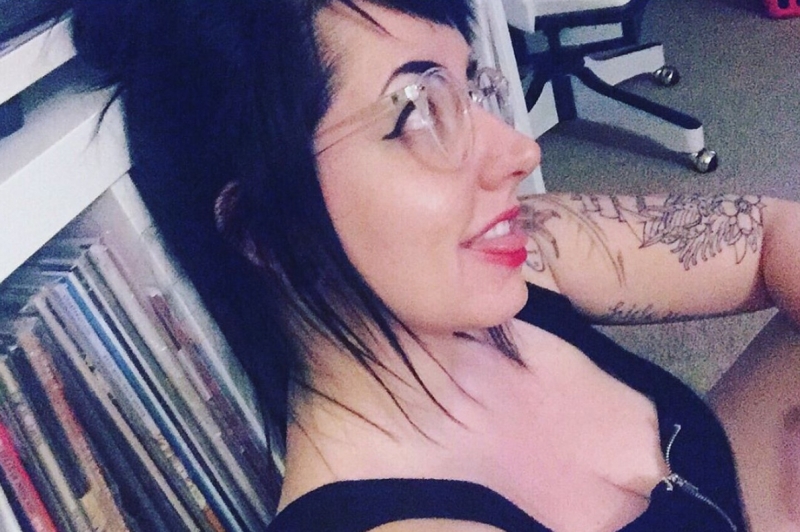 Shannon McCarthy is a music head that lives in St. Petersburg, FL who until recently worked full-time at a record store in Tampa. Though she's currently employed at a structural steel company throughout the week, Shannon still finds time to work one day a week at the record store, living the dream of most vinyl collectors. She also hosts a weekly music podcast called Stripped Music Diary which offers her another avenue to spread her love for the artform.
Please welcome Shannon to the Record Collector club.
When did you start collecting records?
I started collecting records in my early 20s...so over 10 years ago. Some of the first records I recall buying were The Cure's Kiss Me, Kiss Me, Kiss Me and Minus the Bear's Highly Refined Pirates.
Where do you get your records these days?
I get most of my records from the record store I work at (Sound Exchange) or from Steelworker Records in Tampa. Sometimes I order records directly from the artist or label or buy them at shows as well.
What is the most you paid for a single record, what was it, and how did you go about obtaining it?
I don't often pay exorbitant prices for records, since I find almost everything I want gets reissued at some point, but for a while, American Nightmare stuff was especially hard to come by. I have a first pressing of Background Music (before the name change), but I decided that I needed a copy of that record after the name change to Give Up the Ghost as well. I paid $70 for it on eBay (around 2004).
What is your most cherished record?
It's really hard to pick the most cherished record! I love them all. If I had to, though, it would be my Alkaline Trio Hell Yes 7" —signed by the whole band. This song opened up a floodgate of punk and hardcore for me when I was in my early 20s. Because of Alkaline Trio, I started to unearth underground/non-commercial music, and really carve out who I am as a person. "Hell Yes" is a great punk rock song about doing what you love. It was pretty arduous to get all three members to sign (we waited in a parking lot behind the venue for close to 5 hours to track Matt Skiba down).
What frustrates you about the current record collecting scene?
While I understand the high demand for vinyl and the lack of vinyl pressing plants, it's super disappointing to look forward to a release and the pressings are bad or damaged due to hasty production. I've seen records come in to the store as well as records I've ordered/bought elsewhere warped, missing a record from a multiple LP set, inner-sleeve seam splits, etc. I also really dislike nearly everything about Record Store Day. It has contributed to the resurgence of vinyl, resulting in a lot of stuff I've wanted see on vinyl finally getting pressed or reissued, but it's ultimately a cash grab, in my opinion. It's extremely frustrating as a collector to see something you really want, knowing it will be extremely limited, and take a gamble on a local record store having it. Even if you're first in line at that store on RSD, you could have picked a store that didn't get any copies of that record, and you're forced to buy it from an eBay flipper at an astronomical price, or wait and hope for it to get a reissue.
What record have you had a hard time tracking down?
XO Skeletons' Bored by Heaven (first pressing). I have a second pressing, but the desire for the first pressing/alternative cover is great. The gold first pressing of Modern Life Is War's My Love. My Way, and the Deep Elm first pressing of Mare Vitalis by The Appleseed Cast are all high on my wantlist.
***
Follow both Shannon's personal and Stripped Music Diary Instagram pages.
Tagged: record collector