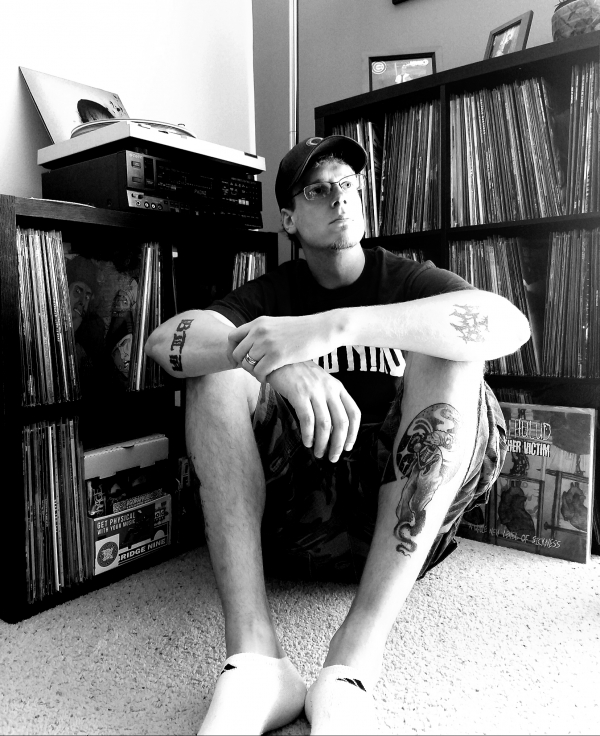 Born and raised in Madison, WI, Neil Ruppert is a heavy music fan who works for the University of Wisconsin's Surplus program. His music library isn't one to mess with, featuring everything from grindcore to hardcore to classic death metal. Neil was nice enough to answer my silly questions for a new Record Collector entry.
How long have you been collecting records?
My dad was a radio DJ in college, and he is an electrical engineer by trade. He has kept turntables and a classic Victrola in our family home since I was a kid, so I've always been around vinyl. I personally got serious about collecting records when I was in high school during the late '90s.
Where/how do you usually find your records these days?
I have lived in Madison, WI my entire life, and a major part of my record collecting has been from Earwax Records downtown. I've been going there for about 20 years and it's a great resource for underground music. I also love buying vinyl at Extreme Noise in Minneapolis, Eroding Winds in Oshkosh, The Exclusive Company locations, and of course, Discogs.
What is the most you paid for a single record, where/how did you obtain it, and what was it?
I'm pretty sure I spent the most on a copy of Funeral Mist's Salvation, which ran me about $50 on Discogs. I've got a major thing for French black metal!
If you had to pick one record label you feel had/has the best track record of quality releases, who would that be and what are some key titles you love?
Currently Relapse Records is killing the game as far as quality bands and vinyl releases. Excellent color options and packaging only from those guys. Most recently, the new Gruesome album absolutely slays! Also some of my favorite releases by bands like Nasum, General Surgery, Haemorrhage, Incantation, etc., were released on Relapse.
Of everything in your current collection, what is your most prized record and why?
If I had to choose a most cherished record, it'd have to be my first pressing of Carcass's Reek of Putrefaction. At the time I couldn't afford it, and someone else had bought it the next time I went. Without me knowing, the other person was my mom. She made a deal with the owner to keep it secret the next time I stopped by.
It felt like it might have solidified the fact that this wasn't just going to be a stage in my life.
Is there anything that frustrates you about the current record collecting scene?
I'm sure everyone feels me on this one, but it's got to be the flippers that piss me off the most. With the huge vinyl boom lately, LPs are getting repressed left and right and flippers are making big money on those who just want to collect.
All the more reason to go out and support your local record store. Ask them to special order records for you and give them your hard earn money!
Which records are still on your want list that you've had a tough time tracking down through the years?
Dying Fetus's Killing on Adrenaline has eluded me a few time. Even lost one in the mail never to be found! Also, Arkangel's Dead Man Walking cause it's a metalcore masterpiece!
***
Follow Neil on Instagram.
Tagged: record collector