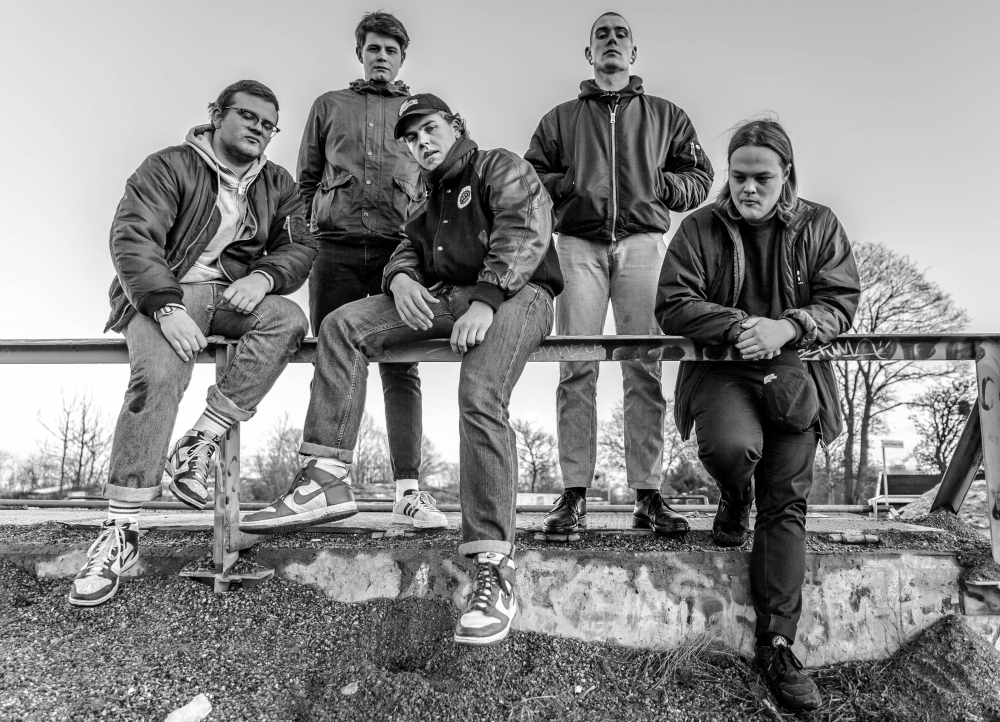 I first wrote about Existence in 2017 when I featured their song "World Crashing Down" on the site. At the time, I compared the Swedish outfit's stylistic attack to Dmize and Breakdown, two of my all-time favorite NYHC bands. Well, I'm thrilled to tell you that Existence has hooked up with Quality Control HQ who will be releasing debut 7", Into the Furnace, later this month.
"Existence started to take shape around September 2016 after someone suggested that me and Viktor (ex-Guilty and Negative Self) should do a band together," Existence vocalist Linus Soinjoki recently told me via email. "Viktor had some cool riffs laying around, so we decided to give it a go. I showed the riffs to LK and Grim (Lifeblind, Neighborhood) and they were also really into it, so they ended up joining the band. We don't have a lot of drummers in Stockholm, but the word around was that Anton (Time to Heal) was somewhat of a diamond in the rough when it came to drumming. None of us really knew him that well, but we ended up asking him and it just instantly clicked both musically and socially. Grim eventually left the band and Leonardo (Ex-War Nerve) joined in on bass.
"Right before we were supposed to record our demo, Viktor suddenly left the band due to other commitments. After the demo was recorded Simon (ex-War Nerve) took Viktor's place. We started out with the idea of doing a straight-up Best Wishes-era Cro-Mags knock off, but with the lineup changes, new influences came into play. Me and Leo grew up in the scene together watching the NYHC documentary on DVD and listening to Crown of Thornz, Biohazard, and 25 ta Life. LK is essentially a metalhead and loves Megadeth, Anthrax, and Entombed. Anton comes from a more melodic background but possess an unbelievable musicality and he's also a very good songwriter in general. Simon contributes a lot with his sheer musicality as well. I think our diverse backgrounds works well in our favor."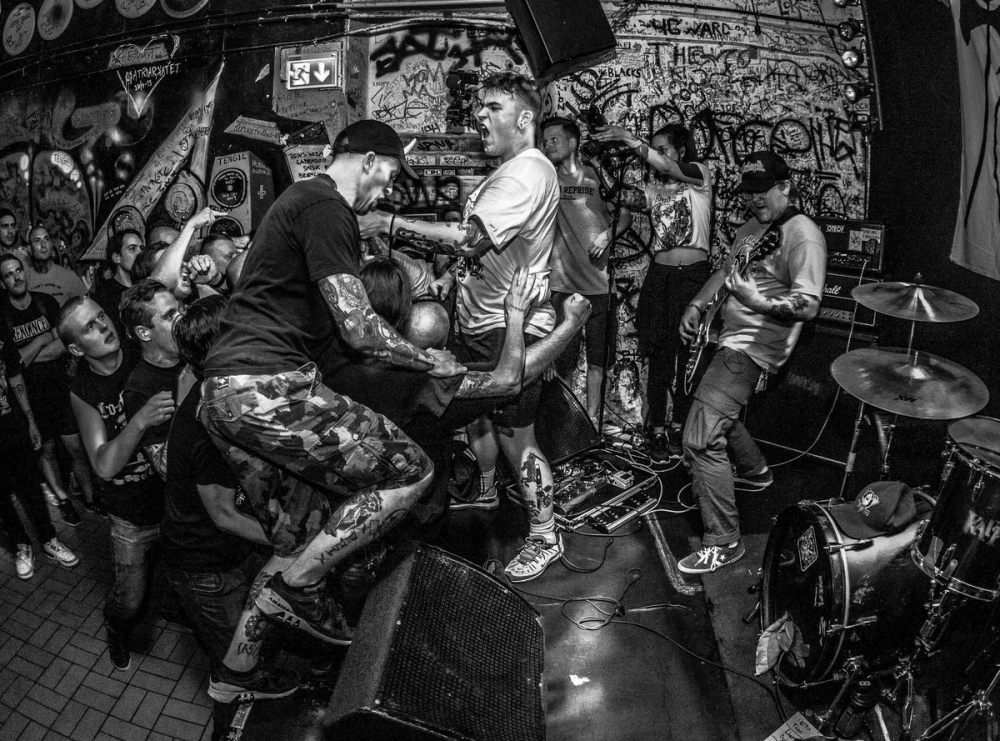 Last year, I profiled Quality Control HQ and its owner, Ola Herbich, and since then, the label continues to be one of the hardcore world's most dependable outpost. I asked Linus how he got on the label's radar. "I have booked quite a few QCHQ-affiliated bands over the years, including Violent Reaction, Arms Race, Foreseen, Night Force, True Vision, Rival Mob, and No Tolerance. I have always admired the amount of craft and effort put into it the releases. I didn't really know Ola personally up until pretty recently, though, and at first we didn't really consider Quality Control for our 7". I honestly thought that she wouldn't be into our style of hardcore, based on her previous releases, almost all being on the more punkier side, so I was surprised when she came up to us after we played a show in Germany and told us that she really liked it [laughs].
"When we started discussing where to send the 7", Quality Control was definitely our first choice, knowing how much work she puts into everything she does."
How about some of Linus' favorite label mates? "My current favorite band on Quality Control must be Big Cheese and I think the rest of the Existence would agree. There are very few bands that manages to pay tribute to the old ways and at the same time create something completely original and fresh. I love every bit of Aggravated Mopery I also love Night Force and Culprit. Violent Reaction was a very big band for me for many years. The City Streets LP is probably my favorite QCHQ release of all time."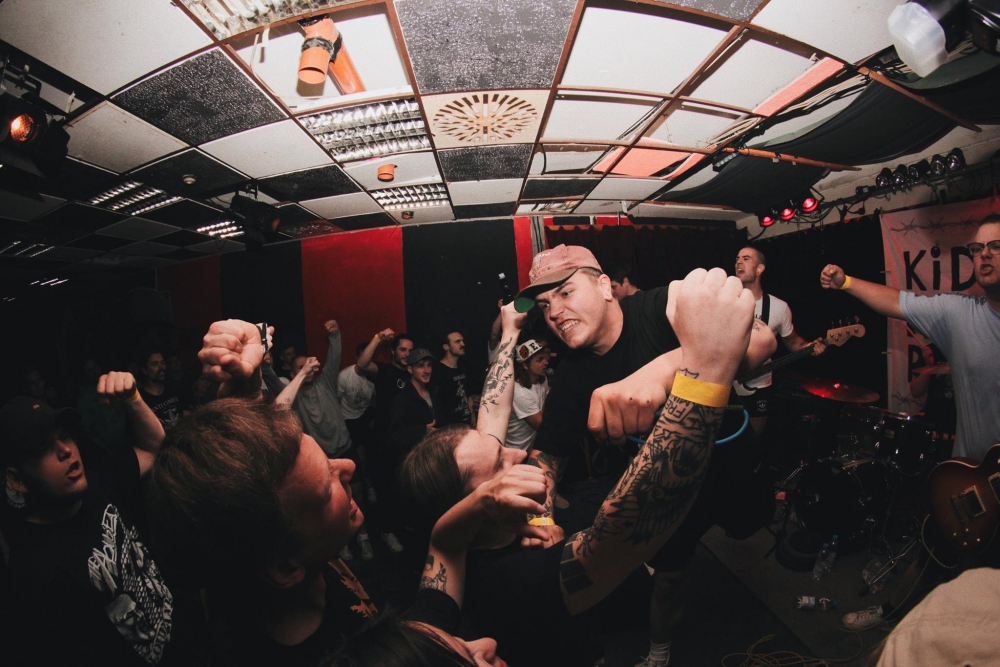 The cover art for Into the Furnace was inspired by a 15th Century Dutch painter by the name of Hieronymus Bosch. I had to admit to Linus that I'm not familiar with the man's work, but as it turns out, neither did the Existence frontman! "I actually don't know a single thing about Hieronymus Bosch, except that he makes very scary paintings [laughs]. Staffan Snitting, who did our cover art, picked it, and we thought it looked sick and suited the title of the record, and its general feeling well. The man is a walking Wikipedia and probably one of the smartest people I've had the pleasure of knowing. He takes everything he does very seriously. It must be very frustrating for him having to deal with buffoons like us. We're very thrilled about what he came up with!"
Existence hail from the capital city of Stockholm, and Linus offered up both a local and European scene report in his email to me. "I think the rise of NWBHC (New Wave of British Hardcore) created rings on the water all across Europe. Having so many top quality bands of all branches of hardcore, definitely inspires. There are so many good German bands right now (Domain, Spark, Spirit Crusher, Declaration, Total Reality, Night Force, Exposure), which wasn't really a thing when I got into hardcore, to be honest [laughs]. I've always loved Polish hardcore and the Ratel crew. There are especially two newer bands that I'm really excited to see over there: Heavy Runner and Pain Principle.
"When it comes to Sweden and Stockholm; I think this is the first time during my years in hardcore where my country has had this many active and good bands. There's Give Today, Lickers, Settlement, No Saving Grace, Undone, Pipe Dream, Outstand, Wayside, and Hag, to name a few. We've had a lot of shows in Stockholm in the past few years, but 2017 was a little slow. I guess everyone is busy doing bands [laughs]. We essentially have three cliques doing shows in Stockholm. The first one I'll mention is Acting Out Bookings, which includes people around Existence, Lifeblind, Screw, and Neighborhood.
"Recently we have been busy building our own rehearsal space, but hopefully it will be done this year, and we can get on with doing shows again. The second one I'll mention is the Clueless Punks clique, who put on so many good shows. They recently did Haram, and last year they put on Glue and Krimewatch. The third one I'll list here is Stockholm Straight Edge, who don't really do that many hardcore shows anymore, but historically have put on a lot of big bands. There is a lot of potential in Stockholm, and I know for a fact that very cool things are brewing over here!"
Ola from Quality Control HQ told me that Linus is very passionate about political activism, so I asked Linus to break that down for me. "I wouldn't describe any political view that I have as a 'passion.' Ever political deed I have ever done is out of sheer necessity. One of the few things I treasure in this world is hardcore. Anything that poses a threat to my right to rock is a target to me. I see modern-day fascism as a repetion of history. Global capitalism is about to peak, and what will happen next can be seen in glimpses of today. Reactionary forces are gaining ground like it's 1930 again. I think the Left has largely failed the meet the needs of working people. Instead of addressing issues concerning all of the working class, the movement got caught up in complex theories of identity. Our collective memory is terribly short and our inability to part friend from foe will be our eventual downfall."
Existence's debut EP, Into the Furnace, will be out on June 16 via Quality Control HQ. That same weekend, the band will be performing at this year's Outbreak Fest in Leeds, England.
Tagged: existence