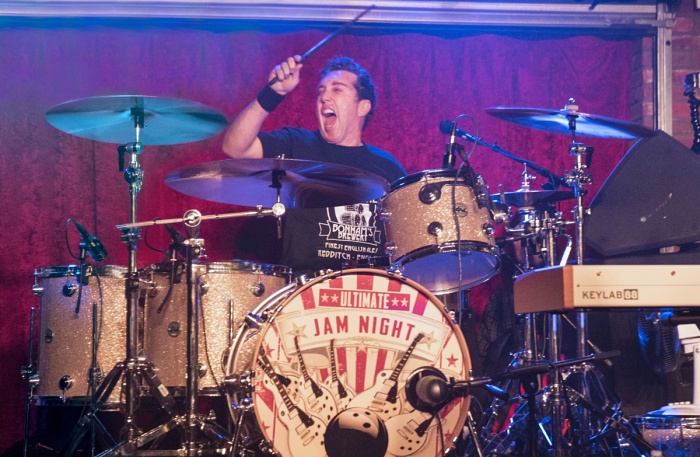 For the latest entry to his ongoing A Hardcore Conversation interview series, Anthony Allen Begnal speaks with Lucky Lehrer, the original drummer of Circle Jerks. Never one to mince his words, Lucky doesn't disappoint in the following feature. —Carlos Ramirez

You are Lucky Lehrer, original drummer from the Circle Jerks, correct?
I've been called so many bad names so my answer is cheerfully in the affirmative.
How did you hook up with Circle Jerks? Were you already aware of Keith Morris and Black Flag before you joined?
I knew of Black Flag and Redd Kross from shows they did in Chinatown. I've told this story elsewhere many times. Suffice it to say my brother Chett, from the great hardcore band, LA's Wasted Youth, introduced me to Greg Hetson.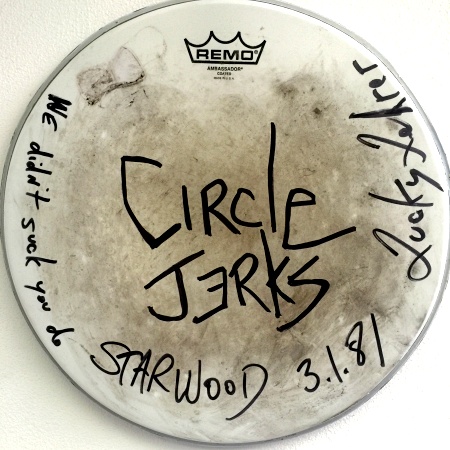 You guys got signed to a label pretty early on. Were you hoping to "make it big" or did you already know what hardcore punk had in store?
Roger [Rogerson], our bass player, had dreams. I was a "peripheral visionary." I could see the future, but only sideways. I thought punk was a sort of a joke that would last a year or so. Not that I don't love the music! But I saw irony, humor, and a good way to sleep with a lot of weird chicks. I was all in for the party. Most of punk garage bands had novice musicians and I didn't think the scene would last. Wrong again!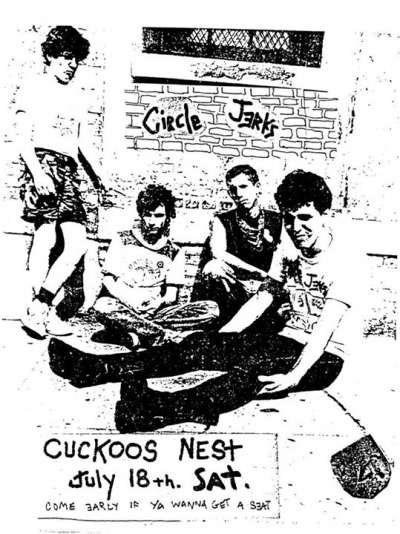 On the Group Sex album somebody named "Dowding" has a bunch of co-writing credits. Who is that?
Roger Rogerson was AWOL, hiding from the Navy. He used a number of aliases, including "Dowding." I highly suggest people buy the book The Prodigal Rogerson by J. Hunter Bennett. In a few short pages they'll learn the story of our enigmatic bass player in the golden age of hardcore punk.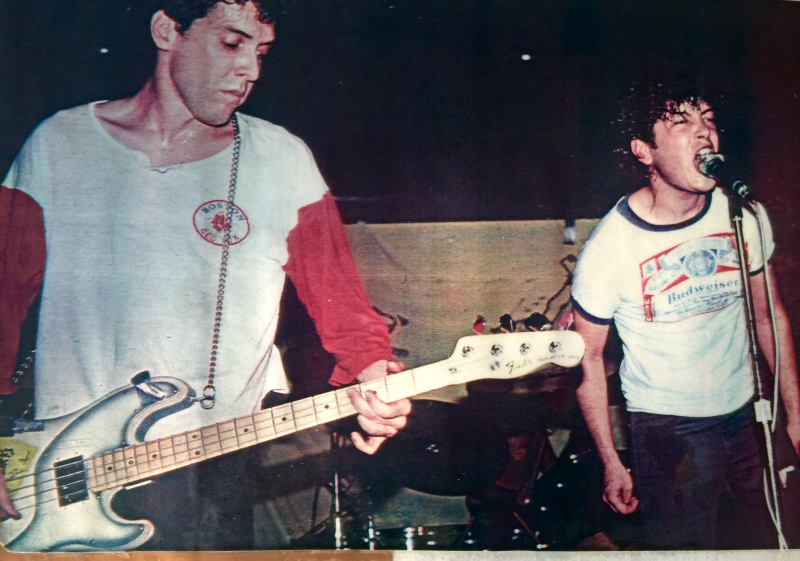 Circle Jerks' second album, Wild in the Streets, was recorded at A&M Studios in Hollywood. That's a pretty swanky spot for a bunch of punks! How'd that happen and do you have stories from those sessions?
In between takes an older guy wanted to talk to me. I wasn't digging my snare sound, the studio was too fancy (the polar opposite of the dirt box where we recorded Group Sex). I was cold to this guy who was sort of bothering me only to later find out he was studio co-owner and legendary musician Herb Alpert [also co-founder of A&M Records—Carlos Ramirez]! Unlike a lot of so-called "punks," I know every Herb Alpert tune. I'm a huge fan of Latin music and idolize Tijuana Brass drummer, Nick Ceroli. Another example of me being a complete schmuck. Not the first and probably not the last.
That album was produced by David Anderle and Gary Hirstius. Anderle is of course known for his association with the Beach Boys and for producing acts like Rita Coolidge, Amy Grant, Kris Kristofferson, and lots more, that are not exactly in the punk/hardcore realm. How did this happen and what was it like?
Gary, our manager put it together. David was cool and let us do whatever we wanted. There was no roadmap in those days and he didn't know what to do with us. We should have gotten Joan Jett.
And what about Gary Hirstius?
We knew Gary as the sound man from The Decline. We needed a new manager because Gary's predecessor was a monstrous woman with a bizarre fetish for potato chips and elementary age school boys. Everything was so off-kilter in those days.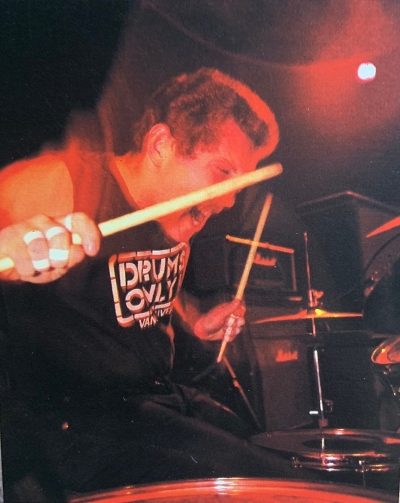 You are known for having had an apartment a block away from the Whisky a Go Go, the legendary Hollywood music venue. What was that like, and are you originally from Hollywood?
I still live a few blocks from the Whisky and that's where all the stories took place. These were the days before AIDS and other STDs. Being kinky was considered a virtue. The Sunset Strip music scene was alive and raw. Everyone who lived in the building was a musician, hooker or freak. I was in a band at the same time that fronted by a Penthouse Pet from Paris who was famous for blowing air kisses, among other things. Astonishingly, we ended up on Dick Clark's American Bandstand. Back then, a casting couch really meant something. Those days were a laugh a second.
Did you run into Mötley Crüe (who also lived by the Whisky a Go Go) a lot when you lived there?
It was so retarded. The punks didn't hang with the longhairs. The genres were tribal, like the mods versus the rockers or something. But we rehearsed at the same place, SIR, as the Crüe. The hot chicks Mötley Crüe attracted influenced me greatly. I wanted to be Tommy Lee. You can hear a punk influence in Mötley Crüe's first album from the result of us hanging around each other.
Were you guys pals with other contemporary bands like TSOL, Black Flag, etc.,or were there rivalries?
I don't know. My pal [Black Flag bassist] Chuck Dukowski and I laughed about it years later. Flag had adopted an angry, begrudging posture their fans related to. Their hate-the-world routine voiced animus toward everyone, the Circle Jerks included. Fear is another band that traded in angst. That left room for bands like The Dickies and the Circle Jerks whose vibe was often upbeat, more about partying and fun.
How did the Circle Jerks logo come about, and were you friends with artist Shawn Kerri?
The Circle Jerks logo, the way the letters spelling out the name are printed and the ubiquitous "skank man" were handed to us as gifts from fans. Everything was casual, nobody anticipated longevity. No licensing agreements, no expectations. I can't remember the guy who created our logo, it was on home-made pins he printed and handed us before a show at the Starwood. The cartoon is from famous artist Shawn Kerri, a huge supporter. Shawn was a friend who created art that appeared in Hustler magazine and a lot of other stuff.
Since the bands weren't making any money, these contributors did not expect to get paid. We were each part of a scene, no more than a few hundred people in L.A. at the time. It was a word-of-mouth network of kids with an jilted sense of humor sharing dislike of the era's corporate rock. 20-person shows started in basements and underground rat holes. Things gathered steam from fan exuberance.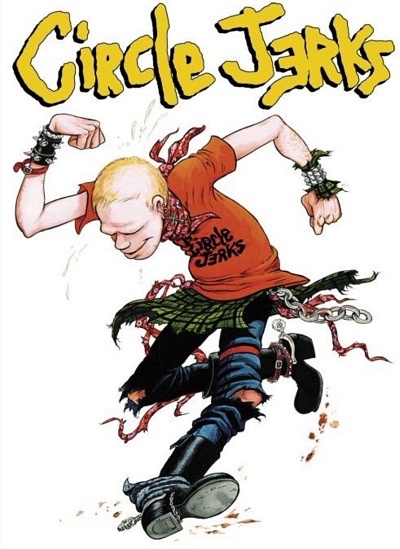 Tell me a little about how you started playing drums? Is it true you were originally into jazz and how did you incorporate any jazz influence into hardcore drumming?
I'm playing at a jazz club this weekend and I'm still into playing quietly with brushes, old standards that have verve and "feel." It's a major downshift from hardcore but provides a chance to express finesse and technique. Playing the drums is a commitment to constantly exploring. The avenues for learning are infinite which is the main reason I keep practicing and performing.
You are definitely one of the originators of the form of hardcore drumming that is known today. How did this happen?
I was introduced at a very early age to the lightning speed and percussive audacity of the world's greatest jazz drummer, Buddy Rich. Buddy's Big Band exploded with energy. This unrestrained spirit I brought to the Circle Jerks. Another no-holds barred lunatic I'll never forget was Keith Moon. Buddy Rich and Keith Moon, even more than the mighty John Henry Bonham, were my North Stars in the cosmos of hardcore drumming.
Were there any other fellow hardcore drummers that you particularly admired?
Spit Stix (Fear) was a friend and role model then, as he is today. Spit is an unstoppable force who, like Tré Cool (Green Day) years later, executed insane licks with intensity. Off stage, Spit is happy to lend encouragement. He's a valuable member in the global fraternity of drummers.
How did songwriting go with you guys? Was it collaborative or did individuals just bring in mostly completed songs?
For the first few albums, It was a collaborative process. My words, Roger's music. Greg's music, Keith's words, with ideas from Roger. My music, Keith's words and so on. Each song was an inspirational "kitchen's sink" where everyone threw in something, sometimes more, sometimes less.
How did you feel when Flipside fanzine readers voted you "Best Punk Drummer"?
Disappointed, because I voted for Spit.
Speaking of Flipside, what about this awesome Jerks pic from the zine's 20th issue?
Flipside was the best fanzine covering the L.A. hardcore scene at the time. The picture was shot by the legendary chronicler of L.A.'s music scene, Edward Colver. The picture was shot in my studio apartment next to the Whisky a Go Go in West Hollywood. Besides being a great photographer, Ed was very creative. This was years before Photoshop. All we have are cardboard masks in front of our faces! The girl's legs are Roger's girlfriend, L.B.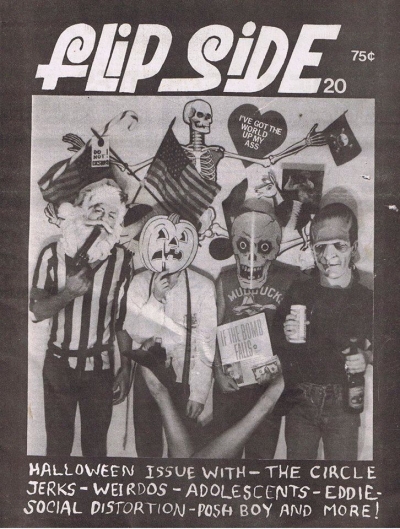 What were those early Circle Jerks tours like? Did you guys actually tour coast to coast when you were in the band? I know there's a famous story about you guys getting flown to NYC at one point, that's why I ask.
History has a way of romanticizing the unorganized, underfunded, and nearly intolerable. We were sleeping anywhere that was free. Sketchy sofa tours. We fought a lot since what little we may have earned was earmarked for anything to get off. Of course we had plenty of fun. My first day in New York I was on back of a motorcycle. I had no idea the driver was speeding to methadone clinic when we got hit by a trash truck. I thought I broke my leg, now what? The cops saw the whole thing, turned and walked the other way. That's New York.
We got booed in Bruce Springsteen country, played alongside new wave acts in Boston (in L.A. a double bill like that would caused an automatic riot). We were against violence but fans wanted each show to be memorable for exceeding each past show's level of destruction. Urinals were smashed into any number of "trophys."
Any thoughts about The Decline of Western Civilization documentary?
The Circle Jerks were so new that we were thrown in at the last second. That worked out well because there's no wasted footage of us drunkenly babbling. In the film, we wake you up like a bucket of cold water which was always our mission.
When you were in the Jerks did you ever play any shows with the Misfits? Black Flag?
The Misfits no. The two times we were booked with Flag resulted in riots. I don't think either band got to play.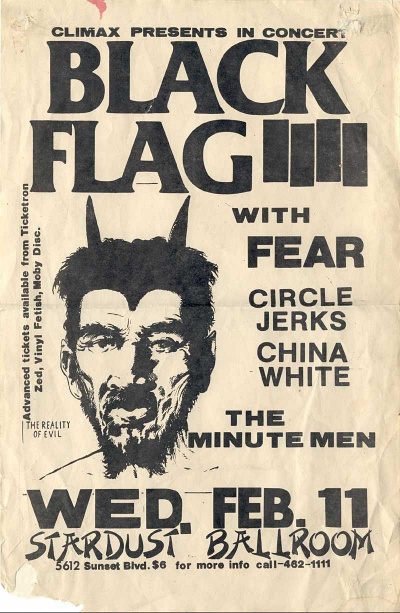 Why did you end up leaving Circle Jerks?
Ya know, well, ahem, whatever.
What did you think of their subsequent albums after your left the band?
No comment.
What other bands have you been in?
My main thing is jazz but I popped up in Bad Religion for a while, and I also did a stint with Darby Crash and Pat Smear.
What was it like playing with Darby Crash?
I knew these guys from high school but I wouldn't call them friends, in fact we were the opposite of friends. Paul (Darby) was big into Charles Manson. My best friend Doug lived a block away from those gory killings that stunned the city. I couldn't understand worshipping Charlie. But Darby was fascinated by being a cult leader. Before the tattoo rage, people would using cigarettes getting "Germs burns" to show their devotion to the band.
Yet when the (GI) album came out, I was impressed. I understood all the references, such as our English teacher in the song "Lexicon Devil." Joining Pat and Darby, it was fun to play all their great songs. Seeing as though Pat (who was then fond of cross dressing) has matured into a full-blown rock star with the Foo Fighters, it's clear the band had a ton of latent talent.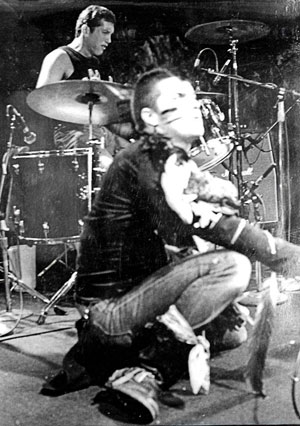 That's all I got, anything you wanna add?
Hey, I think what we've got is good, what do you think?
Yeah man, any sites you wanna throw up?
www.LuckyLehrer.com
email: Luckydrummmer1@gmail.com
***
If you dig No Echo, you can donate a few bucks to help with the site's operating costs:
Tagged: a hardcore conversation, circle jerks