Glenn Gabriel is flying the hardcore flag high and mighty in Central Pennsylvania. Going on its seventh year, the Brick By Brick Fest has brought some of the hardest acts to the region, with Glenn serving as its main booker. "I've been going to shows since about the 9th grade, so, I've been into hardcore for like 15 years at this point," he tells me. "Back then, Altoona had a thriving hardcore scene and always had shows, but it's since had its ups and downs. What started me wanting to book shows is being in a band from here called Dementor. Towards the end of that, I was booking and handling a lot of the business end. I started booking shows about four years ago with friends and I've been involved with Brick By Brick since the second year, but didn't start helping with booking til the 5th year."
This year, Brick By Brick Fest will go down on June 22 at Fourdees Lounge in Altoona, PA and will feature such bands as Years Spent Cold, Year of the Knife, Sworn Enemy, Purgatory, Shattered Realm, Three Knee Deep, and Never Ending Game, among many others. It's a stacked lineup and Glenn admits it's not all roses but ultimately worth the headaches. "Booking shows is very stressful but also very exciting to me. I enjoy the challenge of pushing myself to do a better job each time.
"I love contributing to the hardcore scene and all the connections you make in the process. I purely do it for the love of hardcore."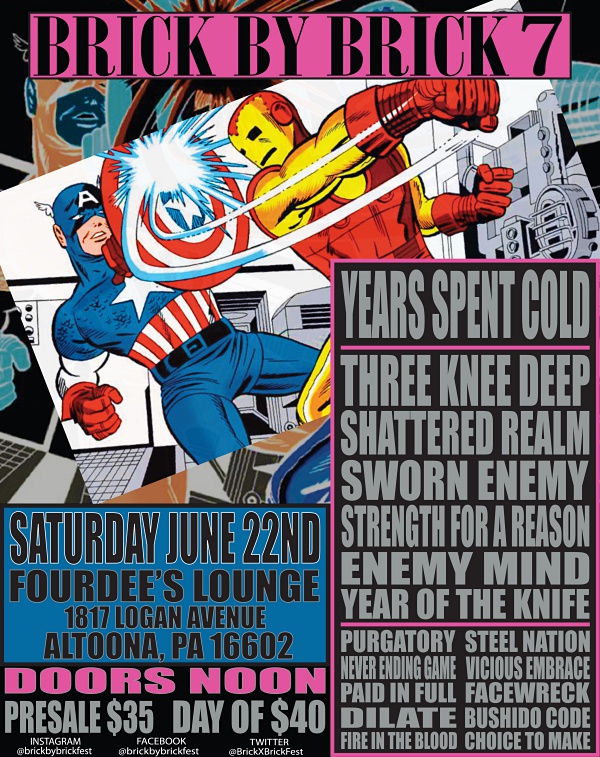 I ask Glenn about the fest's history and some of the bands that have previously played. "This is the seventh year the fest has been going on and it's always been in Altoona, and despite the constant fluctuations of the hardcore scene here, it really seems to keep Central Pennsylvania anchored down. It started as a larger group of friends putting on a fest to showcase our area and now has turned into three of us with the help of some of our friends trying to bring bands and people that wouldn't usually come here to the area. Unfortunately, this area gets slept on a lot but we make sure no one can forget CEPA and it also makes us want to go harder every year.
"As far as bands go, we've had Strength for A Reason, who has played every year. Wisdoms In Chains, Barricade, Menace, World of Pain, Rude Awakening, Lifeless, Vile Mentality, Fire in the Blood, and so many more worth mentioning play the fest. We've been very lucky to have some of the bands that we have had."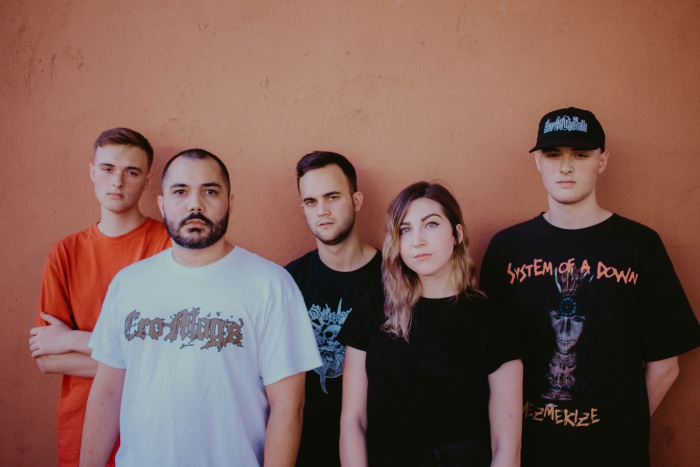 Glenn reveals some of his favorite highlights from the past fests so far: "I love seeing people come to the fest that aren't usually here. Whether it be old friends or new people that have never been here before. Last year, there were even people here from Australia, which blows my mind. I've been lucky enough to play the fest and be a part of it, so there are so many highlights. Playing with and booking bands I never thought we'd land like World of Pain, Barricade, and Sanction. I also really like being able to bring newer bands together with some older bands and watching hardcore thrive. Last year, we had Break Away, which is awesome to say since they just broke up. Sing-alongs with Wisdom In Chains, the insanity of Sanction's set last year, and seeing everyone go off for hometown favorites like Menace and Fire in the Blood will always be engraved in my head."
One thing I always wonder is how far ahead of time these fests start their booking efforts. "This year was a little different from the past 6 years. The fest was originally supposed to be in February but unseen circumstances didn't let that happen. So, originally the booking started in October but when the date switched, basically all of it started from scratch. The tail end of December til now is how long it took to get this lineup together. It worked out for the better though because we got some bands this year that have never been able to come to CEPA during snowstorm season."
Forever putting people on the spot, I ask Glenn which bands he's looking forward to the most this year. "Oh man what a question [laughs]. The goal is to always get bands from as many areas as possible and to keep it fresh. This year there's 14 bands that have never played. The bands I'm most excited to see are Never Ending Game, Year of the Knife, Three Knee Deep, Bushido Code, and Fire in the Blood. Not only are all 5 newer or newish bands but they are all on fire at the moment and shouldn't be missed. Bushido Code and Fire In The Blood especially, they are local and killing it right now.
"I also have to mention Years Spent Cold. Some of my first and most memorable shows were seeing YSC in Altoona and they haven't been here in a long time. That will be a set to remember."
How about future installments of Brick By Brick Fest? What would be Glenn's Top 3 bands to play next year and beyond? "I'd love to book Cold World, Trapped Under Ice, and Terror. Those three bands helped shape my taste in hardcore and would be something that's never been here and would be insane. Who knows, though. Anything is possible."
Brick By Brick Fest 2019 pre-sale tickets are $35 and available now. The price for entry will be $40 the day of. The fest will also be doing a raffle and accepting donations for Angela Fowler, a member of the hardcore community who has been diagnosed with terminal cancer. Hit up Brick By Brick Fest on Facebook and Instagram for more info.
***
If you're shopping for vinyl, CD, and cassette hardcore titles, head to No Echo's partner store, Reverb LP, to see what they have available. Every purchase you make helps No Echo with site costs.
Tagged: years spent cold