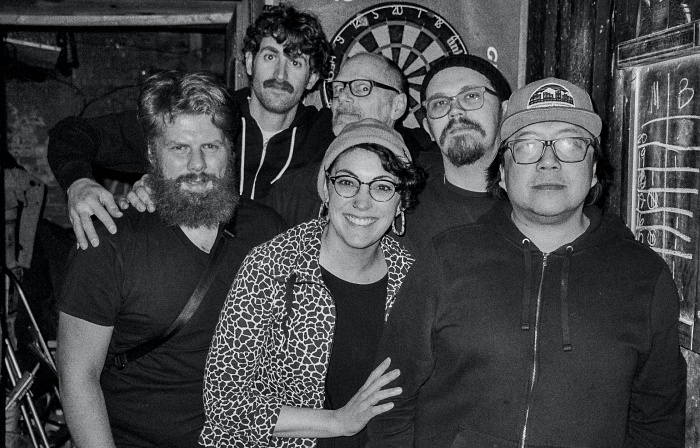 In the past few years, the musical underground connecting Albany, Troy, and Saratoga Springs, New York has seen a healthy resurgence, due in no small part to the efforts of the Super Dark Collective. Comprised of a group of friends with decades of experience playing in bands, booking shows and working on myriad multimedia projects, the collective has gained a cult following, given exposure to local, national and international bands who might otherwise fly under the radar and even been nominated for Eddie Awards — Albany's local music awards — two years in a row.
For the past three years, their live series, Super Dark Mondays at the hometown dive Desperate Annie's in Saratoga Springs (for a time piggybacked with Super Dark Thursdays at other venues), has presented eclectic bills of weirdo bands, generally not adhering to any particular musical genre or scene.
Super Dark shows remind me of the ones I would go to in the late '80s and early '90s – mixed bills that exposed me to a wide variety of left-of-the-dial projects that I might not be aware of had bills always been strictly 'punk' or 'hardcore' or whatever.
Super Dark proudly treats all of their bands to pizza and beer and offers free admission to attendees, paying all bands from their budget. Despite not being able to produce any live events in recent months, the members continue to stay busy in the age of COVID-19, churning out a nearly endless portfolio of Super Dark-branded media including mixtapes, VHS videos, zines, radio shows, VR content, podcasts and cable access video, all while working on their own music projects.
Super Dark Collective's core is Shane Sanchez, Sarah Darby, Chris Brown, Gary Ziroli, and Bobby Carlton. John Olander and John Gill manage sound and lights during live shows, and Paul Coleman handles engineering duties for Super Dark Records.
How did you guys all get together and what was the first project you did as a collective?
Shane: We started off as a public access video show. Gary and I worked together and have been frequent collaborators for a very long time, whether it's music or short films, horror movies, weird sketches. Chris and I have been making videos since we were in tenth grade. So it all started as a video project. The first season of Super Dark Home Video is 10 years worth of footage compiled and collaged in this psychedelic thing where we're documenting the Albany music scene at the time, and there are videos of us as kids, and in our early 20s, and it's this sonic overload kind of thing.
Chris: And it's a huge piece of history.
Shane: Bobby and I linked up through Gang of Four.
Bobby: Shane was working at One Caroline, a jazz bar in Saratoga Springs. And I was approached to take over booking. So I came in to meet with the manager, and on the speaker was Gang of Four, so I was like 'that's fucked up' — I love Gang of Four but it's weird to hear it in One Caroline. So the manager told me about Shane and said that he wants to do a series of shows.
Shane: I had been booking shows in Albany and a little bit in Troy and I knew they were struggling to get some good music into One Caroline. So I was like 'let me book a Monday night because I could get some really weird music in here and people would come'. And Bobby and the manager were like 'let's do it'! and so we booked the Hill Haints.
Bobby: And that was the first Super Dark Monday and they've never stopped. It was great, and it went through its process at One Caroline. And then when One Caroline closed I called my buddy Travis at Desperate Annie's. Because we were actually stealing business from them at that point. And I worked it out with Travis and we moved it over there. It was frictionless and it actually made sense. I thought the room sounded better, and it was laid out better. And it's been at Desperate Annie's ever since.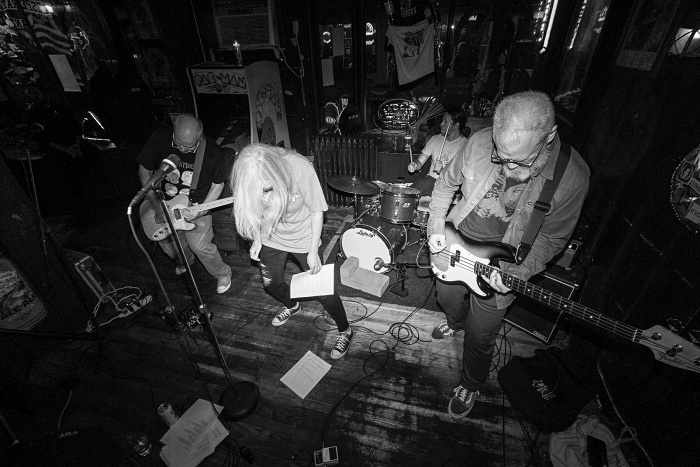 In this age of lockdown and isolation, what are you working on since you can't really promote shows right now?
Chris: Now we are reworking Super Dark Home Video, bringing back that aspect of the public access show, supporting a bunch of different, original music from this area and not from this area. And we're focusing it on what we were bringing with booking – all these great bands from our area and also on tour. And we're focusing on showing music videos instead of having them all perform live, obviously.
Shane: There are really three different things. We are doing a music video show, Bobby is working on Virtual Reality and Sarah is very much working on live streaming stuff.
Chris: And Super Dark Radio, since the station is not a possibility now, we've started doing the Sunday podcasts.
Shane: And that all comes from Gary signing up with WSPN, so he opens up that whole door in terms of doing radio and podcast stuff. That's all Gary.
Sarah: Super Dark hasn't done any livestreams that we've hosted. I've definitely pioneered a couple things, and Thinner Friends just did a livestream at the Church in Troy. I want to start curating, depending on what people are interested in doing, promoting people's livestreams, even if they play under the Super Dark umbrella. Livestreaming can be cool, and if it's promoted right it can be successful.
Even though it can be glitchy, it's showing ambition that people are still willing to connect with their audience and play live. It's important to put that energy out into the universe that bands are still willing to play in front of an audience.
I'm going to sit down and come up with a more regular schedule where we can host bands and promote some livestreams.
Shane: And we're working on a throwback old school MTV 120 Minutes-style music video show that we're going to air bi-weekly. We're animating our faces and doing commentary. And Bobby is working on the Virtual Reality side.
Bobby: I will be putting together the Super Dark Collective Virtual Reality Show, which we've actually done in the past. We did them early, and we host them through a space called AltspaceVR, which is owned by Microsoft, and Microsoft has been very cool about partnering with us and making that happen. Currently the new show we're working on is going to be a weekly or bi-weekly series. We're working through some BMI/ASCAP issues and the moment we work through that hiccup we'll be able to move forward.
So you could jump into the room wearing a VR headset or you could go in through your PC and watch it through a web VR platform. It will be an hour-long show hosted by Super Dark Collective and we'll be playing bands and videos and obviously pushing people to check them out, buy merch and support them and give them an outlet in virtual reality. In the past we've had people from all over the world jump in and check out the bands. So it was an interesting test and it will be interesting moving forward.
You guys like to feature bands that don't necessarily adhere to any specific genre or scene, and the music that you all play doesn't necessarily subscribe to any particular genre or scene either.
Shane: For me, the best punk band is Suicide. Because they were doing the most original, annoying thing during the height of the punk scene. They had people trying to steal their microphones and unplug their shit. They had a motorcycle chain that the singer would swing around to fight off people, because they were making the most annoying, obnoxious, abrasive, true punk music that existed in the beginning, along with the Talking Heads, the Ramones, Television and everybody else. And that to me, is the most inspiring thing that makes me do what I do.
I want to see the most punk-as-fuck thing that isn't the "genre" of punk, not hardcore, not pop-punk, not mohawk bullshit. People with drum machines, people with trombones, just annoying people! That's what keeps me going.
Bobby: When I first came into the Super Dark Collective fold, Shane was talking to me about how he just wants to have a platform where a musician, artist or performer can come in and do what they love to do without feeling judged or critiqued. This whole idea of feeling vulnerable while you're playing a show – he wanted to have this platform. For me, I always thought that punk rock was music where people just don't give a shit – early Johnny Cash was punk rock.
As crazy as this sounds, the band No Doubt…I fucking hated them. But they followed up their biggest hit record by not making a ska record, and I had a lot of respect for that. The bands that Super Dark Collective brings in, they don't give a shit if you think they sound like the Ramones or Taylor Swift backed up by Cobra Verde or something. They just want to play music they like, and that's what I thought was really cool about Super Dark.
Chris: And of course we all have a super-wide variety of tastes. So we book a lot of different kind of stuff, but we don't book everything.
Shane: The people who come to the shows like the fact that they may not know who's playing. But they do know that if Super Dark Collective is putting it on, it's going to at least be entertaining and memorable.
Chris: And interesting to some degree – They'll be like 'I want to see how much I love it or how much I hate it!'
Sarah: That's the beauty of this culture, because everything is so calculated…You can go to a store or a show and you can curate your whole Amazon Prime thing so that it only shows you videos you think you'll like. If you aren't constantly exposed to things that you don't have your hands in…The element of surprise is a really important thing to being a human that we overlook now, because things are so computed. It's important…That randomness is important.
Bobby: What's also great is that the order of the bands isn't decided until right before the show. Because one thing we want to avoid is that whole thing of like 'my friend is going on at midnight so I'll show up at midnight. How it's listed on the poster or the website – don't go by that because at the show, the order will be decided then.
Chris: Mixed-bill shows with a variety of genres has been a tough thing to pull off with a lot of venues, but we've been really fortunate where it works really well with us. And people expect it and enjoy it and support it.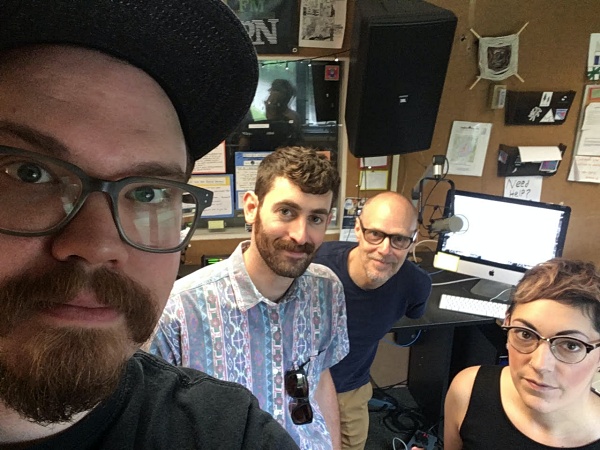 ***
Super Dark Collective links: Facebook | Instagram | YouTube | Vimeo | Soundcloud
Super Dark Collective email: [email protected]
***
Donate a few bucks to help with No Echo's operating costs:
***
Tagged: mystery girl, podcast, sky furrows, super dark collective, wet specimens