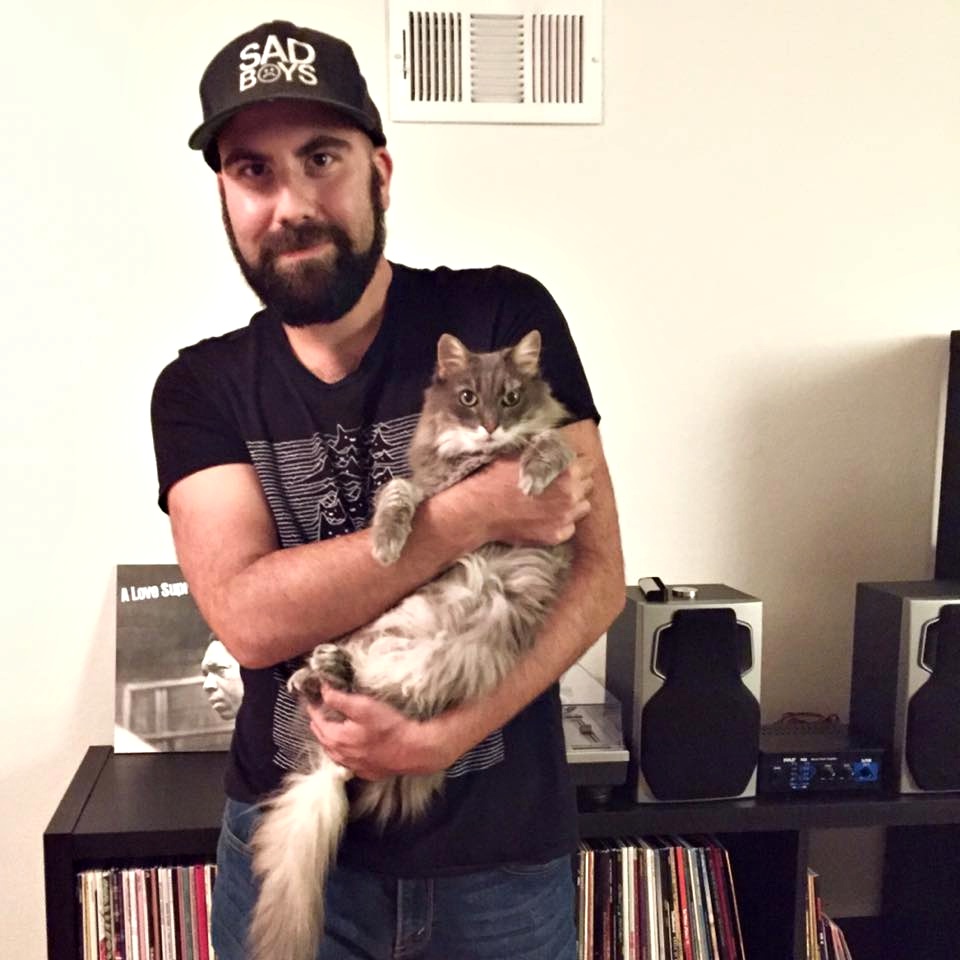 Jake Neihaus lives in St. Louis where he works within the world of content marketing. The 30-year-old says that though he may not play music as much as he used to back in his youth, he still loves to discover new albums and see as many shows as possible. Let's learn more about Jake's music taste via a new Record Collector piece.
How long have you been collecting records?
Going on roughly eight to almost nine years at this point. My idolization with vinyl began at a young age with my dad playing records in my family's old living room. I can just remember holding the packaging, staring at the covers and flipping through all of what he owned. My dad's collection was made up of a lot of '60s and '70s rock (Alice Cooper, Led Zeppelin, Pink Floyd, etc.) but the one record that always takes me back to my earliest memory of loving vinyl was our family's copy of the John Denver and the Muppets Christmas album. It was a holiday tradition at my house, but I would have them play it all the time and I'm pretty sure we wore that thing out.
It was sometime in my early 20s that I really started to want to seek out and collect. I got my first record player and it just reinvigorated my sensibilities for listening to a physical copy of music. The hunt for new albums to own just became such a thrill that it's a huge part of my life now. In fact, when I purchased my house last year, one of the major things I always kept in mind was finding the best spot for my records and my setup!
Where/how do you usually find your records these days?
Usually, I'll try and make a stop by my local record stores here in St. Louis. Music Record Shop, Euclid Records, and Vintage Vinyl have a great amount of variety between them and they're run by awesome people. While I do shop online for a majority of my records, looking through all of what the stores offer is something that is still one of my favorite things to do. One thing I always try and make a habit for any time that I'm out of town (usually for a concert road trip) I make it a necessity to stop by the local record store to bring something new home.
In terms of online … Discogs is forever my go to. I've been able to track down a lot of variants of personal favorites and pressings that I may have originally missed out on.
What is the most you paid for a single record, where/how did you obtain it, and what was it?
That may be a tough question … both were online and directly from their respective stores, but either the latest reissue or Boris' 2006 masterpiece Pink or 2 8 1 4's 新しい日の誕生. Both cost me upwards of $50.
Pink had been out of print for so long and I had been foaming at the mouth to get that album on vinyl. Thankfully, they released in a beautiful candy-cane-esque variant last year. It's easily one of the noisiest and experimental shoegaze/doom/stoner metal albums you'll ever hear.
2 8 1 4's 新しい日の誕生 may be a newer album, but it was one of those ambient records that I knew was a must own. Not that anyone cares about what Rolling Stone magazine has to say these days, but they nailed the description of this album by calling it "a late-night cruise through the cyber-future dream highway."
Of everything in your current collection, what is your most prized record and why?
There's a lot in my collection that I feel have some sort of prized potential to me. Records like Sun Kil Moon's Benji, Lewis' L'Amour, Death Grips' Government Plates, and Gary Wilson's You Think You Know Me all have immense experiences wrapped up in both listening to them and being on the hunt to find them...
…but I've have to give the distinction of most prized to the newly remastered edition of The Fragile by Nine Inch Naills. In my opinion, it's Trent Reznor's magnum opus and an album that forever changed how I listen to and think about music within an album format.
Is there anything that frustrates you about the current record collecting scene?
I can't stand the people that knowingly go out of their way to get copies of vinyl just to flip them online. Record Store Day, as much as a fun experience as it can be, has really brought the ugly side of that world out for collectors. Sure, it can be annoying when major companies try to hop on the vinyl bandwagon and take up most of the high-profile albums that come out on RSD … but the people that go out of their way to get a handful just to price gouge them on eBay or Discogs are as equally obnoxious.
Which records are still on your want list that you've had a tough time tracking down through the years?
I've been really wanting to get my hands on two of Jim O' Rourke's pop records in Eureka and Insignificance. Hoping to find a copy of Morrissey's You Are the Quarry that doesn't break the bank someday too.
***
Follow Jake on Instagram.
Tagged: record collector