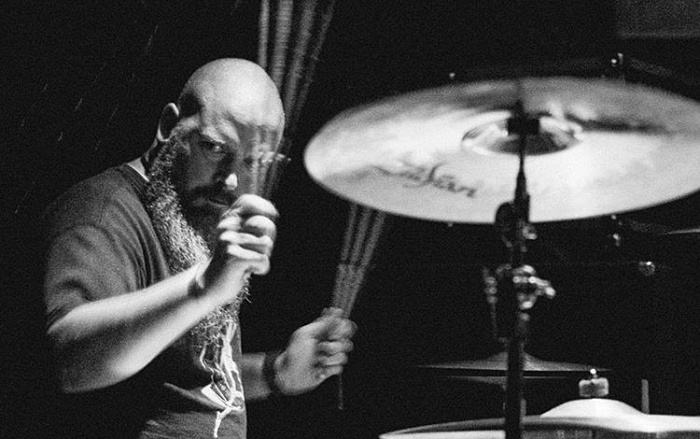 Mike Paradise has been on my list of drummers to interview since starting the Cutting Steak column, but for the longest time couldn't find him on any social media, or track him down. Thanks to Abbas Muhammad he was able to connect me with him and get this started.
Mike is hands down in my Top 5 drummers to come out of punk/hardcore. He is so incredibly solid, precise and makes every hit count. I first heard him play with Bloodline in the early '90s, then later with the all-mighty Threadbare. He has also played in the bands 108, Xaphan, Picturesque, and is currently in Hive, Antiverse, Disembodied, and Martyr A.D.
I'm glad to know he is still active and playing. Here's what he's been up to.
Who are you?
My name is Mike Paradise. I am a drummer, father and husband. Thanks for being interested in my playing and history. I'm a fan of No Echo and it's very nice to be invited to participate in this. Thanks for having me.
Where is your homebase?
I live in Minneapolis, Minnesota. It's a great place to live and have a family. I'm grateful to have travelled a lot in my life which has helped me appreciate the place I call home. This has always been a welcome place to come home to.
How are you and the family doing during this crazy time? What are you doing to occupy your time?
We're doing fine. My wife Krista has been fortunate to have continued working, and I stay busy caring for my son. We like to listen to music, watch movies, read, and try to get out for walks as often as possible to break up the monotony. Trying very hard to keep a positive outlook and take it one day at a time.
Who are you currently playing with?
Hive, Disembodied, Martyr A.D., and Antiverse.
What originally sparked your interest in drumming?
My father played when he was young and kept his drum kit set up even though he rarely played it anymore. I used to love hearing him play even though he wasn't a very accomplished player. Something about the volume and energy it kicked off excited me. My mom encouraged me to take lessons since I was struggling to find an activity that I connected with as an 8 year old. I didn't like sports and was pretty introverted and shy. I did like to sit in my room and play records so I think she made the connection not realizing how loud things were about to get.
I took lessons at a place called Schmitt Music for just a couple years if I remember correctly. I would take the summers off. I played in the school band in junior high and high school but I learned the most from playing along to the radio and my favorite records. My brother played guitar so we would try and play songs from our favorite hard rock and heavy metal bands. It was a great way to understand what my role was as the drummer.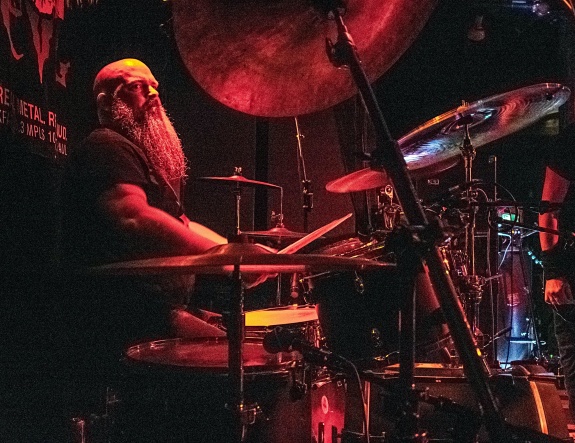 I know you've been playing in bands since the late '80s/early '90s. How did you first get involved in hardcore/punk/metal, etc.?
I started my first band, Downside, in 1990, with my neighborhood friend Chad Dziewior. He was way more into the punk and hardcore scene at that point. I was steeped in heavy metal, thrash, and death metal but was interested in learning more about punk and hardcore than I was able to glean from the liner notes of records and magazines. He was into skateboarding and was a big part of my punk education beyond the more well known stuff at the time. We put out a 7" on Nemesis Records and later formed Threadbare together.
You've played in a lot of bands from the Twin Cities area. Downside, Bloodline, Threadbare, etc. Are there any bands/projects you have been involved with that you were excited about, but never took off?
I played in a band called Reach before Threadbare that I always wish would have done more. They had a demo before I joined and we recorded one together that would have been fun to follow up if we hadn't split up. Dustin Perry from Threadbare played guitar in that band and the bond we formed in Reach helped pave the way for Threadbare to materialize. We did both bands at the same time for a very brief period before deciding to focus on Threadbare full time.
Looking back on the song "Relocation Policy" by Threadbare — was that the type of song that happened organically while jamming or did you purposely set out to have a song led by a more tribal-like drum pattern?
If I remember correctly it was a little bit of both. Threadbare was very much about building and releasing tension and that approach with the rhythm section was one we hadn't experimented with before. I remember pretty clearly working it up in rehearsal and only running it a few times before recording it. We would improvise a lot to come up with song ideas and that one came together quickly and pretty naturally. Most of the takes on those records were first or second takes. Everything we did on the 7" and Feeling Older Faster record was put together very organically with genuine energy and enthusiasm from everyone.
Do you play any other instruments, or write songs for the bands you've been in?
I do not. I help with arrangements and am always involved in all aspects of recording and writing though in one way or another.
Tell me about your time in 108, and how you came about to play with them.
Norm Arenas (Texas Is the Reason, Shelter, Anti-Matter zine, etc.) recommended me to Rob Fish, if I remember correctly. They had just finished recording the Threefold Misery album with drummer Matt Cross (Orange 9mm). For whatever reason, Matt wasn't available to tour with them at the time so they reached out to me. We did a European tour as well as a US West Coast tour ending in NYC at CBGB. This was to be the final 108 show as guitarist Vic Dicara was "retiring" from playing music and focusing 100% on his spiritual life at the time.
I would describe my experience playing in the band as intense, intimidating and stressful but also very rewarding and satisfying in different ways for me personally. I learned a lot about myself during that time. I've been fan of the band from the beginning so I considered it an honor to be invited and still do. We recorded the live album One Path for Me Through Destiny in Germany after a only a handful of rehearsals and shows together.
I played with them again in Belgium at Ieperfest in 2009 as a fill in for their drummer Mike Justian who was on tour with someone else at the time. It was so much fun and great to connect with them again. I've always told them I'm available if they ever need me. I think they are great people and I am very grateful for those experiences and value their friendship to this day.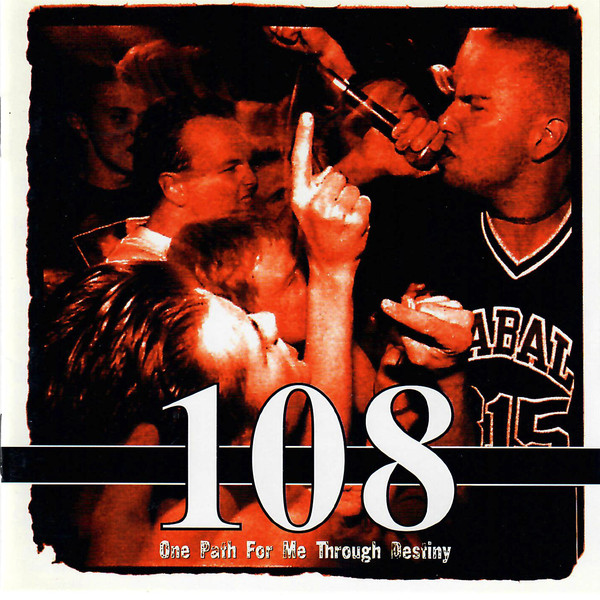 Who were some of your earliest influences?
Probably the same as most drummers that grew up in the '70s and '80s: John Bonham, Neil Peart, Peter Criss, Alex Van Halen, Vinny Appice, Clive Burr, etc.
Who are some of your favorite drummers to watch live?

Vinny Appice, Jason Gerken, Dave Lombardo, Jimmy Chamberlain, Mackie Jayson, Bobby Jarzombek. I like watching just about anyone play honestly. Everyone has their own approach and physicality that can always offer new perspective on how to approach the drums differently. I'd rather watch someone play very simply and confident than fast and exhausted.
Tell me about your current drum kit and set up.
I play a Gretsch Catalina Club in 14,16,18. 26 with a 5.5 x 14 Ludwig Supraphonic snare. I also have a Gretsch Renown in 8,10,12,14,16, 22, 22 that I use in Antiverse. I still have my first kit which was my dad's 60's round badge Gretsch in sparkle blue wrap. In the 90's I played a Tama Granstar. I still have that one as well. I've thought about selling it but it is on so many of the records I've done and has been all over the world with me. Maybe I'll donate it to a school or something someday.
I'm a loyal Zildjian user. I've had the same pair of New Beat hi-hats since 1989. They've been used on every recording I've ever played on. Lately I've been using a 20" Ping Ride and 18" and 19" crashes. I've used many different models over the years. I use DW hardware, Tama early 2000s Iron Cobra and late '80s Camco pedals, and 5b Vic Firth American Classic sticks.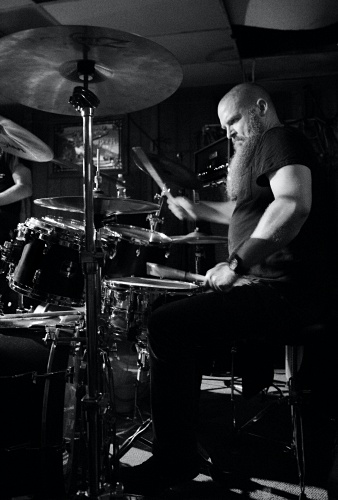 Are you very particular about drum heads? Do you prefer clear or coated?
I've always been a Remo player. I use a Coated Ambassador on the snare and clear pinstripes on the toms with clear Emperors on the bottom. I like the sound of coated heads on toms but they don't hold up great with the way I hit.
Do you have any special tuning techniques?
No. I usually have the best luck with tension a little past finger tight and try and match the pitch to the note of the shell and match the top and bottom to it as close as possible.
What else are you up to outside of playing music?
As I mentioned earlier, I take care of my son full time so it doesn't leave a lot of room for much else besides playing in bands. My favorite pastime is record collecting so I try to do that as much as possible. Krista is really into it too and we like to travel several times a year to see new places and deprive them of all of their great records. We try to get out and see as much live music as we can too.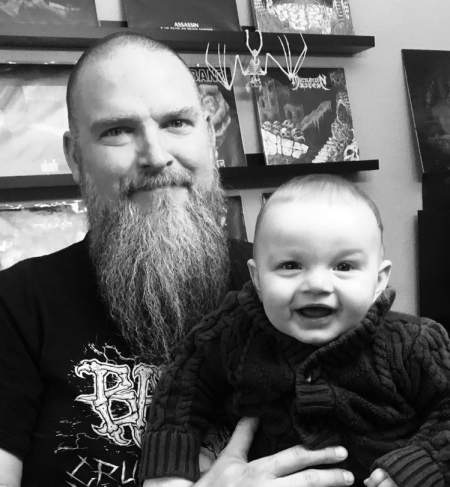 Recommend to the readers 5 albums that you think have incredible drumming on them.
I'll give you 10. I think most of us have many of the same classic albums in our choices so I'll go with some lesser named favorites (in no particular order):
Molly McGuire, Lime
Whitesnake, Whitesnake (1987)
Entombed, Clandestine
The Accused, Grinning Like An Undertaker
Rollins Band, The End of Silence
Dio, The Last in Line
Shihad, Churn
Vio-lence, Eternal Nightmare
Forbidden, Distortion
King Diamond, Them
What do you have coming up in the near future?
Hive and Antiverse are working on new albums this year. Hopefully we can get out and play this summer. It's going to be a very competitive time once things open up again. Everyone is going to be fighting for space so fingers crossed things can come together for all the bands I play in. Would be great to do more Disembodied shows this year too.
Hive on social media: Facebook | Instagram | Bandcamp
Antiverse on social media: Facebook | Instagram | Bandcamp
***
Donate a few bucks to help with No Echo's operating costs:
Tagged: antiverse, cutting steak, disembodied, hive, martyr ad, threadbare