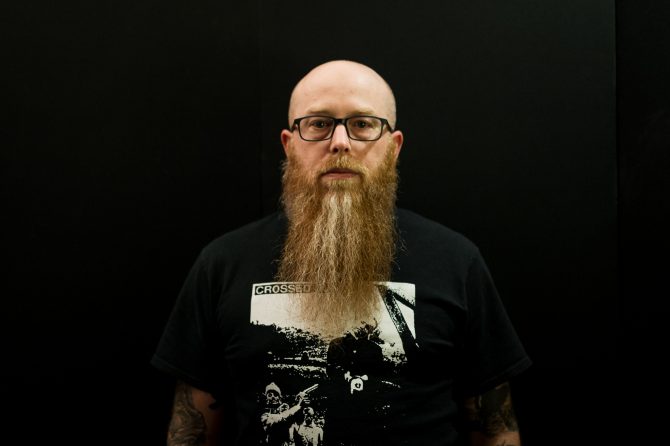 David Rodgers is clearly a man who cannot sit still. The owner of Battleground Records, he's released titles by such bands as CHRCH, Eight Bells, and Rozamov. David also is the founder of both the Southwest Terrorfest and Austin Terrorfest, and he's the guitarist/vocalist of Godhunter, a band I recommend listening to on headphones. He's also working on a new band called Taarna that will be releasing a demo shortly.
Yes, the man is clearly swamped at the moment, but that doesn't mean David can't be part of the Record Collector series.
How long have you been collecting records?
I have been collecting records, on and off, for most of my life. I'm old enough that the very first music I owned was on vinyl, like the Jungle Book soundtrack and beat up Beatles and Led Zeppelin 45s that my dad gave me. There have been times when I haven't owned any vinyl too, like my college years when I sold stuff like records and comic books to pay for beer or books a few times. Once I got married and bought a house, I started collecting again seriously, so I'd say I've been building my current collection for about 15 years.
Where/how do you usually find your records?
Anywhere really. Yard sales and estate sales are a couple of my favorite places to find records. I also try to hit record shops in whatever town I am traveling through for work or music business. I keep a list in my phone of stuff I am currently looking for, which fluctuates pretty widely according to what I'm interested at that moment, and I have a sweet network of friends and family that always keep an eye out for stuff for me as well. I picked up a lot of great stuff the last time I was in Florida from one of my mom's friends that was downsizing, for instance.
What is the most you paid for a single record, where/how did you obtain it, and what was it?
This is one probably a tie between Down's NOLA and the Electric Wizard/Reverend Bizarre split. I think it paid between $200 and $250 for each of those, but I'm just not sure anymore. I bought the Down record about ten years ago, before the vinyl surge really happened. It's one of my favorite records and I just had to have it at the time, which was my only justification for spending that much on a record in 2007. Later on, I got the Down record signed by all the guys that played on it, so that one will stay with me forever. As for the Electric Wizard split, well, I was in Las Vegas and was REEEEAAAAAALLLLYYYYY high doing some record shopping with some friends and I saw the uncensored version for sale in Moondog Records and everything went blank and then next thing I knew I woke up breathing real heavy and clutching that record to my chest.
What is your most prized record and why?
Without a doubt this is an original Poppy Records pressing of The Late Great Townes Van Zandt. My amazing wife bought this for me years ago because she knows this is probably my favorite record ever made.
Is there anything that frustrates you about the current record collecting scene?
Buying records online is a joke right now. People that list things as "NM" is the biggest joke of all. Unless you pull it out of the shrink wrap in front of me, it's not near mint, so don't kid yourself. And let's be honest, records are coming straight out of the plant that aren't near mint to begin with so what does NM mean at this point? And let's talk about people that list records as VG+++++++++. What does that even mean? What does "strong VG" mean? Are we grading records the way teachers grade kindergartners? It's also incredibly frustrating that people don't understand that a surface scratch doesn't always affect playability. I've also taken advantage of that though because I happily bought a copy of Dust's Hard Attack that was for sale for $15 because it was "scratched". A 30 second test play would have told them the record was fine, but thanks for the deal!
Which records are still on your want list that you've had a tough time tracking down through the years?
The two records that have been evading me for years are Sir Lord Baltimore's Kingdom Come and The Mars Volta's De-Loused In the Comatorium. I've found copies of them, but they either way too expensive or they're in terrible shape. I'm still holding out though, because I know a big part of buying records is patience. The copy you want will come around eventually. Well, except for a copy of Pulse from Pink Floyd. None of us are every finding that one, right?
***
Head to the official Battleground Records website to see all of the label's releases. David's label page on Instagram is here, and you can also follow Southwest Terror Fest , and make sure you check out more Godhunter.
Tagged: record collector