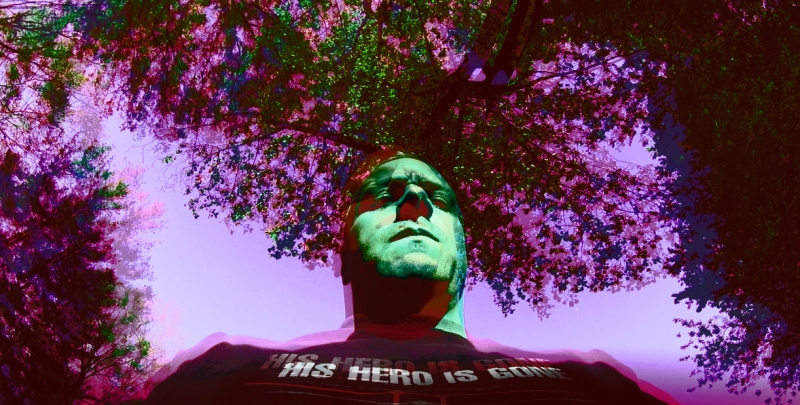 Earsplit PR is one of the best publicity outfits in the music business today. Hardcore, grind, sludge, black metal—it doesn't matter what kind of heavy subgenre a band or label fits into, the folks at Earsplit always have it covered. The firm is handled by Dave Brenner and Liz Ciavarella-Brenner, a husband/wife team based out of Rockland County, NY. Earsplit also has a music distro arm that handles titles from a plethora of underground record labels.
In addition to his Earsplit duties, Dave is also the mastermind behind Gridfailure, a solo endeavour that finds him conjuring up nightmarish music that melds the iciness of electronica with the worlds of industrial metal and the kind of stuff you would hear on a Hospital Productions release.
Today, I welcome Dave to the site's esteemed Record Collector club, because the guy definitely knows his shit.
How long have you been collecting records?
I've been collecting music for most of my life. My parents had a sick collection of great '60s and '70s rock LPs and 8-tracks (Fleetwood Mac, Foghat, Led Zeppelin, The Eagles, Mott the Hoople, Bachman Turner Overdrive, etc.) so I got into music early. In the '80s it was dubbing rock and pop tapes off my neighbors and friends, and buying cassettes at department stores or truck stops or whatever (Michael Jackson, Bruce Springsteen, Rocky IV soundtrack). We also used to get those story-on-records as kids; Star Wars, The Black Hole, Dracula, Gremlins, Alfred Hitchcock. By 5th grade, the neighborhood skaters were getting into Anthrax, Metallica, etc., and by 8th grade I was getting my hands on Public Enemy, N.W.A., Faith No More, and other tapes.
As a teenager I got into punk, hardcore, and metal, which opened an entire new world of music in general, and took my experience to a new level. Being able to go see a band and buy their t-shirt as well as a split 7" with them and another band for like $10 doesn't exist anymore, but it's how I discovered countless bands in the '90s. I started playing in bands, and working at the local record store/label, Corrupted Image, a few hours here and there once it opened in Lancaster, PA, and upon graduation moved to Philly for art school, where CI opened a store a year later. I started working at the store, eventually managed it, and I moved on to work at Very Distro, Nuclear Blast, and more, where I discovered new bands every day, and would always barter my weekly pay half in records. Moving to NYC opened me up to a whole new world of record stores, labels, and more, and jobs at Now Or Never Records and Metal Maniacs, which also resulted in lots of new record hookups.
In the early 2000s, we took Earsplit PR from part time to full-time operations, and that lead to working with tons of bands and labels directly, many of which spend an incredible amount of time making great vinyl releases. Labels like Southern Lord, Neurot Recordings, 20 Buck Spin, Cadabra Records, Organized Crime Records, and many others spend a lot of time focusing on vinyl packages. So, within my career itself I collect lots of albums which I love and work with, which makes a lot of the albums that much more special.
We even have a label, The Compound Recs, where we have released a bunch of titles on vinyl, including titles from Godhunter, Die Choking, LAE, and others.
Where/how do you usually find your records?
Buying from a band on tour is always the best, since you know the money is going directly to the artist; whether they put it in the gas tank, bank, or belly, it's their income that day. Local mom and pop record stores are also the best; we used to have sick record shops all over the place back in the day, but they're so far and few between in many cities these days.
I buy most of my current rap, jazz, etc. albums from Amazon and mainstream places, but I support lots of labels, distros, and great mailorder havens as well (Interpunk is great), but I love supporting bands directly, for which Bandcamp is like the gateway drug. eBay, Discogs, and other sites are also great for tracking down missing pieces.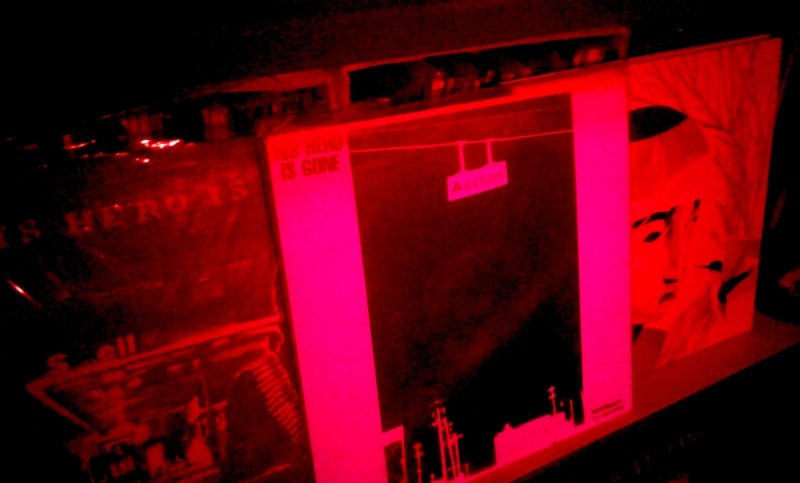 What is the most you paid for a single record, where/how did you obtain it, and what was it?
I don't really know how to calculate that, as I've traded time, work, and services for records, I've cut out shitty weekly paychecks for records (both at new/cost and collectible status), I've traded records.
I paid $65 out of pocket on the spot for a copy of the Misfits Walk Among Us while I was at the record store I worked at; paid the owner directly, then didn't eat. That may not sound like a ton of bread, but when you may get kicked out of your apartment for late rent and you go home with a record instead, it leaves a mark for a few weeks. But that record came with the Misfits trick-or-treat bag and is one of my favorite records ever. I've spent $60-70 on several other Misfits records since. I can't get into spending hundreds of dollars on a record, no matter how much I'd love to own said piece. Of course, there are exceptions…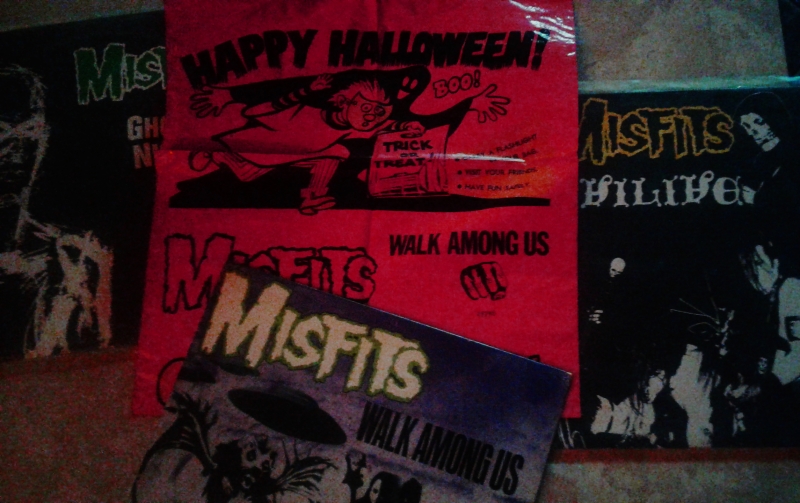 What is your most prized record and why?
This list could go forever. That Misfits Walk Among Us LP from the previous question is easily one of my favorites. But my parents relinquished their collection to me last year, so now I have the first Eagles record with the awesome uncoated paper sleeve, first runs of Led Zeppelin LPs, tons of great '70s stuff. First presses of Neurosis' Through Silver In Blood, Today Is The Day's Temple of the Morning Star, an original test press of Turmoil's The Process Of…, a couple of used records by Dave Brubeck, a recent liquid/blood-filled anniversary edition of Integrity's Humanity Is the Devil that Organized Crime released. Early Anthrax, Metallica, Slayer LPs.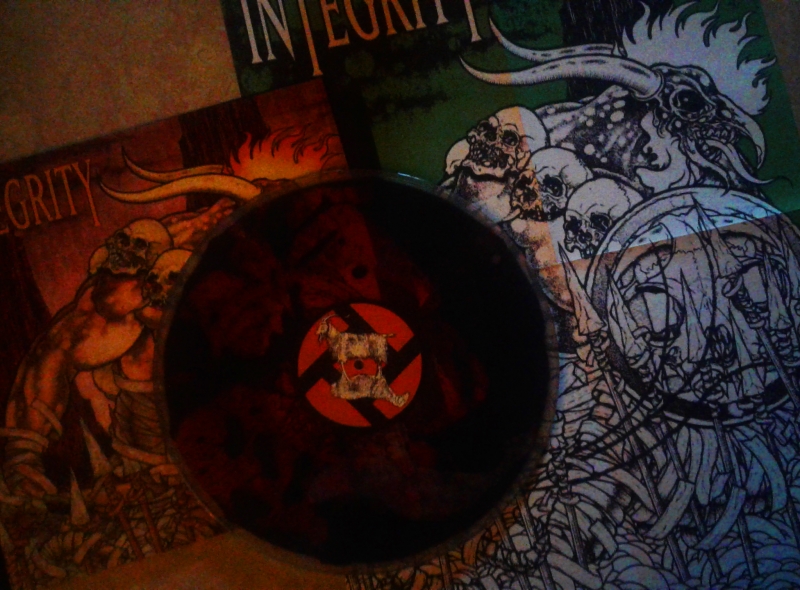 Is there anything that frustrates you about the current record collecting scene?
It sucks that major labels flood the scene with unnecessary represses and the clog up the manufacturers; it is infuriating that DIY/independent bands can't put out vinyl on their own so much of the time, since it has become so expensive to make an actual record in the digital age. The lack of great record stores in many towns is disheartening for us who used to frequent them, and it's a shame so many of today's fans can't experience it; so that said, take a road trip and go visit some dope record shops before you're too old to get away with burning that kind of loot! But the worst is of course not having more money to spend on more records…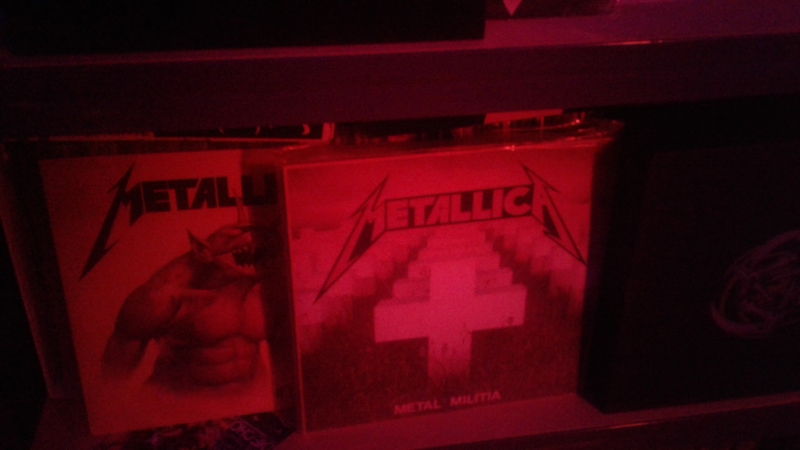 Which records are still on your want-list that you've had a tough time tracking down through the years?
I'd love to own some of the random original vinyl presses of some of the early Neurosis albums (namely Souls at Zero, Enemy of the Sun). I now have these via represses, box set pressings, and more, but the originals are always the best. As an Integrity diehard, I'd like to get some of those earlier LPs in their first incarnations. Really, this list could go on for ages, since there are hundreds of incredible records I own later versions or other formats of, but not the original pressings.
***
Listen to Gridfailure on Bandcamp, and make sure you also follow the project on Facebook, Twitter, and Instagram pages.
Tagged: david brenner, earsplit, gridfailure, record collector