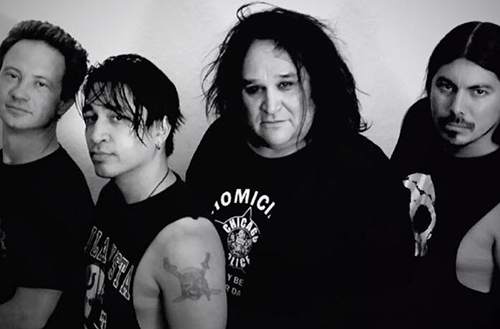 If you're like me, the prospect of a classic band from hardcore's golden era releasing new material in 2015 seems a bit suspect, to say the least. But the new self-titled, three-song EP by Battalion of Saints is a welcome surprise for skeptics everywhere. The California band's musical legacy has been somewhat overshadowed throughout the years by legendary tales of drug-induced excess, an ever-shifting lineup, and band members dying off.
What matters most to me—and other diehard fans—is Battalion of Saints' ferocious Second Coming album from 1984. Said LP is a nonstop barrage of Discharge/Motörhead riffs mixed with Southern California hardcore attitude. Can that vitriolic sound ever be recaptured after 30 years' time? I spoke to singer and sole original member, George Anthony, about the band's welcome return to form, Lemmy, obscure tape compilations, and the meaning of his hometown's odd nickname.
It's 2015 and a new Battalion of Saints record is upon us. Tell me what is the motivation and inspiration to keep on keeping on?
The music, really. I started this band before I met [guitarist] Chris [Smith], and when Chris and I got together in '79 as The Nutrons, we had gone through a bunch of members until we got the guitar player Dave Astor, the drummer from The Standbys, and Eric Holt on bass, and that's when it started. It's always been about the music. We knew we had our own sound. Even after everyone started dying off, and through different lineups, I kept the Battalion of Saints sound consistent, like on Cuts, and the new single.
I know you have some members in the band that have played or are currently playing in groups like Hirax and the Angry Samoans. How did they come to be in the current lineup?
I met Matt Malice [Vicknair], who was in a band that included Mike Vega and John Hatfield, who played guitar on the new single but is no longer in Battalion of Saints. We all got along really well. It took a while for us to get into the studio, but it was well worth it. Now we have Nathan Javier playing guitar, and he fucking kills it. With the current lineup, we were approached by Cleopatra Records to do a song for a Christmas compilation called Punk Goes Christmas, and we recorded "Jingle Bells, Batman Smells," which should be released before the holidays.
The three songs on the EP have a really raw, back to basics quality that harkens back to your old material. Was it a conscious decision to eschew any trace of heavy metal and just keep it straightforward?
The reason the Battalion of Saints sound stays consistent is because I get my guys to understand the way the music should be. For example, guitar leads on a Battalion of Saints record have to sound a certain way. I'm able to work with my guys to get the sound that makes the Battalion of Saints.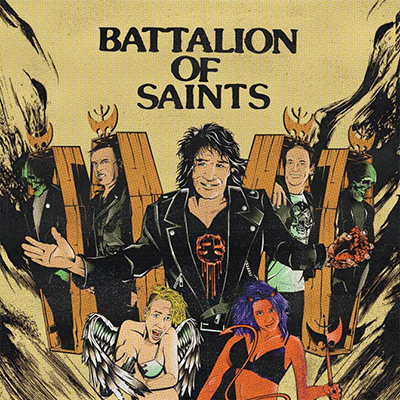 Have you recorded—or do you plan to record—a full-length album in the near future?
Yes, we are working on new material as we speak for a full-length LP, which should be released this spring on Southern Lord Records (who are awesome, by the way). [Label founder] Greg Anderson is the fucking dude.
Lemmy Kilmister once famously said you guys did the best Motörhead cover ever: "Ace of Spades," from the Second Coming LP. Whose idea was it back then to cover it, and did you ever get a chance to play with Motörhead?
We all decided to play that song unanimously when it came out. We got a lot of shit for it, but fuck all those cunts. We never got a chance to play with Motörhead, but I did do other things with Lemmy (sniff and choke).
Speaking of the Second Coming LP, some copies recently surfaced for sale on the Southern Lord webstore. Can you tell us if these were overstock from the original 1984 release, or a new pressing altogether?
Don't know much of anything about that. All I do know is if you were lucky enough to get one, hold onto it, as there weren't very many of them at all. That was it, and you'll never see them again.
I know you guys just did a California tour in September. Any plans for a full US or European tour?
Yes on both, we have another west coast tour in January with The Scalped (an amazing hardcore band), a full US tour in March, and once I get my passport sorted, we're planning a world tour.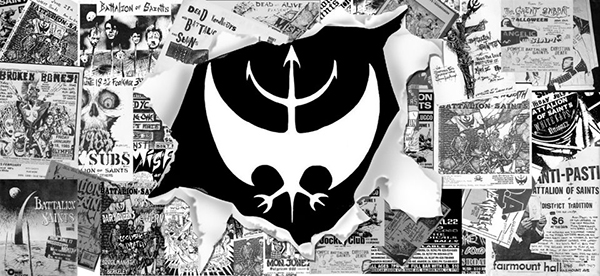 I'm gonna nerd out a bit here: I first heard you guys on the Our Blowout tape comp from '83. The songs used came out on later releases. Any other material from that time period that wasn't properly documented?
As The Nutrons we had quite a few different songs that were later dropped. The recordings I had burnt up in the San Diego Boys Club fire.
Artist Mad Marc Rude (R.I.P.) did classic record covers and flyers for you guys, and even managed the band at one point. Can you share any memories or recollections of him?
Marc Rude: incredible artist, shit cunt of a human being. He had his moments of incredible brilliance and could be an awesome dude, but then... how should I put this... Cal from Discharge said it best... "It's a nightmare, nightmare, nightmare, nightmare, nightmare, nightmare."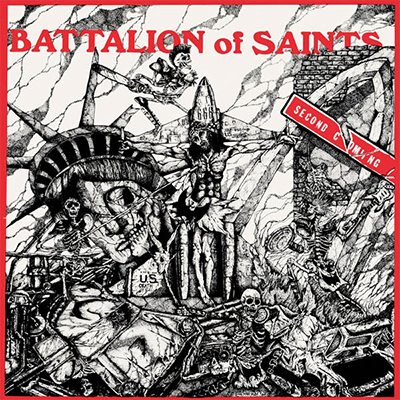 You mentioned deceased guitarist, Chris Smith, in the beginning. What were the circumstances that led him to leave Battalion of Saints back then? Did New York band Kraut snatch him up, or was it a mutual decision to not be in the band anymore?
Chris and Kraut... unlike some, I'm not going to say a bunch of fucked up shit about Chris ('cause there is a lot I could say, but I'm not). He is very dead and he can't stick up for himself. It's funny, though, he used to say all kinds of shit about Kraut and do this dance and sing "It's all twisted!" all goofy-like, and when we broke up he joined Kraut... funny, is all.
Last but not least, what's your definition of your hometown's nickname of "Slow Death"?
I think we got that nickname from LA because when San Diegans showed up at a gig, you knew all hell was gonna break loose. We had a really violent reputation. If you played a gig in San Diego at that time, you better just be good, or you paid the price. There was no such thing as P.C., it was just violent, and we all loved it.
Kudos on the righteous new tunes, and thank you so much for answering these questions. Do you have any last comments?
Thank you.
***
The limited edition eponymous Battalion of Saints 7" is available now via Southern Lord.