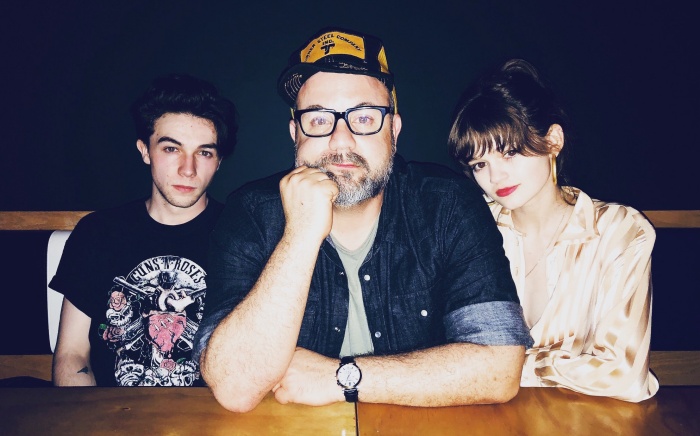 "In this gritty and sometimes bloody tale, 16-year-old Wayne sets out on a dirt bike with his new crush Del to take back the 1978 Pontiac Trans Am that was stolen from his father before he died," reads the official synposis for Wayne, a series that premiered earlier this year as part of YouTube Originals. I devoured the 10-episode season within a few sessions before realizing that the show's creator, Shawn Simmons, was a fellow hardcore head. After some digging, I noticed that he also happened to follow No Echo on Twitter and lived one neighborhood over from me in Los Angeles. After some text messages were exchanged, I found myself sitting in a diner about a 2-minute drive from my house for an interview session with Shawn.
"One thing that I was really excited about when I found out we were going to get to do the series was knowing most people would say, 'What is this? It doesn't look like any other TV series. It doesn't feel like anything else on TV right now.' I take pride in that, especially in this sea of too much TV," Shawn said about Wayne while we chowed down on breakfast.
It's not surprising that Wayne's storytelling and visual approach is a bit left of center since Shawn grew up a hardcore fan, but I was curious to learn how he got into comedy writing in the first place. "I went to Emerson College, you know, like everyone else in Los Angeles [laughs]. I knew I wanted to do something in comedy but I always had stage fright." Despite his stage fright, Shawn still tried his hand at stand-up comedy for a short spell before moving on. "I eventually followed some friends out here to Los Angeles and began working as a P.A. (production assistant) in 1997.
"Anyway, I got a job as a writer's P.A. on a CBS series called Becker getting coffee, lunches, scripts, and whatever else they needed. Well, there was a little-known writer there named "Matt" [Matthew] Weiner who went on to create Mad Men [laughs]. Even after Becker was done and Matt went on to do bigger things, he would still call me to check in and see how I was doing. The key is to get people like him to read your stuff and give you notes, just like a musician would do with demos. I was writing spec scripts for stuff like Curb Your Enthusiasm, It's Always Sunny in Philadelphia, stuff like that. But Matt Weiner gave me great advice back then. I went on to work in development, assisting a writer named Jay Kogen who was one of the first Simpsons guys, and eventually went on to win an Emmy for Frasier," said Shawn, who teamed up with Rhett Reese and Paul Wernick (co-writers of the Deadpool films) for Wayne.
Let's go back to Shawn's road to Wayne: "I ended up working in development at Universal and one of the guys who had a deal saw a spec script I had been working on for Curb Your Enthusiasm sitting face-down on my desk and was like, 'What's this? You write?' The night I got a call from him saying, 'I'm sending this to the Gersh Agency.' Dude, that's so rare for people in the industry to do something like that for you.
"Anyway, I got an agent right away, but it still took a long time to get to where I am today with Wayne and everything else I'm working on."
I mentioned Deadpool earlier, so how did Shawn connect with the duo behind the films to collaborate on Wayne? "I got my first official writing gig on a TV series on Fox called Happy Hour, and that couldn't have gone any better but it was cancelled after one season [laughs]. From there, I worked on single-season series for the next decade, so I was working a lot but nothing was staying on the air for more than a year [laughs]. I had started working on the idea for Wayne five years before, but never thought it would sell. Well, then I began to realize that TV was getting weirder with shows like Atlanta and Search Party, so I started thinking that my script might have a chance after all.
"I knew the guys who wrote the movie Ride Along from a previous gig I had, so I finally pitched it to them a year after I had initially told them about it. They loved it and one of them (Kirk Ward) had played the Woody Harrelson part in the TV version of Zombieland and the Deadpool guys had written that. So, he sent it to them and they got it and signed on to be part of it after we met. We then went out and pitched the series and YouTube was in right away. They gave us everything we wanted and were really supportive and let me make this really weird series the way I wanted."
Shawn grew up in the blue-collar city of Brockton, MA, which is also the setting for Wayne, and that's also where he first fell in love with hardcore as a kid in the '80s. "Minor Threat were my Beatles. It all comes from there for me. That's the greatest band of all time in my book. I remember being really young and going to a record store in Cape Cod during a family vacation and I bought Can't Close My Eyes [Youth of Today] and In God We Trust, Inc. [Dead Kennedys] on cassette. All of that music made sense to me, especially as a kid with ADHD."
As our breakfast hang drew to a close, I asked Shawn for his picks for favorite Boston hardcore bands: "Man, from the ones I grew up with, I would say Eye for An Eye, Said & Done, and Wrecking Crew. But Converge is the best hardcore band from Boston no doubt.
"I also remember going with my friends to Newbury Comics and check out the Anal Cunt section to look up the song titles because it was so funny to do [laughs]. The album cover with the guy punching the other guy in the face [Everyone Should Be Killed]? That still makes me crack up to this day!"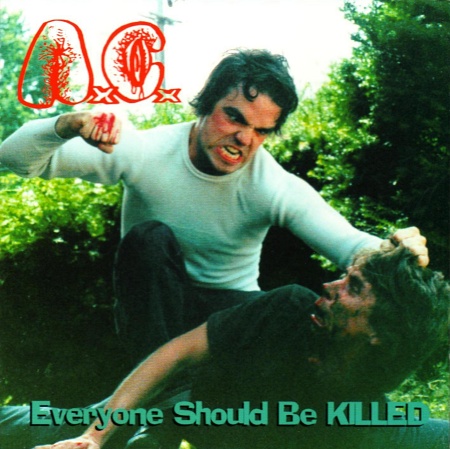 ***
UPDATE: Since this interview ran in 2019, Wayne has been added to the roster of Amazon Prime. Check out the series and let's see if we can get the network to order a second season.
Tagged: shawn simmons