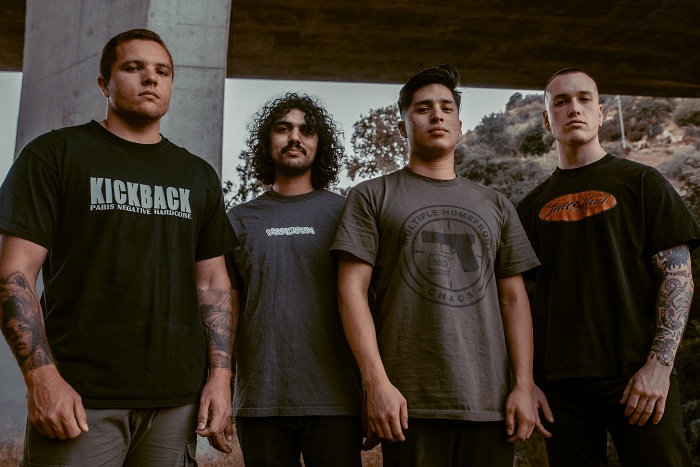 Based out of the City of Angeles, Momentum has been doing its thing since forming in 2016. Recorded by Taylor Young (Nails, God's Hate), their debut EP, Bliss, introduced the metallic hardcore quartet to the world via a 6-track pummelling.
2018's 2-song promo also did a bang-up job of delivering the goods, but it's been a minute since we heard anything new from Momentum, well, at least until today.
A refreshed lineup of the band is gearing up for the summer release of their first full-length, and No Echo is helping to crack the next chapter open for Momentum via two new tracks from the record. Heard below, "The Lie After Life" and "3:am" set a brutal tone for what lies ahead on the rest of the album:

"'The Lie After Life' is based on an experiment in which a person that had been stripped of their 5 essential senses they would fall into a state in an attempt to be able to see beyond the existential plane," explains Momentum singer Jordan Jenkins of the track, which also features guest vocals from Anthonie Gonzalez (God's Hate, Constrict).
"Whilst in a state between life and death, hallucinations were experienced beyond explanation leading to the conclusion that there is no peace after life. After some time, the subject exclaimed that he had seen god and that "god had abandoned us."
Guitarist Carlos Seijas told No Echo the following about "3:am" and how it came together: "The guitar riffs were refined from unused sessions that were taken place before the release of Bliss. With the intent to incorporate new and old ideas of our own, it was also inspired by mid to late '90s metal and hardcore with a progressive structure."
"The lyrical content explains the personal encounter with sleep paralysis, leading to fear, numbness, heaviness, desperation and anxiety," says drummer Josh Orellana.
Recorded once again by Taylor Young at The Pit in Van Nuys, CA, the debut Momentum album will be out this summer via DAZE.
Momentum on social media: Facebook | Twitter | Instagram
***
No Echo has launched a Patreon with 3 tiers offering all kinds of hardcore-related goodies to help support the site:
***
Tagged: momentum