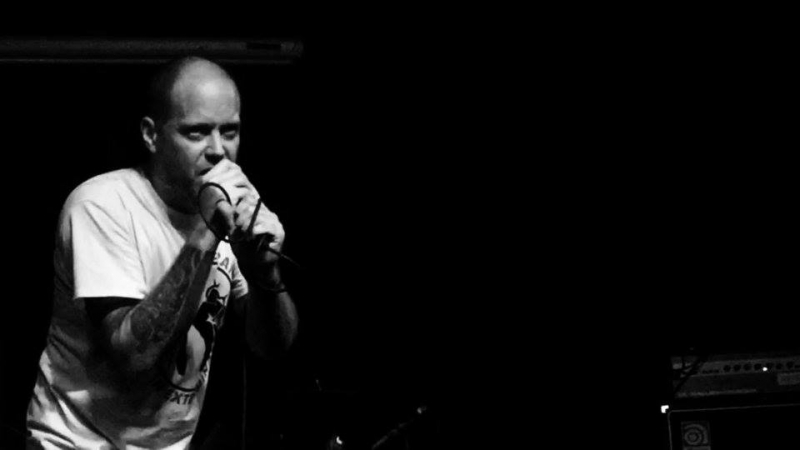 It's not a walk in the park to try and label Florida's Meatwound with one genre tag. Featuring vocalist Daniel Shook (Combatwoundedveteran, The Holy Mountain), Meatwound create a potent racket that has elements of AmRep noise-rock, hardcore, and whatever you consider what Kiss It Goodbye used to do while they were still together. Largo—the group's sophomore album—is an ugly storm of pissed-off vocals, gnarly guitars, and jittery rhythmic shifts.

In addition to his vocal duties in Meatwound, Daniel is also a vinyl head, so it only makes sense to invite him into the site's Record Collector club.
How long have you been collecting records?
If memory serves, I bought Phil Collins No Jacket Required when I was 8 but I didn't start "collecting" until around 15 when I started buying records at metal/punk shows. So, it's been about 25 years.
Where/how do you usually find your records?
In Tampa, I swing by Steelworker or Microgroove. Otherwise, I check the Ebullition update on Saturdays and Hell's Headbangers throughout the week cause they update M/W/F. If I want something badly enough, I'll find it on Discogs.
What is the most you paid for a single record, where/how did you obtain it, and what was it?
I paid about $170 for the Tool Aenima 2xLP on eBay back in 2007. It was a birthday present for a lady.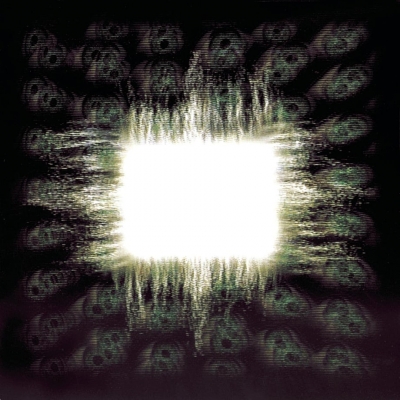 What is your most prized record and why?
This is probably a harder question than it should be for a "collector" but I think the Floor box set is my answer. I always loved that band throughout the '90s and it seemed like every time I saw them, they had a different 7" or split 7" that they would sell out of before the next time I saw them. I definitely cherished those records and never expected anyone to collect them all together, let alone multiple LPs of unreleased tracks. I will ride with Floor til the end of days.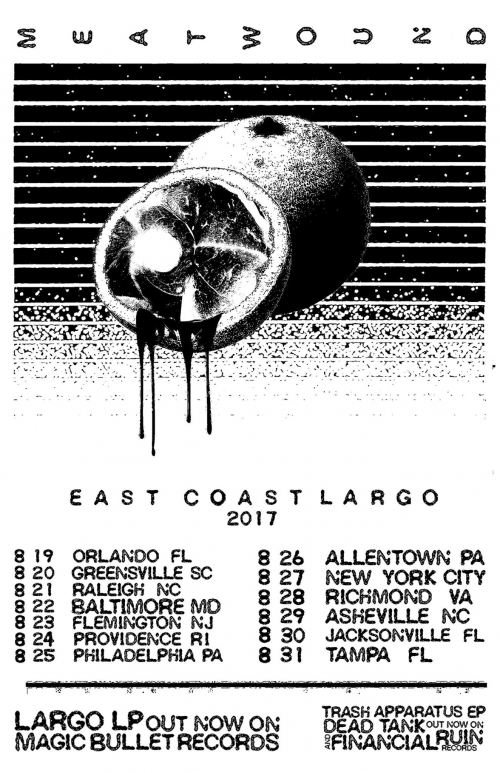 Is there anything that frustrates you about the current record collecting scene?
A few years back, when I was putting out records myself, the record flipping market irritated me. I felt like labels enabled it by pressing limited color preorders that would sell out and end up on ebay for dumb prices. There was a short term sales benefit but the bands didn't make anything more and the distros/stores got stuck with black vinyl that nobody wanted. I just lied about how many copies I made so it sounded more limited and kept putting copies on eBay so the flippers couldn't move theirs.
Which records are still on your want list that you've had a tough time tracking down through the years?
I was after the first Deicide LP and Macabre's Sinister Slaughter for years but they both got reissued. Right now, I'm after Pungent Stench's Club Mondo Bizarre but it's sitting at close to $200, so I'm waiting it out.
***
Pick up a copy of Meatwound's Largo album on LP directly from Magic Bullet Records. If you prefer digital, Bandcamp has your number.
Tagged: combatwoundedveteran, meatwound, record collector