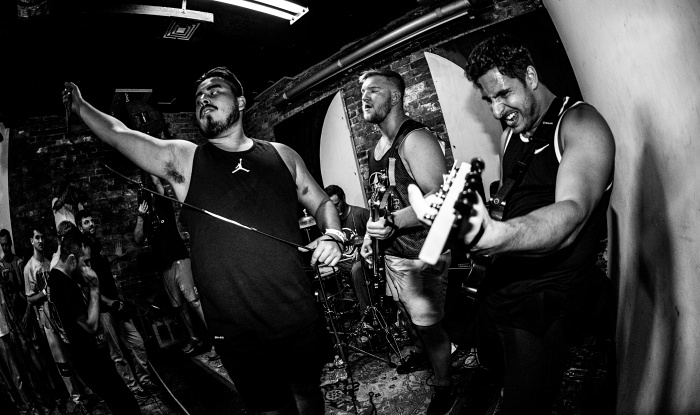 "When the idea for the band came about, I hit up every one individually and pitched the idea of 'What would you think of this line-up for a straight edge band...' and to my surprise at that time, everyone was interested," says guitarist Garrett Strobel when I ask him about the formation of Point of Contact, the Tampa-based hardcore band he co-founded back in 2017. Vocalist Jose Recinos joins in: "Garrett and I were trying to do a band since we met, so it was awesome to do one with him and other tight friends. When I was finishing up college at the end of that year, we still had not finished a demo and I told Josh at the Hatebreed show I was losing hope. Thankfully, we started to get together more often and finished the Undefeated demo early in 2018."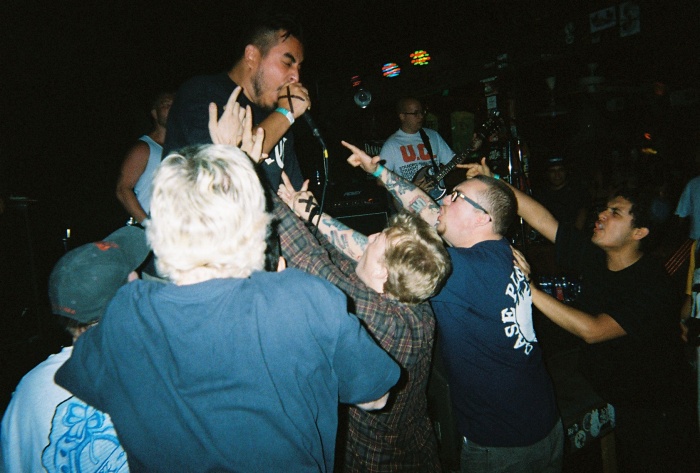 Speaking of Tampa and hardcore, the Florida scene is the strongest it has been since the '90s. "I think the Florida hardcore scene is getting the respect it deserves since many bands are coming out and doing so well," Jose opines. "There's a lot of different tastes for different people, which makes it cool, and there's bands that still have the passion and sound of authenticity. We noticed Tampa needed something different, and Garrett was the ring leader to get us all together."
The fruits of Point of Contact's hard work can be heard on Commitment, their debut full-length. No Echo is proud to premiere the album below:
The Commitment recording sessions found Point of Contact working with John Howard, a name I've noticed popping up a lot on liner notes as of late. "John is a master at his craft," says Jose. "He was the ultimate professional but also an awesome guy to hangout with. Others can speak more detailed about the magic he did with guitar tones and drums, but he made the record sound exactly how we wanted: clear but with the energy we put into it, and more real and raw sounding than plastic. His work speaks volumes with the Ecostrike and Magnitude LPs, but his detailed and dedicated demeanor to make sure we didn't half-ass anything made our record that much better. Not to mention his special concoction to keep my voice from dying out (Thank you John and Betty)."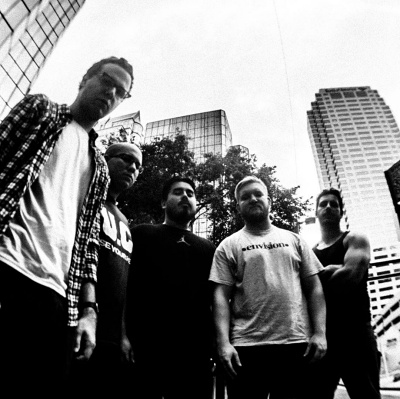 I ask Jose and Garrett about some of the lyrical themes Point of Contact are touching upon on the LP. "If anyone reads any Point of Contact lyrics on this record, there are songs not just straight edge related," Jose explains. "They are about having conviction and staying true to the words you say/actions you take. They aren't about being hard or putting on a front. For example, the song 'Solution' is about people who only look at us as jocks or anything else they want to describe us as and think we have life made. The song is about how we deal with regular life just like anyone else; we face depression, we face downfalls, so we are more similar than you think. We must come together and instead of being two people who look down on each other, come together to be one positive unit and bring each other up."
Garrett backs his singer up: "'Solution' is a really important song to me because, like Jose mentioned earlier, we've talked about doing a straight edge band for years and the first band name I threw at him was Solution. I wanted it to sound like SSD or Brotherhood. That band never happened but 'the only choice is find a solution' to me captures the spirit of what Point of Contact ended up being, the solution to our creative frustration, and is the spiritual successor to that first band idea.
"The other lyric I'll point out as significant, at least to me, is about losing a friend to constant drug use:

I picture us then and it feels like a dream from a day I forgot
I picture us now and I want it to all feel the same but it's not."
Commitment is being released by Plead Your Case Records, a label I profiled on No Echo last year owned by Lennon of Ecostrike and Seed of Pain, and a bunch of other great hardcore bands. "We all knew Lennon from his time he spent in Tampa," Jose says. "He was always cool with all of us, to say the least, and we got the opportunity to tour with Seed of Pain, who instantly became family. When we were on tour, we had an impromptu board meeting in the van and signed legally binding contracts to work together. Some of my favorites from PYC have been the Magnitude 7", Invoke, Seed, and xRitualx." Garrett chimes in with his favorite Plead Your Case records: "My favorite releases on the label are the Search For Purpose LP, the Crisis Unit tape, and the Suicide Pact Music tape."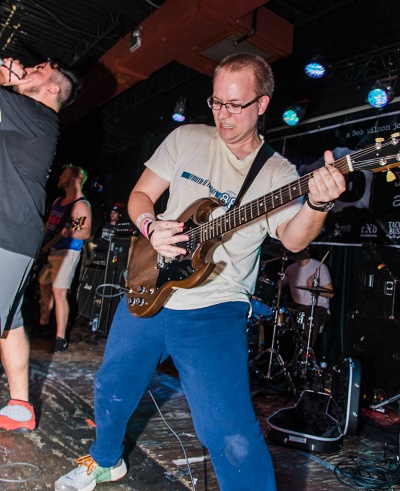 With Commitment hitting stores, Jose is psyched about Point of Contact's upcoming calendar: "Next we have our record release show on November 2nd with Magnitude, Three Knee Deep, Be All End All, Seed of Pain, and Burning Strong in Tampa. The next weekend (November 8th, 9th, 10th) we are going on a weekender to Philly, Birmingham, and Atlanta. After that, we're hoping to do a tour out to the West Coast, and then the future is open. We all have full-time jobs so it's hard to do long tours, but we will do what we can. I'm excited for people to hear this record and for whoever likes it, come up and sing along at a show. Straight edge is alive and well."
Head to Plead Your Case Records to order a copy of Commitment.
Tagged: point of contact