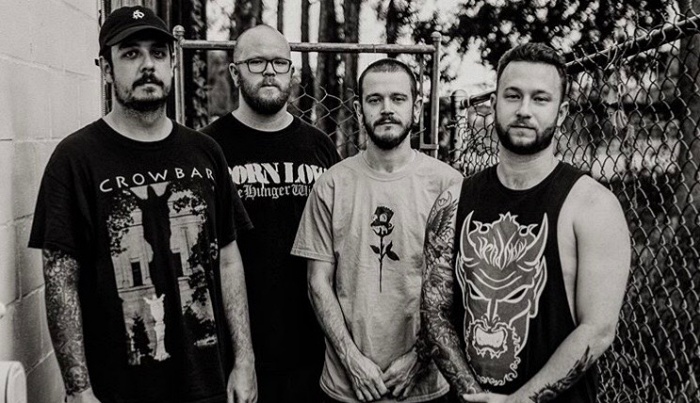 No Echo has been telling you guys about Mindfield for a minute now. For those of you who haven't checked the Jacksonville, FL-based outfit yet, they straddle the line between metallic hardcore and thrash metal, and their Void of Illuminance EP from last year served as a great introduction to their riff-tastic crossover style.
Knowing momentum is important in the crowded underground scene, Mindfield are back with a new collection, a 3-track eponymous EP tracked and mixed by Robert Kotlinski at Shed Sound Studios:
Since they obviously know a thing or two about metallic hardcore and thrash, No Echo asked Mindfield drummer Trevor Bacon to give us a few of the records that helped influence their new EP.
***
Sepultura, Chaos A.D. (1993)
This is an album that every hardcore, metal, and thrash enthusiast can equally agree upon which makes it an album that this whole band really stands behind for influences from all aspects. It's all around the perfect blend of fast, insanely beefy riffs mixed with some of the heaviest parts. While pulling all that off they were able to also blend tribal drums and acoustics that were literally recorded in a Welsh castle. All around great piece of music history that was way ahead of its time
Black Breath, Heavy Breathing (2010)
This album is straight up and full on, the whole time. It's dark, it's powerful, it's riffy, and it's also a perfect mix of everything we love as a band. Their is no shortage of energy, tone or aggression on this album that is also perfected by a tight knit formula to make them be able to appeal to such a wide variety of fans and audiences alike. Just an overall great band/album.
Turmoil, The Process Of... (1999)
WHAT THE FUCK! ARE! YOU! LOOKING AT! Easily one of the most in your face starts to a hardcore/metalcore record and the first time I heard this album back in high school I was absolutely floored by the raw energy right from the jump. This record does not stop for a breath a single time. The ferocity and chaos throughout the whole entire record are something I think all bands can say they want to capture on their records. The fact that it feels like you are there in a room watching them play these songs is something that has always appealed to us and is something we definitely try and capture in our music as well.
All Out War, For Those Who Were Crucified (1998)
This record we feel is a staple in the hardcore/metalcore community and will always be. It's hard to decide on just one of AOW's releases because every single one of them is just as good as the last. From being a band in the late '90s to putting out music in 2019 that is just as hard hitting as it was two decades ago, is an accomplishment in itself. But this album strikes a nerve every single time you hear the giant, booming toms in the intro to "Soaked in Torment" that will forever make your hair stand up every time they play it live.
***
The Mindfield EP is available now via Bandcamp. Follow the band on Facebook, Twitter, and Instagram.
Upcoming Mindfield shows:
Oct. 6 - Greensboro, NC @ New York Pizza w/ Chained, By Force, Violent Life Violent Death
Oct. 8 - Mays Landing, NJ @ The Watering Hole Cafe w/ By Force, Greater Pain, Mikita, Thunderworm
Tagged: mindfield